How to Get a North Dakota Medical Marijuana Card in 2023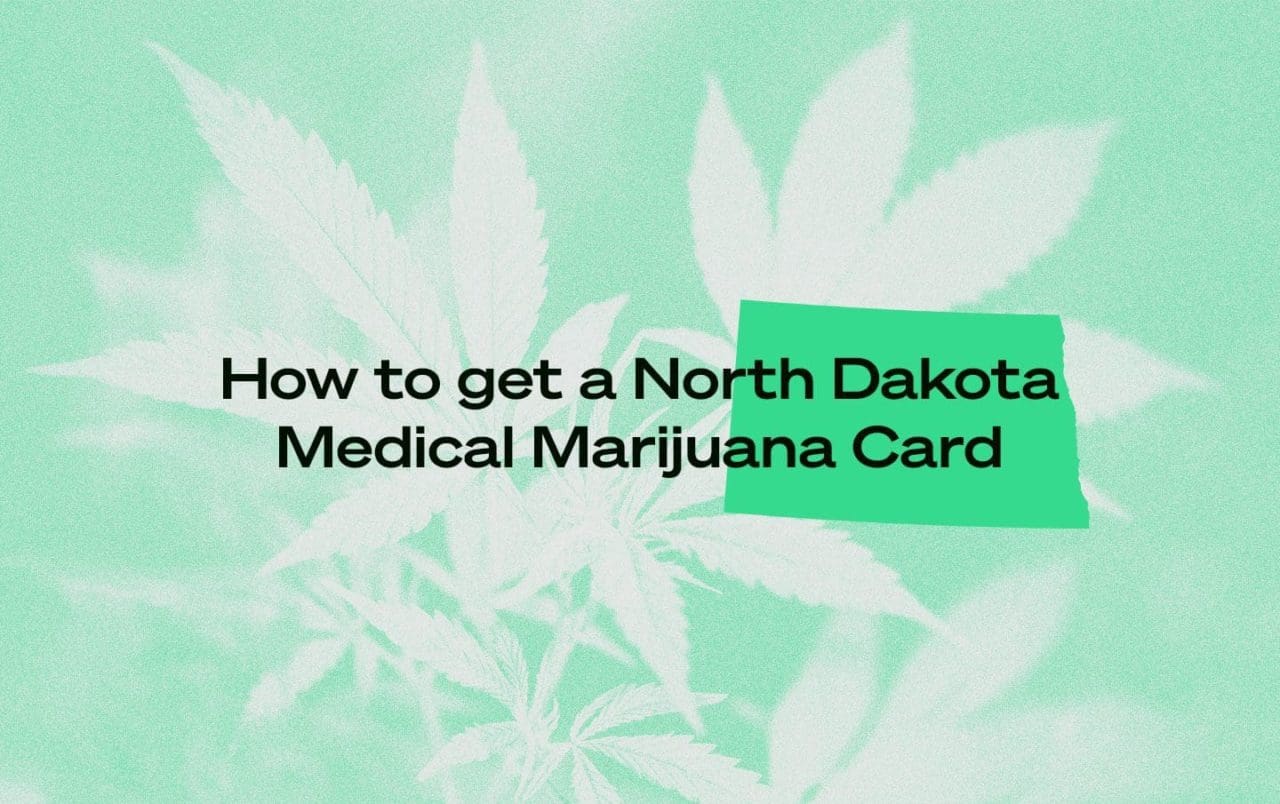 Are you interested in getting a Medical Marijuana Card in North Dakota? You've come to the right place. We hope this article acts as a valuable guide to help you understand the process of applying for your MMJ Card. We keep this information up to date to make sure it is accurate and makes your journey as simple as possible. Keep reading to find out more.
Please note, we do not currently see patients in North Dakota but hope to be opening soon. Join our waitlist to be notified as soon as we're open.
Get Your Medical Card
Connect with a licensed physician online in minutes.
Join the North Dakota Waitlist
Getting a North Dakota Medical Marijuana Card Online
North Dakota has adopted a temporary policy to allow medical services online via telehealth/telemedicine. Like many other states throughout the US, the restrictions that used to apply to telehealth prior to the COVID-19 crisis have been lifted in order to allow patients to see physicians whilst maintaining social distancing and reducing infection rates.
As a telehealth platform helping people easily obtain their medical marijuana cards, Leafwell has helped our clients  quickly and securely get a North Dakota Medical Marijuana Card online. We've put together this valuable guide which will answer all your questions and help individuals living in North Dakota understand the importance of applying for their North Dakota MMJ Card via the easy, HIPAA-compliant process offered by Leafwell's telemedicine platform. You can visit our Ultimate Guide to Getting a Medical Marijuana Card for more general information.
Who Can Apply?
To apply for a Medical Marijuana Card in North Dakota, you must be a legal resident of North Dakota.
Patients must be aged 19 or over in order to apply for a medical marijuana card for themselves. Patients under 19 years of age must designate a parent or legal guardian as their caregiver as part of their application.
Once you have your card, you must then register on the North Dakota Medical Marijuana Patient Registry, which is run by the North Dakota Department of Health (NDDoH). You can register and find out more information about the registry here.
What Does an MMJ Card Permit in North Dakota?
As an MMJ Card holder in North Dakota, you are permitted to possess:
Cannabis flower and dried leaves – up to 3 oz. per month (but you can only purchase 2.5oz at a time). For cancer patients, the physician may increase possession limit to 6 oz.
Cannabis Concentrates – up to 4,000 mg of THC per month. This includes edibles, tinctures, oils, pills/capsules and other forms of concentrated cannabis.
Minor patients (under 19) cannot use dried leaves and flowers, nor can they use product with more than 6% THC.
Patients must have a specific certification from their physician in order to consume herbal cannabis formulations via combustion. Otherwise patients are permitted only to obtain cannabis infused tinctures, capsules, patches, or topical.
How do I Apply?
With Leafwell, you can get your North Dakota Medical Marijuana Card in 4 simple steps:
You can speak to a doctor and qualify for a North Dakota medical marijuana card online. The cost of the online consultation is $199. You are only billed if approved.
2. Attend your appointment and discuss with your physician why you would like an MMJ Card
The doctor will ask you questions based on your medical history and provide you with advice and guidance on whether medical marijuana is a good choice for you. If you are approved, your certificate is automatically inputted into the state's DoH and medical marijuana registry.
3. Complete the Application on the government website
This process takes place on the North Dakota government website. You will need to upload your ID and fill in the application. There is a $50 application fee.
4. Receive your medical marijuana card
If approved, you will receive your medical marijuana card in the mail within 7 days from the state (please note that Leafwell does not send you a card). Your certificate will be valid for one year from the date of issue. You can also use our mobile as an ID Card via the new feature from the government.
What Does my Online Medical Marijuana Evaluation with Leafwell Include?
Your online medical marijuana evaluation with Leafwell is quick and easy. In order to get started, we'll need you to provide us with some preliminary details as well as some medical records. These are all passed securely to one of our registered practitioners who can familiarize themselves with your application before your consultation.
The consultation itself is simple and secure, taking place on our bespoke telemedicine platform. You will meet with a North Dakota registered practitioner who has experience issuing certificates for medical marijuana to patients for a range of medical issues. The registered practitioner will speak with you about why you are applying and ask some questions with regards to your medical conditions and history.
At the end of the consultation, the registered practitioner will be able to make an informed decision about whether they recommend the use of medical cannabis based on the medical information they have obtained. If an application is successful, the registered practitioner will complete the certification, ready to be uploaded as part of an application to the North Dakota government.
If an application is unsuccessful, you will not be charged for the consultation.
Once obtained, the certification will last for one year.
Get Your Medical Card
Connect with a licensed physician online in minutes.
How Much Does a Medical Marijuana Card Cost in North Dakota?
The initial consultation with one of the North Dakota registered practitioners via Leafwell's HIPAA compliant online consultation service is a flat fee of $199. However, if you do not qualify for an MMJ Card and our practitioner elects not to sign your certificate, you will not be charged.
It costs $50 for the MMJ Card and application form, payable to the state. This is a non-refundable fee which must be paid every time you apply. Each card is valid for one year. Every time you renew, you will be required to meet with a state-licensed physician via a telemedicine platform like Leafwell and then renew your card via the state website.
There is no additional fee for applications which include a designated caregiver.
Insurance does not currently cover the cost of applying for an MMJ Card in North Dakota because cannabis is illegal at the federal level.
What Conditions Qualify for Medical Marijuana Cards in North Dakota?
According to North Dakota law in 2020, the following debilitating conditions may qualify you for a medical marijuana card in North Dakota:
AIDS/HIV
Alzheimer's Disease
Amyotrophic Lateral Sclerosis (ALS)
Cancer
Chronic Pain
Cirrhosis (Caused By Hepatitis C)
Crohn's Disease
Dementia
Epilepsy
Failure to Thrive/Cachexia/Wasting Syndrome
Fibromyalgia
Glaucoma
Nausea
Post-traumatic Stress Disorder (PTSD)
Spinal Stenosis
Note that this list is up to date as of August 2020. Legislation or the Commissioner of Health may add additional conditions, at which time, Leafwell will update this list.
What Documents Do I Need to Apply for a Medical Cannabis Card?
In order to apply for your MMJ Card in North Dakota, you will need to show your signed certificate which provides proof of your condition as well as your identification documents. You should gather together the following:
Proof of residency
Medical records
A signed certificate (which can be obtained via Leafwell)
Below are all of the acceptable forms these documents may take.
Acceptable ID
Driver's License
State Issued ID Card
You will also be asked for 2×2 passport style photos
Acceptable proof of residency
Driver's License
State ID Card
Signed North Dakota Medical Marijuana Certification
You will need a medical marijuana certificate from a North Dakota licensed physician in order to qualify for a medical cannabis card in North Dakota.
Do I Need to Present my Medical Records to Leafwell?
Yes. In order to responsibly sign a certificate which permits individuals to apply for an MMJ card, our registered practitioners must have a comprehensive understanding of your medical history.
This allows them to provide an accurate assessment to ensure that medical cannabis is a good option for each patient on a case-by-case basis.
How Does a Caregiver Apply for a Medical Marijuana Card?
Some patients may be eligible for an MMJ Card but unable to apply for one themselves. For example, should the patient be a minor under the age of 19, or if the patient needs assistance accessing medical cannabis, a caregiver can be assigned to complete the process on their behalf.
Applicants under the age of 19 must have a caregiver attached to their application. However, there is very little information on who qualifies a caregiver. You will be required to have a criminal history record check which costs $41.25, payable by the applicant. The caregiver will need to provide the same ID as the patient.
Can a Qualifying Patient Grow Cannabis in North Dakota?
No, a qualifying patient cannot grow cannabis in North Dakota
Are my Details Kept Confidential When I Apply for a Medical Marijuana Card?
Yes. Leafwell is committed to protecting the privacy of our patients. Our online service is HIPAA compliant and our systems are designed to keep all of your confidential details safe.
Does North Dakota Have Medical Marijuana Reciprocity?
No, North Dakota doesn't recognise out-of-state patient MMJ Cards.
Getting a Medical Marijuana Card in Fargo, Bismark and Grand Forks, ND
There is little if any difference in medical cannabis laws between different North Dakota jurisdictions. Regardless of where you are in North Dakota, you can get a medical marijuana card online with Leafwell, MD. We are not currently partnering with any clinics in North Dakota. However, there are many dispensaries available within the state.
Remember: you don't have to visit a clinic in-person in order to qualify for a certificate and MMJ card in North Dakota – you can do it all online, with Leafwell!
History of Medical Marijuana Laws in North Dakota
Here is a brief overview of the history of medical marijuana in North Dakota:
2016 – North Dakota voters approve of Measure 5, known as the "North Dakota Compassion Act". State Bill 2344 (SB 2344) removes the ability for people to grow their own cannabis.

2017 – the Medical Marijuana Program in North Dakota was established and implemented
North Dakota Medical Marijuana Laws
Patients must have a recommendation to use combustible cannabis. Otherwise, it can only come in the form of edibles, capsules, tinctures, patches or topicals/salves. Edible products are not defined as a "medical cannabinoid product".
Up to a maximum of 8 dispensaries are allowed to be operational in North Dakota at any one time. A maximum of two producers.
For those without a medical marijuana card, possession of 1 ounce or less is a misdemeanor, and can bring up to 30 days' incarceration and/or a maximum fine of $1,500. Anything more, and it's a felony, with an incarceration period of between 5 and 10 years and a maximum fine of $10,000 (for between 1 oz and less than 500 g) or $20,000 for possession of any amount over 500 g.
Possession of any amount near a school can bring up to 10 years in prison and/or a $20,000 fine.
Sale of any amount carries a mandatory minimum sentence of 3 years.
Ingesting hash or concentrates is a misdemeanor, with up to 1 year in prison and/or a fine of $3,000. Possessing or manufacturing hashish or concentrates is a felony, with 5 years incarceration and/or a $10,000 fine for possession and 10 years incarceration and/or a $20,000 fine for manufacture.
Possession, distribution, delivery, advertisement or manufacture of paraphernalia is a misdemeanor, with up to 1 year imprisonment and a $3,000 fine.
Any conviction requires the offender to undergo drug addiction evaluation.
Juveniles may have their driver's licenses suspended for up to 6 months.
Useful Links
To find out more about getting a Medical Marijuana Card in North Dakota, get in touch with the expert team at Leafwell today or use any of these verified resources below:
Get Your Medical Card
Connect with a licensed physician online in minutes.