How to Get a Medical Marijuana Card in Texas in 2023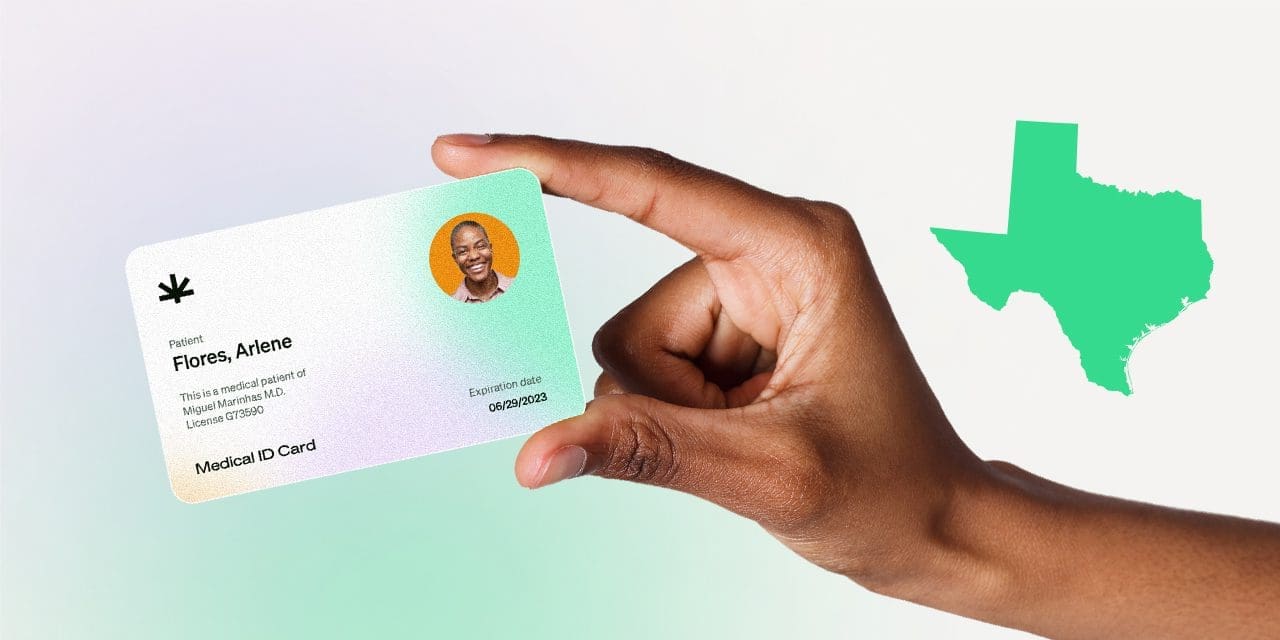 Although the public perception of marijuana is improving in the U.S., little has been
done to change cannabis laws in Texas. The only way to access marijuana is through the state's compassionate use program (CUP); even then, limitations exist.
If you have a qualifying condition, here are some reasons you should apply for a medical marijuana card in Texas.
Get Your Texas Medical Card
Connect with a licensed physician online in minutes.
Benefits of Having a Medical Card in Texas
While recreational cannabis is still illegal in Texas, patients who qualify can join the state's compassionate use program. There are multiple benefits to getting a medical card in the state, regardless of recreational cannabis' legality.
It's the Only Way to Buy Cannabis Legally
Adult-use sales are still prohibited in Texas. Possessing even small amounts of marijuana constitutes a serious offense. Getting a medical marijuana card through the state program is the only legal way to buy and use cannabis.
Getting certified through CUP provides patients with legal protections and safe access to medicine. People with a Texas medical marijuana card can possess any amount of low-THC, high-CBD oil. This refers to cannabis oil containing 1% THC or less.
All smokable THC products are prohibited. Non-medical users of marijuana cannot possess any product with more than 0.3% THC.
You Get Access to Safe Products
Like in many other states where recreational cannabis use is prohibited, marijuana enthusiasts may turn to the black market. This market isn't regulated, nor are the cannabis products sold on it.
With a medical card, you can access safe medical products that have been tested and surpass a standard of quality.
You Can Get Accurate and Helpful Advice
If you have a health condition that qualifies you to use medical marijuana, getting a card connects you with a licensed physician. At Leafwell, our physicians are well-versed in prescribing cannabis for various conditions.
During your first appointment, they will discuss your symptoms and whether cannabis is a good option. Physicians can also recommend and guide the best cannabis dosage for you. This information will be handy – especially if you're new to using marijuana.
Eligibility Requirements
To qualify for a medical marijuana card in Texas, you must meet the following requirements:
Be a legal resident of Texas.
Be at least 18 unless applying through a parent or guardian.
Be diagnosed with a qualifying health condition by a licensed medical marijuana physician.
Have prescriptions from two distinct medical marijuana physicians; no contact is required with the secondary physician.
Physicians must conclude that the benefits of using medical marijuana for your condition outweigh the risks.
Successful applicants are expected to meet every month with their prescribing physician.
Can Minors Get a Medical Card in Texas?
People under 18 with a qualifying condition can get a medical marijuana card in Texas. However, a minor can only apply through a parent or legal guardian under the compassionate use program.
Qualifying Conditions
Unlike other states, Texas has a limited medical cannabis program. CUP is restricted to people with the following medical conditions:
Incurable neurodegenerative diseases
Spasticity
How to Apply
You should know a few things when applying for a Texas medical marijuana card.
Documents You'll Need
A prescription from a registered, state-approved physician.
Proof of diagnosis for a qualifying medical condition.
Proof of Texas residency (state ID, driver's license, or any other documentation that shows your name and current street address).
Proof of identity (valid ID card or passport).
Steps to Apply
Once your documents are prepared, you can apply for a medical cannabis card in Texas. Here's what to do next.
Register online with Leafwell.
You will need to speak to a licensed physician about your condition and how the medical use of cannabis can help. Registering online with Leafwell makes that process easy by connecting you to a healthcare provider who can help you. 
Meet with a licensed healthcare provider.
Once registered, you'll make an online appointment with a licensed cannabis doctor. You'll have a conversation with them about your medical history, current condition, and symptoms, and they will determine whether marijuana can help.
Get approved and buy medical marijuana in Texas.
After the appointment, your details will be added to the Compassionate Use Registry of Texas (CURT). This registry contains everyone certified to use medical cannabis in Texas.
Once the state has validated you, you can start fulfilling prescriptions at a medical-use dispensary. Note that Texas doesn't issue patients a physical card, so you won't have to wait for anything to be mailed by Leafwell or the state.
What to Expect During Your Leafwell Appointment
When you register with Leafwell, you'll do a quick and easy online medical marijuana evaluation. Before starting your application, you'll need to provide your medical records and preliminary details about your health.
This information is passed securely to Leafwell healthcare providers so they can familiarize themselves with your medical history before the consultation. The consultation takes place on our telemedicine platform and is simple and secure.
During your consultation, they'll ask why you're applying to use medical marijuana and evaluate your condition. They can then determine if you're eligible for the Texas compassionate use program and recommend medical cannabis products based on your needs.
Once your practitioner adds your details to the CURT system, successful applicants are registered for one year.
Costs
Since no ID cards need to be processed, there is no fee to apply for a Texas medical marijuana card. Leafwell's HIPAA-compliant consultation service is currently $199.
We've done our best to make the process of applying for a cannabis card simple, accessible, and affordable to all people that need low-THC products. You will not be charged for the consultation if your application is unsuccessful.
Medical Marijuana Reciprocity
Even though recreational cannabis is legal in numerous states all over America, this isn't the case in Texas – adult use is still prohibited.
Texas also doesn't have medical marijuana reciprocity with any state. This means that medical cards obtained out-of-state cannot be used in Texas.
Applying as a Caregiver
In other states, minors and patients needing help accessing medication assign caregivers who apply for a medical card. These caregivers also have legal protection to purchase, transport, and possess marijuana for their patients.
This isn't the case in Texas: the state's compassionate use program doesn't mention anything about caregivers.
However, patients under 18 can have a parent or legal guardian apply for them. Once a patient's application is accepted, their parent or guardian can buy cannabis products from any licensed medical marijuana dispensary in Texas.
Aside from a recommendation from a physician and a prescription form, caregivers need to provide the following information:
Driver's license or ID
Patient's last name and date of birth
Last four digits of the patient's social security number
Where to Buy Medical Marijuana
Once added to the CURT system, you can buy low-THC, high-CBD oil from any licensed dispensary in Texas.
Cultivation
It is illegal to grow marijuana at home in Texas.
Texas Medical Marijuana Laws to Know
The Texas Compassionate Use Act was enacted in 2015. This Act required the Texas Department of Public Safety to establish a secure registry of physicians who treated epilepsy.  This was done to facilitate prescribing low-THC cannabis to patients with epilepsy.
In 2019, the list of qualifying conditions for cannabis treatment expanded to include epilepsy, terminal cancer, MS, ALS, seizure disorders, and incurable neurological disorders.
Other important Texas cannabis laws include:
Possession of up to two ounces is a misdemeanor that carries up to 180 days in prison, a $2,000 fine, and a driver's license suspension (some municipalities may have more lenient penalties).
Selling or delivering seven grams of marijuana or less is a misdemeanor punishable by up to one year in prison and a fine of up to $4,000.
Hashish and concentrates are not considered marijuana under Texas law. However, it's still illegal to possess either.
Smoking medical marijuana is prohibited in Texas. One is only allowed to consume marijuana orally through products such as oils.
Start your medical cannabis journey by applying for a Texas medical marijuana card today.
Personalized Cannabis Guidance
Meet with a counselor and get personalized guidance to the right types and doses of cannabis for your unique needs.
Book Appointment