How to Get a Medical Marijuana Card in Oregon in 2023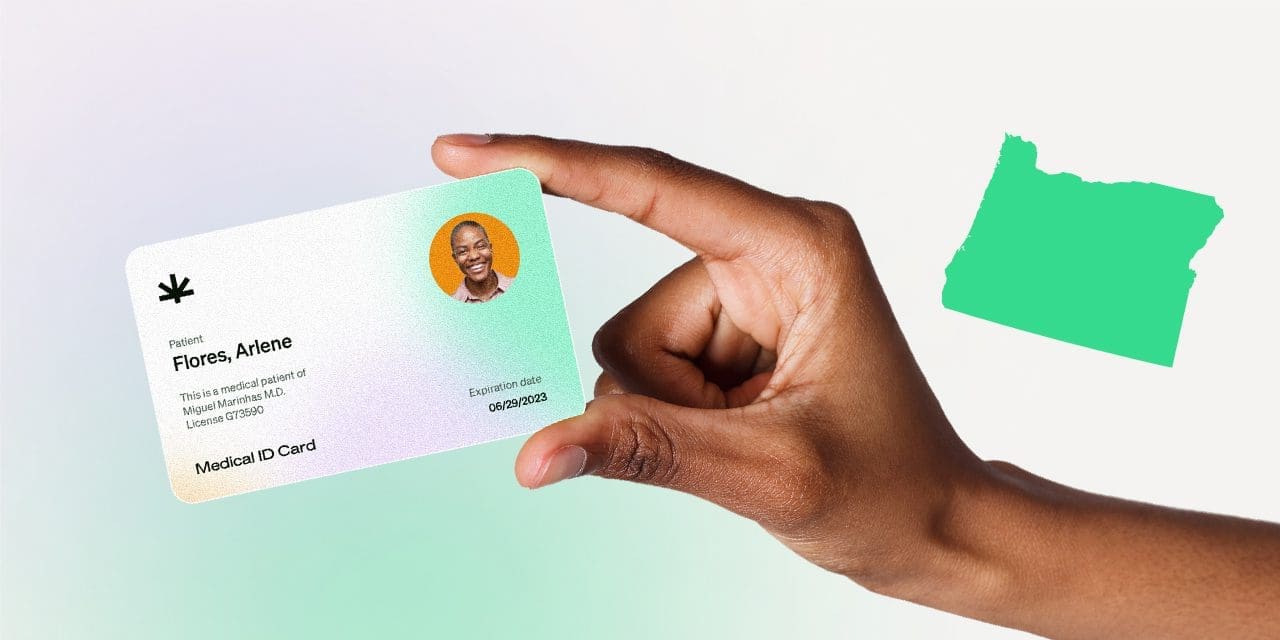 Passed in November 1998, the Oregon Medical Marijuana Act (OMMA) authorizes medical marijuana cultivation, possession, and consumption in the state. The Oregon Medical Marijuana Program (OMMP) allows adults with qualifying conditions and a recommendation from an attending physician to apply for a medical card in person or online. Once approved, patients can use the card to access this natural medicine through licensed medical dispensaries.
Leafwell's online medical marijuana card services make it simple for Oregon patients to complete the application process and connect with the right doctor. Patients who receive state approval can possess up to 24 ounces and purchase affordable cannabis products from one of Oregon's convenient medical cannabis dispensary locations.
Get Your Oregon Medical Card
Connect with a licensed physician online in minutes.
Benefits of Having a Medical Card in Oregon
Oregonians don't need a medical marijuana (MMJ) card to buy cannabis in the state. Marijuana has been legal since Measure 91 officially authorized use and possession for all adults 21 and older. Still, medical marijuana cards offer patients distinct benefits over standard recreational purchases.
Greater possession limits: Medical patients can possess up to 24 ounces of medical cannabis products. Recreational users can possess only eight ounces at home and one in public.
Greater growing limits: An Oregon medical marijuana patient (and their caregiver, if applicable) may possess up to six mature plants. Recreational users can only possess four mature plants.
Tax-free products: Medical marijuana cardholders pay no sales tax, while recreational cannabis consumers pay 17% with an additional 3% municipal tax for a total of 20% on every purchase.
Eligibility Requirements
Any Oregon resident over 18 years old who is a medical patient with a qualifying health condition can apply for an Oregon medical marijuana card. The patient must also receive a doctor's referral.
Can Minors Get a Medical Card in Oregon?
Oregon medical patients under 18 will need a caregiver who is their legal guardian. The caregiver must be 18 years of age or older and must fill out a Minor Declaration Form.
Qualifying Conditions
Patients can request a physician referral for an Oregon medical marijuana card if they have one of the following debilitating medical conditions:
Degenerative or pervasive neurological conditions
Patients can also receive a card if their condition produces one or more of the following symptoms:
How to Apply
The Oregon Medical Marijuana Online System allows patients to apply for their medical marijuana card online. Medical patients can apply online in minutes with Leafwell. Online registrants must create a patient account and upload the proper documents, including a photo ID and an attending physician's statement, signed within 90 days of the application date.
Documents You'll Need
Attending Provider's Statement: A state-certified physician must sign a medical marijuana recommendation statement affirming that the patient has a qualifying medical condition and that medical marijuana may mitigate the symptoms.
Grow Site Consent Form: Applicants must submit this form where a grow site is designated and the patient or grower is not the property owner.
Copies of current valid photo ID. Include ID copies for the patient, designated caregivers, and growers. Patients must be Oregon residents.
Minor Declaration Form if applying for a minor.
Application fee: You must pay $200 to apply for your medical card, though there are several ways to pay a reduced price. Recipients of Supplemental Nutrition Assistance Program (SNAP) benefits pay $60 (proof is required). Oregon Health Plan cardholders must pay $50. The fee is reduced to $20 for veterans and those receiving Supplemental Security Income (SSI). Additionally, those who submit proof of total disability (at least 50%) resulting from a service-related injury or illness and discharge under other than dishonorable conditions don't have to pay to apply for their medical cards.
Steps to Apply
By mail:
Submit the application, required documents, and payment to:
Oregon Health Authority
P.O. Box 14450
Portland, OR, 97293-0450
Online:
Schedule an online appointment with Leafwell to review the medical condition and marijuana eligibility.
Obtain the attending provider's written statement confirming the MMC card recommendation.
Apply for the card with the State of Oregon via the state's medical marijuana program and submit all required documents. ​​
Pay the application fee.
Print receipt permitting access to a dispensary for 30 days until the card arrives.
The 30-day receipt has the same legal effect as a registry ID card for 30 days, allowing the patient to possess up to 24 ounces of marijuana and purchase marijuana products from MMJ dispensaries and retail shops tax-free. Cards mail within seven to 10 business days.
Patients with incomplete applications will receive a letter or email explaining what they need to do to finalize the process and obtain their card.
What to Expect During Your Leafwell Appointment
Leafwell offers quick, simple, and affordable telemedicine consultations with licensed physicians. Patients can speak with one of Leafwell's healthcare providers from the convenience of home at a time that works for their schedules. All patients need is a cell phone, tablet, or computer, and video conferencing capabilities. Appointments are HIPPA-compliant, accessible, and affordable.
Leafwell's physicians sometimes request medical records before the call to better understand the patient's condition. During the consultation, the doctor asks standard questions and reviews the records to determine how medical marijuana can alleviate patients' symptoms and improve their quality of life. Most appointments take five to 10 minutes.
Leafwell will send state-specific application instructions after the video conference to finalize the process. You'll get a refund if you're not approved for any reason.
Costs
Leafwell's Oregon consultation fee is $149 for new and renewal certificates. Patients must also pay the state's application fee.
Fee reductions are available for those who are part of the Supplemental Nutrition Assistance Program (SNAP) or the Oregon Health Plan, those on Supplemental Security Income, and veterans.
Medical Marijuana Reciprocity
Oregon does not have medical marijuana reciprocity and does not recognize medical marijuana cards from other states. However, adults at least 21 can legally purchase cannabis in Oregon at retail dispensaries.
Applying as a Caregiver
The Oregon Medical Marijuana Program (OMMP) allows patients to designate a caregiver. This person is responsible for managing the patient's well-being and can purchase and possess marijuana items for the patient. A patient may only have one primary caregiver.
Patients who need a caregiver must complete the caregiver portion of the application form. They must also submit the caregiver's proof of identification.
Once approved, the caregiver will receive a card with their reference number and the patient's registration number.
Where to Buy Medical Marijuana
Oregon medical marijuana card patients can purchase medical cannabis from dispensaries licensed by the Oregon Health Authority. They can also legally buy cannabis from recreational marijuana retailers licensed by the Oregon Liquor and Cannabis Commission (OLCC).
Oregon has roughly 16.5 cannabis dispensaries per 100,000 people, more per capita than any other state.
Cultivation
Oregon allows personal cannabis cultivation. An Oregon medical marijuana patient (and their caregiver, if applicable) may possess up to 16 plants (including six mature plants), which they must grow at a registered grow site. They can produce up to 24 ounces of usable marijuana with those plants.
This law differs from recreational marijuana possession limits that limit households to four plants, regardless of the number of adults in the home.
Oregon Medical Marijuana Laws to Know
Medical cannabis and recreational cannabis sales are fully legal in Oregon.
Medical users must be 18 or have a legal guardian who is 18 or older to apply for them.
Medical use requires an attending physician's statement.
Oregon medical marijuana users pay 0% sales tax on marijuana products, while recreational users must pay 20%.
Users with an Oregon medical marijuana card can possess up to 24 ounces of usable marijuana.
Cultivation is legal, and medical users can cultivate up to 16 plants (six mature).
Check out our Oregon law page for more in-depth coverage of the state's medical marijuana laws and rules.
Personalized Cannabis Guidance
Meet with a counselor and get personalized guidance to the right types and doses of cannabis for your unique needs.
Book Appointment