How to Get an Oklahoma Medical Marijuana Card in 2022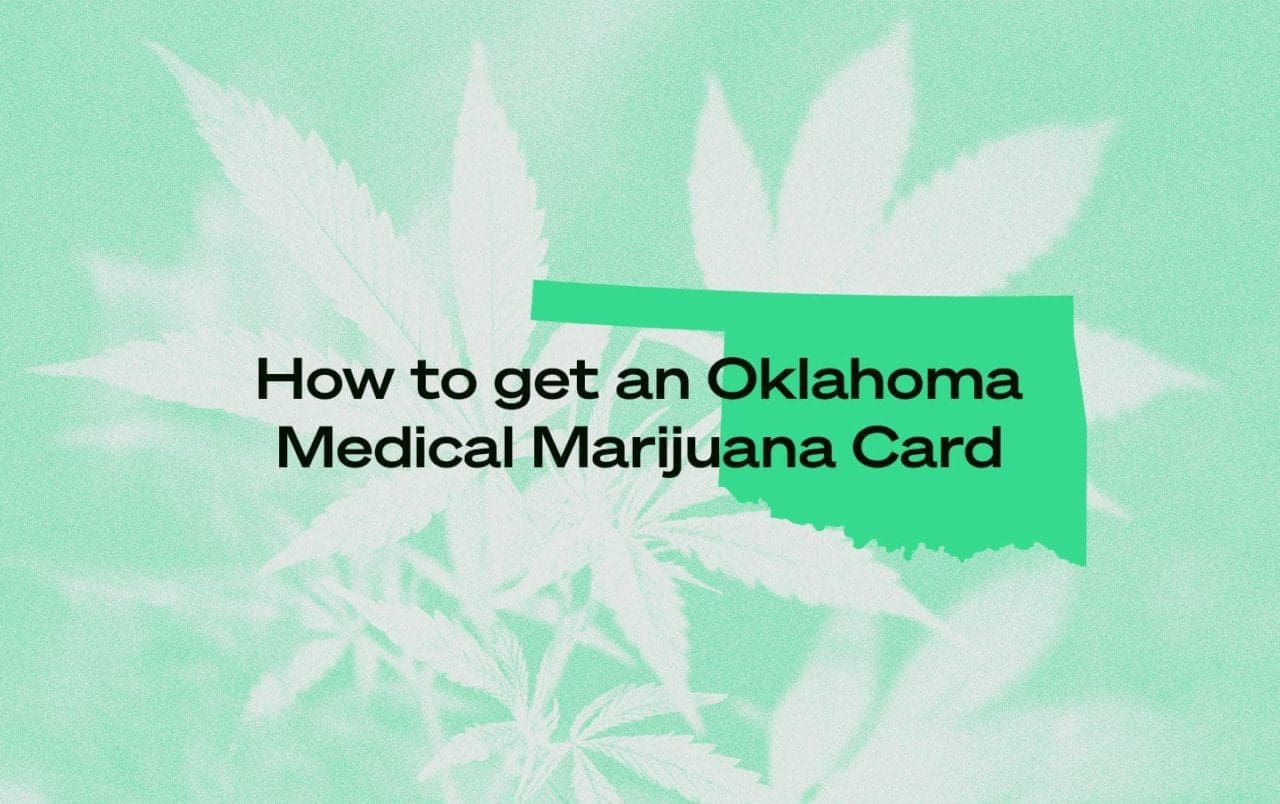 You can get your Oklahoma medical marijuana card online because telemedicine is permitted for medical marijuana patients. This makes it quick and easy to apply and allows people who are unable to get to a doctor's clinic to still access the vital medical products they need.
As a telehealth platform helping people easily obtain their medical marijuana cards, Leafwell has helped our clients quickly and securely get an Oklahoma medical card online. We've put together this valuable guide that will answer all your questions and help individuals living in Oklahoma understand the importance of applying for their card via the easy, HIPAA-compliant process offered by Leafwell's telemedicine platform.
Who Can Apply?
To apply for a Medical Marijuana Card in Oklahoma, you must be a legal resident of Oklahoma.
Patients must be aged 18 or over in order to apply for a medical marijuana card for themselves. Minors (anyone under the age of 18) must have caregivers apply on their behalf.
The state website does not provide details about what they require from caregivers when they apply. Still, at the point of application, you must include the medical marijuana license number for the patient for whom you will be acting as a caregiver. Caregivers must be aged 21 years or older. There is no caregiver application fee.
What Does an MMJ Card Permit in Oklahoma?
As an MMJ cardholder in Oklahoma, you are permitted to possess:
Up to 3 oz of marijuana on your possession of flower
Up to 8 oz of marijuana in your home of flower
Up to 1 oz of concentrated marijuana
Up to 7 oz of edible marijuana
Recreational marijuana is illegal. Possession without a license is a fine-only misdemeanor up to 1.5oz.
How do I Apply?
With Leafwell, you can get your Oklahoma Medical Marijuana Card in 4 simple steps:
1. Register online with Leafwell: Get started here
You can speak to a doctor and qualify for an Oklahoma medical marijuana card online. The cost of the online consultation is $99. You are only billed if approved.
2. Receive your certificate from Leafwell
This certificate says that your doctor recommends you become a cannabis patient under the state's current laws, and this certificate is required to apply for your MMJ Card.
3. Complete the Application on the government website
Apply to the Oklahoma Medical Marijuana Authority (OMMA) online. You will need to upload various pieces of ID as well as your medical marijuana doctor's certificate from Leafwell as part of the application. You must do this within 30 days of being approved by Leafwell.
4. Receive your medical marijuana card
You will receive your medical marijuana card in the mail within 14 business days if approved. Your certificate will be valid for two years from the date of issue. Please note that the state, not Leafwell, sends the OK medical marijuana card.

What Does my Online Medical Marijuana Evaluation with Leafwell Include?
Your online medical marijuana evaluation with Leafwell is quick and easy. In order to get started, we'll need you to provide us with some preliminary details as well as offering you the opportunity to upload some medical records. These are all passed securely to one of our registered practitioners, who can familiarize themselves with your application before your consultation.
The consultation itself is simple and secure, taking place on our bespoke telemedicine platform. You will meet with an Oklahoma registered practitioner who has experience issuing certificates for medical marijuana to patients for a range of medical issues. The registered practitioner will speak with you about why you are applying and ask some questions with regards to your medical conditions and history.
At the end of the consultation, the registered practitioner will be able to make an informed decision about whether they recommend the use of medical cannabis based on the medical information they have obtained. If an application is successful, the registered practitioner will complete the certification.
If an application is unsuccessful, you will not be charged for the consultation.
Once obtained, the certification will last for two years.
How Much Does a Medical Marijuana Card Cost in Oklahoma?
The initial consultation with one of Oklahoma's registered practitioners via Leafwell's HIPAA-compliant online consultation service is a flat fee of $99. However, you will not be charged if you do not qualify for an MMJ Card and our practitioner elects not to sign your certificate.
It costs $100 for the MMJ Card and application form, payable to the state. This is a non-refundable fee that must be paid every time you apply. Each card is valid for two years. Every time you renew, you will be required to meet with a state-licensed physician via a telemedicine platform like Leafwell and then renew your card via the state website.
Note that Medicaid, SoonerCare, or Medicare enrolees pay a reduced fee of $20.
There is no additional fee for applications that include a designated caregiver.
Insurance does not currently cover the cost of applying for an MMJ Card in Oklahoma because cannabis is illegal at the federal level.
What Conditions Qualify for Medical Marijuana Cards in Oklahoma?
Oklahoma's law does not include any qualifying conditions. This makes it one of the most lenient medical marijuana programs in the United States and may account for why one in 13 Oklahomans have a medical marijuana card.
Instead, each individual medical marijuana doctor is able to issue certificates based on their own judgment — much like they do when prescribing traditional medications.
If you're not sure if your condition can be helped by medical marijuana, we recommend you do some research on our conditions page. After that, if you feel you could benefit from cannabis, book an appointment with one of our online medical marijuana doctors and speak with them about your condition and research. Then they can either approve or deny you based on their medical experience and your anecdotal evidence.
What Documents Do I Need to Apply for a Medical Cannabis Card?
In order to apply for your MMJ Card in Oklahoma, you will need to show your signed certificate, which provides proof of your condition, as well as your identification documents. You should gather together the following:
ID
Proof of residency
A signed certificate (which can be obtained via Leafwell)
Below are all of the acceptable forms these documents may take.
Acceptable ID
Oklahoma driver's license
Oklahoma state ID card
U.S. passport with proof of residency
Tribal identification card approved for identification purposes by the Oklahoma Department of Public Safety:

United States Bureau of Indian Affairs identification card or an Oklahoma tribal photo identification cards: Muscogee (Creek) Nation of Oklahoma, Kiowa, Comanche, Apache of Oklahoma, Absentee Shawnee, Cheyenne-Arapaho, Choctaw, Delaware, Caddo Nation of Oklahoma issued on or after January 8, 2008.

Minors can use their state ID, passport, or birth certificate
Acceptable proof of residency
Oklahoma driver's license.
Oklahoma identification card.
Oklahoma voter identification card.
A utility bill for the calendar month preceding the date of application, excluding cellular telephone and internet bills.
A residential property deed to a property in the state of Oklahoma.
A current rental agreement for residential property located in the State of Oklahoma.
Signed OK Medical Marijuana Certification
You will need a medical marijuana certificate in order to complete your Oklahoma application form for medicinal cannabis.
Do I Need to Present my Medical Records to Leafwell?
No, it's not required by the state, but our healthcare providers do like to see them if you have copies.
This allows them to provide an accurate assessment to ensure that medical cannabis is a good option for each patient on a case-by-case basis.
How Does a Caregiver Apply for a Medical Marijuana Card?
Some patients may be eligible for an MMJ Card but unable to apply for one themselves. For example, should the patient be a minor under the age of 18, or if the patient needs assistance accessing medical cannabis, a caregiver can be assigned to complete the process on their behalf.
A caregiver must be aged 21 or older. For minors, it is usually a parent or legal guardian. The caregiver will be stated on the caregiver designation form. The caregiver receives their own medical marijuana caregiver license, which includes their or photo, name, and other details as proof that they are licensed to purchase marijuana. The caregiver card is valid for as long as the patient's card is valid, no more than two years. A patient can change caregivers during the 2-year period.
The application process is very similar for caregivers in Oklahoma and requires the same ID documents as listed above.
Can a Qualifying Patient Grow Cannabis in Oklahoma?
Yes, qualifying patients can grow cannabis in Oklahoma. Those with a state-issued license may possess up to six mature marijuana plants and six seedlings.
Are my Details Kept Confidential When I Apply for a Medical Marijuana Card?
Yes. Leafwell is committed to protecting the privacy of our patients. Our online service is HIPAA compliant, and our systems are designed to keep all of your confidential details safe.
Does Oklahoma Have Medical Marijuana Reciprocity?
Sort of, yes. If you hold a medical marijuana card elsewhere, you can apply for a temporary card during your stay in Oklahoma.
Patients who qualify for a medical marijuana card in another state may apply for a temporary medical marijuana card in Oklahoma. Residents living in another state with a valid MMJ license in their home state may apply for a temporary license to "buy, use, and grow" medical marijuana from an Oklahoma dispensary.
The medical marijuana certificate & MMJ card will be valid for 30 days and cannot exceed the expiration of the out-of-state MMJ card. Temporary Oklahoma MMJ licenses can be renewed.
History of Medical Marijuana Laws in Oklahoma
Here is a brief overview of the history of medical marijuana laws and legislation in Oklahoma:
1933 – outlawed all forms of marijuana
June 26, 2018 – voters legalized medical marijuana. The state then became the quickest ever to implement an effective medical cannabis law and started accepting applications two months later
September 24, 2018 – reduced the penalty for simple possession of marijuana to a fine, capped at $400 (previously, it was $1,200 and six months in jail
Current Oklahoma Medical Marijuana Laws
Under Oklahoma's SQ 788 & the emergency medical marijuana rules, patients who hold a medical marijuana card have the right to:
Enroll in school without rejection based only on cardholder status
Rent an apartment without eviction or rejection based solely on patient status
Work at their place of employment without discrimination for having a card or testing positive for marijuana
Receive healthcare without disqualification merely due to medical marijuana treatment
Visit or have custody of their child without denial only based on patient status
Hold a state-issued license without suspension on the sole basis of cardholder status
However, your OK medical marijuana patient card does not necessarily give you the right to:
Use or possess marijuana at your place of employment without recourse
Work, live or learn somewhere that could face loss of a monetary or licensing benefit under federal law due to your patient status – this means that those in some types of federal jobs may find that their patient status clashes with federal laws. This applies to those who require a commercial driver's license as well.
Sell or distribute marijuana to others without a commercial medical cannabis license
Own a firearm – many states prohibit those with a medical marijuana card from owning a firearm.
You can find out more about Oklahoma's cannabis laws here.
Useful Links
To find out more about getting a Medical Marijuana Card in Oklahoma, get in touch with the expert team at Leafwell today or use any of these verified resources below: