How to Get a Medical Marijuana Card in New York in 2023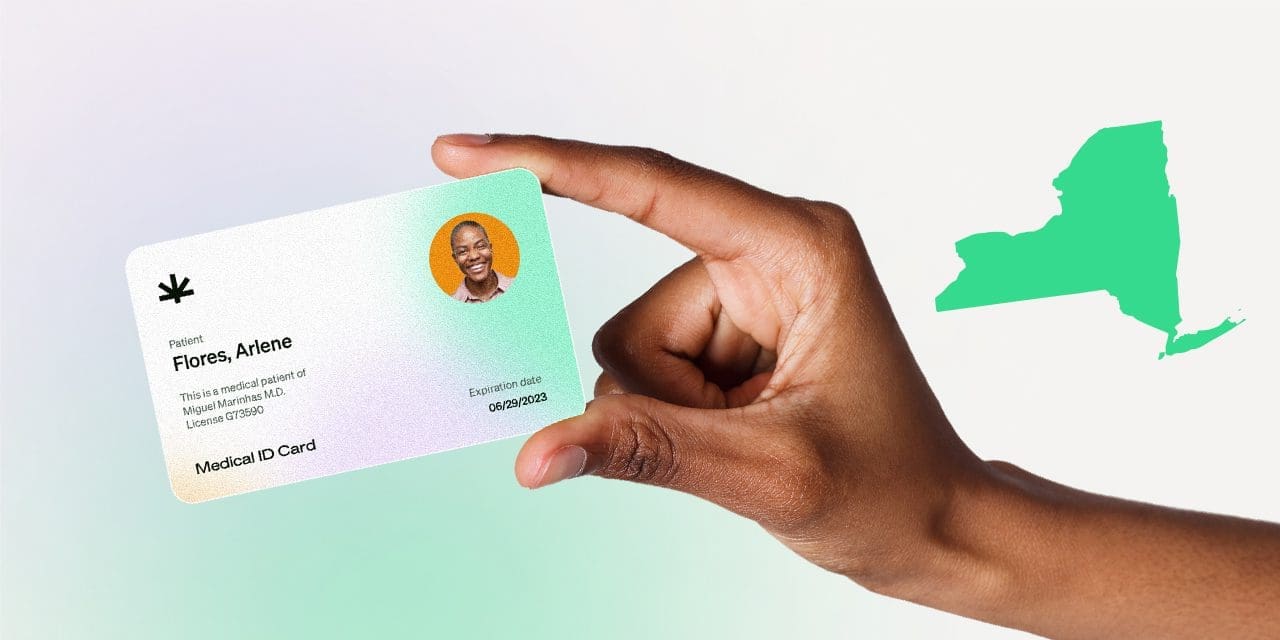 To get a medical marijuana card in New York, the first step is getting certified by a licensed healthcare provider, either in person or online, via telehealth services like Leafwell. Your healthcare provider will evaluate your medical condition and determine if you qualify for medical cannabis.
Then, you must register with the state program, submit an application, and provide proof of residence and a valid ID. Once your application is approved, your certification information will be sent to the state of New York, and you will be a part of the medical cannabis registry. New York no longer issues physical cards, so you will not need to worry about waiting for one to arrive in the mail.
Get Your Medical Card
Connect with a licensed physician online in minutes.
Benefits of Having a Medical Card in New York
In New York, anyone older than 21 can smoke, buy, sell, and even grow cannabis for recreational purposes (within limits).
However, even if you live in a recreational state like New York, there are still numerous benefits a medical card can offer.
Lower Costs
Getting a card in New York may save you money because buying cannabis through the legal, recreational market is taxed more than if you have a medical card.
In New York, a retail tax of 13% is levied on all adult-use cannabis products, compared to 7% for medical marijuana. If you purchase cannabis regularly, getting a medical card may save you thousands of dollars.
Bigger Limits
Even though it's legal to possess and use marijuana in New York, limitations exist. For one, recreational users can buy no more than 3 ounces at a time or 24 grams of concentrated cannabis. Recreational users can also grow no more than six plants simultaneously (only three mature ones).
Medical marijuana users, on the other hand, are allowed to possess enough products to last two months and grow up to 12 plants per household.
Lower Age Restrictions
In most states, one has to be at least 21 to purchase marijuana for recreational use.
But if you're younger than 21 and have a debilitating medical condition, this restriction makes it harder to get the medicine you need. If you have a New York medical marijuana card, you may be able to buy cannabis products for conditions like epilepsy – even if you aren't 21.
For patients under 18, a guardian can apply as a caregiver on their behalf.
Eligibility Requirements
New York residents must be at least 18 to be eligible for medical marijuana certification. New York does not have a list of qualifying conditions, so it is up to your healthcare provider to decide if you would benefit from enrollment into New York's medical cannabis program.
The first step is connecting with a healthcare provider. Even though there are no rigidly specific qualifying conditions for medical cannabis in New York, if you have documentation of a condition that may benefit from treatment with medical cannabis, it would be beneficial to have that documentation with you during your appointment.
Can Minors Get a Medical Card in New York?
Patients under 18 can still benefit from New York's medical marijuana program with the help of a parent or caregiver.
Registered caregivers must be 21 and complete the medical card registration process on behalf of the minor in their care.
Qualifying Conditions
New York does not have a list of qualifying medical conditions. It's up to your healthcare provider to decide if cannabis may help you live a better, healthier life.
Common qualifying conditions for medical cannabis include, but are not limited to:
How to Apply
Here's how to join the New York medical marijuana program.
Documents You'll Need
A copy of the medical recommendation from your doctor.
Proof of identity (a driver's license or ID card)
Proof of New York residence (utility bills, medical bills, current property taxes, voter registration, health insurance statement, or any other documents that shows your current address)
Steps to Apply
Register online with Leafwell. 
To get a medical marijuana card in New York, you must consult a licensed healthcare provider. They will review your medical history, assess your condition, and determine if cannabis can help. You can book an appointment here to speak with a Leafwell healthcare provider.
Discuss your condition with a licensed cannabis doctor.
After registering online with Leafwell, you will talk to a medical marijuana doctor about your medical condition and symptoms and how the cannabis plant may enhance your quality of life.
They will then prepare your medical marijuana certification form and email it. You will only pay the bill if you're approved.
Get your medical marijuana certification via email.
After you've consulted with a doctor and received approval, you'll receive your certification. Once it arrives in your inbox, double-check all fields to ensure the information is correct. This may take a short while but should be completed within 24 hours. The certificate is a legal document, and there isn't any room for error.
The document should list the following:
The medical condition qualifying your use of medical cannabis.
Your patient certification number.
Your doctor's DEA registration number and New York practitioner number.
Your dosing recommendation.
The expiration date of your certification (one year from the issue date).
Patients receiving medical marijuana certification will not receive a plastic medical marijuana card. Instead, patients will receive a Registry ID during certification, which will automatically be added to the Medical Cannabis Program during approval.
What to Expect During Your Leafwell Appointment
Leafwell understands the value of cannabis as a medicine, and we're committed to ensuring everyone receives the medicine they need whenever they need it.
We also endeavor to provide people with all the information, data, and insights they require as they begin to look into the benefits of medical cannabis.
In New York and many states, we can help you apply and register for a medical marijuana card. The evaluation process is simple and quick and can be done online using our telemedicine platform.
Medical records aren't mandatory but can be uploaded to help the practitioner familiarize themselves with your medical history before the consultation date.
During the consultation, you will meet with a registered practitioner with experience in prescribing medical marijuana so they can assess if you qualify. They will ask a few questions about your condition. After the consultation, they will either approve or deny your application. You won't be charged if you aren't approved.
Costs
Online consultation costs $149 and is only billed if you're approved.
Medical Marijuana Reciprocity
New York does not have medical marijuana reciprocity, meaning your state medical card can only be used in New York.
If you're traveling, read up on the specific cannabis laws of whatever state you visit. Remember, cannabis is still federally illegal, and different states may have unique rules.
Applying as a Caregiver
As we mentioned, patients under 18 will need a caregiver older than 21 to apply for a NY medical card on their behalf. Patients of age who are unable to follow up on the process may also use a caregiver to access medical cannabis.
The patient will have to list you as their designated caregiver as they fill out their registration form. After the registration has been approved, you will need to register online as a caregiver. You will then receive a registry ID card to buy and deliver medical-grade cannabis to your patient.
A caregiver can serve up to four certified patients at a time, and each patient can have up to five caregivers.
Where to Buy Medical Marijuana
Once approved to use medical marijuana, you can shop from more than 20 approved New York dispensaries. 
You can choose one based on where you live, your doctor's recommendation, and the approved medical marijuana products they carry.
Cultivation
You can cultivate up to six cannabis plants — mature and three immature — if you're a certified patient and at least 21.
A registered caregiver can also grow the same number of plants for their patient's use. This directive was issued to make marijuana accessible and affordable to everyone who needs it.
However, you cannot possess more than five pounds of home-grown cannabis.
New York Medical Marijuana Laws to Know
In March 2021, former New York Governor Andrew Cuomo signed into law the Marijuana Regulation and Taxation Act (MRTA). This sought to create the Cannabis Control Board, which regulates medical cannabis sales.
The board is also tasked with licensing registered organizations, with special consideration for unserved and underserved communities. Here are a few laws and facts you should keep in mind if you want to participate in the New York medical marijuana program:
Patients can possess up to 60 days' worth of cannabis, an increase from the previous 30-day stipulation.
Medical marijuana can now be smoked. This overturns a ban on smoking that previously forced patients to consume their medicine orally or by applying lotions and balms.
The whole cannabis flower is now an approved form of medical cannabis. In the past, one could only use medical products made using cannabis.
A new research license allows people to produce, purchase, process, or possess marijuana for research purposes.
Minors and other people unable to take up the process on their own – for example, the elderly – can designate a caregiver to do it for them.
The Bottom Line
Even though New York is a recreational state, getting a medical marijuana card has its benefits. A medical card not only saves you lots of money but also provides access to high-quality cannabis with standardized prices.
It will also enable you to buy from medical dispensaries with qualified and trained staff members who will provide any guidance you may need.
At Leafwell, we are dedicated to ensuring everyone with a debilitating medical condition has unconditional access to medical cannabis. Register with us online to get a medical marijuana card in New York.
Personalized Cannabis Guidance
Meet with a counselor and get personalized guidance to the right types and doses of cannabis for your unique needs.
Book Appointment