How to Make Festive Marijuana Edibles
It's been a challenging year, so Christmas treats are certainly in order. And what better way to spend this Christmas than relaxing in front of your favorite movies with some medicated edibles (and a little less alcohol)? We already have a healthy pot brownie recipe you can make this Christmas or New Year, but here are a few more suggestions on both the sweet and savory ends of the scale. These recipes are not necessarily as healthy, but this time of year calls for a bit of comfort eating!
Personalized Cannabis Guidance
Meet with a counselor and get personalized guidance to the right types and doses of cannabis for your unique needs.
Book an Appointment
First Things First: Canna Oil or Canna Butter?
Before you start making cannabis-infused edibles, it's essential to learn how to make canna-oil and cannabutter.
In general, we generally (but not always) recommend using cannabutter when it comes to baking. However, canna oil can be a reasonable alternative if you don't use butter, and there are many recipes you can make with canna oil as well. Remember that the strength of your edibles will be as potent as the cannabutter or canna-oil you make and the amount you use. You can always use less cannabutter or canna-oil and the equivalent amount of typical butter, olive, or coconut oil.
Some types of recipes call for cannabutter, others canna oil. In general, baking is best with butter, but some very lovely cakes and cookies use olive or coconut oil instead, which often results in a more dense but moist cake or cookie. When it comes to roasting or cooking, canna-oil is usually best, although we admit that there are occasions when cooking with butter is undoubtedly worth it!
Get Your Delicious Cannabutter Recipe
Medicated Mac 'n' Cheese
There are few foods as comforting as mac 'n' cheese, and making it with cannabutter will likely increase the comfort levels (as long as you don't use too much!). Here's how to make it. For a vegan version, you can substitute milk for soya milk, the butter with dairy-free margarine or canna-oil (we recommend margarine in this instance, with a bit of oil for frying or dressing when needed), and the cheese for vegan cheese and nutritional yeast flakes. This recipe would make for about two to three servings.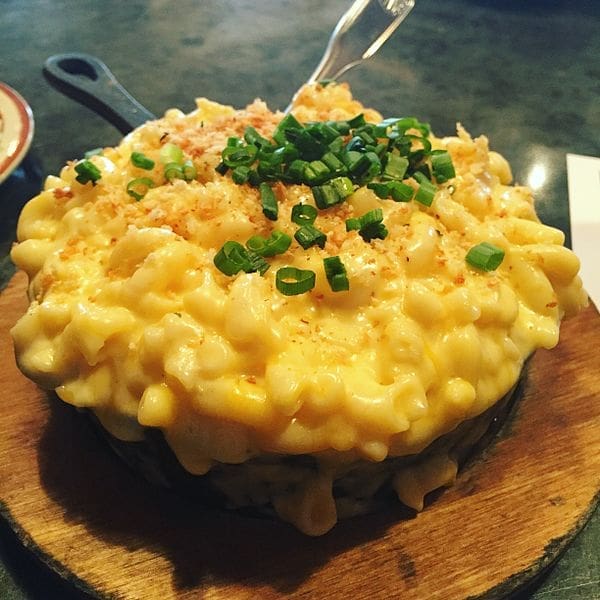 Wet Macaroni/Cheese Ingredients
1/2 pound elbow macaroni
Up to 1/4 cup of cannabutter — if using lower amounts of cannabutter, use some salted or unsalted butter to make up the rest (e.g., two tablespoons cannabutter to 2 tablespoons butter)
1/4 cup flour
3 cups milk
1/2 cup yellow onion, finely diced
One teaspoon cayenne (optional)
One large egg
12 ounces sharp cheddar (or vegan equivalent), shredded, divided
One teaspoon salt
One teaspoon ground black pepper
Optional: chives, fried bacon, or vegan bacon for topping at the end
Optional: many people like to add different cheeses alongside the cheddar, the classics being Gruyère, Emmental cheese, and Parmesan
Dry Topping Ingredients
Up to 1/4 cup cannabutter for finishing — replace butter with salted or unsalted butter if using lower proportions of cannabutter
1 cup panko bread crumbs
Cooking Instructions
STEP 1
Preheat the oven to 350 degrees F (177 degrees celsius, or gas mark 4).
STEP 2
Cook the pasta to al dente in a large pot of salted water. At the same time, melt the cannabutter.
STEP 3
While the pasta is cooking and in a separate med/large pot, add most of the melted cannabutter (but keep three tablespoons back). Whisk in the flour and keep it moving for about five minutes over very low heat. (Do not let it boil or simmer) Make sure it's free of lumps. Stir in the milk and onion.
STEP 4
Temper in the egg. Stir in 3/4 of the cheese—season with salt and pepper. You have essentially made a Mornay sauce! For a vegan version, you can skip the egg and add about 20g to 30g (approximately 1/10 or 1/8 of a cup) of nutritional yeast flakes and any vegan cheese you may be using. Fold the macaroni into the mix and pour into a 2-quart casserole dish. Top with remaining cheese.
STEP 5
Melt the three separated tablespoons of cannabutter and/or regular butter in a saute pan and toss the bread crumbs to coat. Top the macaroni with the bread crumbs. Bake for about 30 minutes or until topping is browned.
STEP 6
Remove from the oven and rest a few minutes before serving.
Get Your Medical Card
Connect with a licensed physician online in minutes.
Roast POT-atoes
This is a simple recipe, and you needn't limit yourself to potatoes — root vegetables of any kind like yams, carrots, and parsnips work just as well. You could do a medicated roast vegetable medley if you so wish!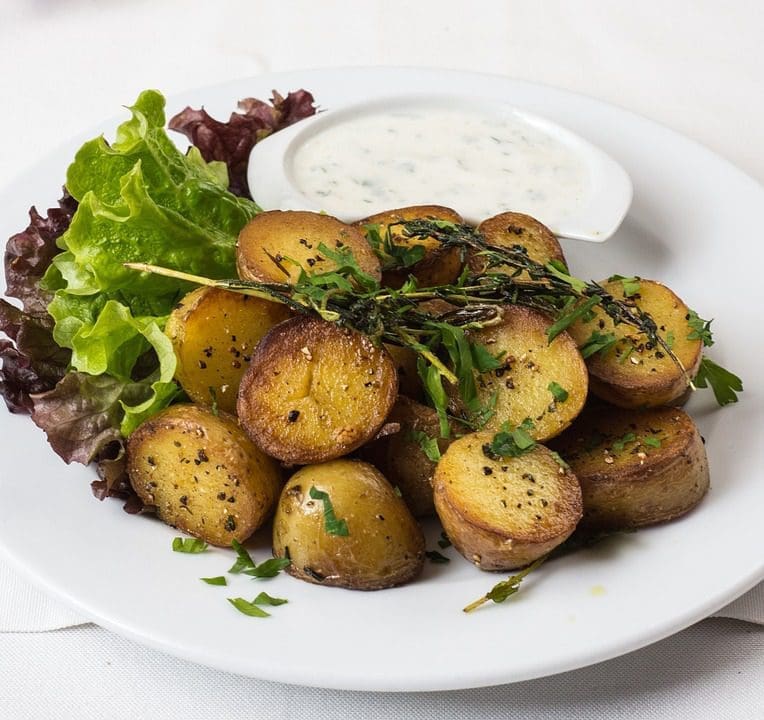 Ingredients
1kg Maris Piper potatoes
100g duck or goose fat (for a luxurious taste), or 100ml/3½fl oz olive oil
3 to 5 tbsp cannabis oil and/or a "herb" blend of salt, black pepper, rosemary, and 1-3 grams of ground cannabis. We recommend canna-oil in this instance, as it has a more neutral flavor. If you decide to do both, use a little less ground cannabis in your herb mix. You may also choose to add a pinch of turmeric to the herb mix for color and its health benefits.
2 tsp flour
Kosher sea salt flakes, to serve
Cooking Instructions
STEP 1
Put a roasting tin in the oven. The roasting tin should be big enough to take the potatoes in a single layer. Heat the oven to 400 degrees F (200C/fan 180C/gas 6).
STEP 2
Peel 1kg potatoes and cut each into four even-sized pieces if they are medium size, 2-3 if the potatoes are smaller (5cm pieces).
STEP 3
Drop the potatoes into a large pan and pour enough water to barely cover them.
STEP 4
Add salt, then wait for the water to boil. As soon as the water reaches a full rolling boil, lower the heat, put your timer on and simmer the potatoes uncovered, reasonably vigorously, for 2 minutes.
STEP 5
Meanwhile, put 100g duck or goose fat or 100ml olive oil into the hot roasting tin and heat it in the oven for a few mins, so it's really hot.
STEP 6
Drain the potatoes in a colander, then shake the colander back and forth a few times to fluff up the outsides.
STEP 7
Sprinkle with 2 tsp flour and give another shake or two to evenly and thinly coated.
STEP 8
Carefully put the potatoes into the hot fat – they will sizzle as they go in – then turn and roll them around in the fat or oil, so they are coated all over. You can put on the canna oil and/or half of the cannabis herb mix at this point.
STEP 9
Spread them in a single layer making sure they have plenty of room.
STEP 10
Roast the potatoes for 15 mins, then take them out of the oven and turn them over. You can add the other half of the cannabis herb mix and/or a little extra canna-oil to the potatoes at this point.
STEP 11
Roast for another 15 mins and turn them over again. Put them back in the oven for another 10-20 mins to get them golden and crisp. Do not worry if the color is uneven.
STEP 12
Scatter with sea salt flakes and serve straight away.
Get Your Medical Card
Connect with a licensed physician online in minutes.
Cannabis-Infused Cookies
Canna cookies are a classic, and you can get them in dispensaries in many states. However, there's nothing quite like the taste and smell of fresh, home-baked cookies, and there are fewer preservatives and other things in the homemade version.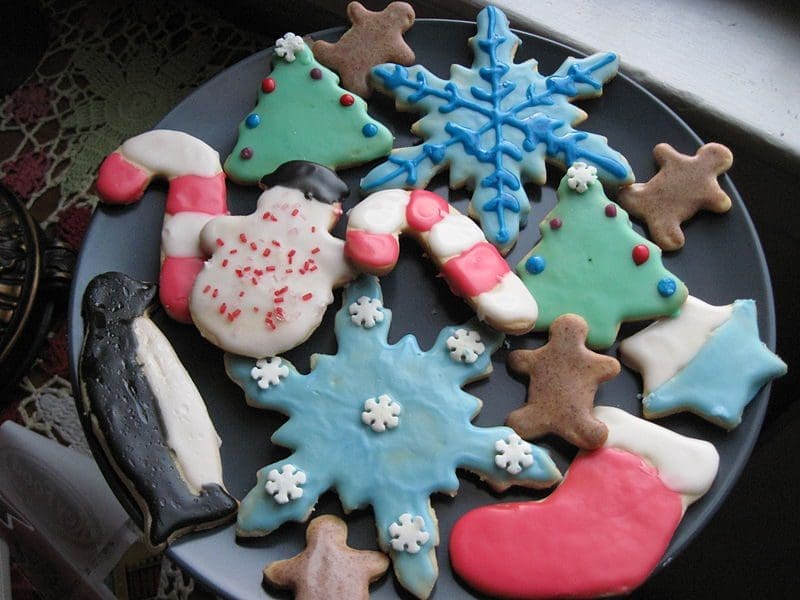 Ingredients
1¼ cup all-purpose flour
½ teaspoon baking soda
½ teaspoon salt
¾ cup sugar – half brown sugar, half white sugar, or coconut sugar
½ cup cannabutter or cannabis coconut oil
One farm-fresh egg, beaten – for vegans, two tablespoons of aquafaba (the water in a can of chickpeas or white beans) can be used to replace the egg
½ teaspoon vanilla extract
1 cup chocolate chips – you may use cannabis-infused chocolate chips if you so choose
Optional: Christmas spices like ground cinnamon, nutmeg, cardamom, and/or ginger.
Get Your Medical Card
Connect with a licensed physician online in minutes.
Cooking Instructions
STEP 1
Preheat the oven to 375° F.
STEP 2
In a large mixing bowl, whisk the dry ingredients: flour, baking soda, and salt (and Christmas spices if used). Set aside.
STEP 3
In a medium mixing bowl, using a hand beater, cream the sugar and oil or butter until it is light and fluffy, approximately two to three minutes.
STEP 4
Add the egg and vanilla and beat well.
STEP 5
Gradually add the dry ingredients to the wet ingredients while continuing to mix.
STEP 6
When the dough is formed, gently fold in the chocolate chips.
STEP 7
Create one tablespoon dough ball and place them evenly spread on a baking sheet. Gently flatten the dough balls with your hands. You can use Christmassy cookie cutters for an extra festive feel!
STEP 8
Bake in the oven for 10 minutes.
STEP 9
Remove from the oven and allow to cool for one to two minutes. Remove from the tray and transfer to a cooling rack.
Some Advice on Eating Medicated Edibles
When it comes to edibles especially, we recommend going low and slow. If you plan on infusing all three courses of your meal with cannabis, use lower amounts of cannabis, canna-oil, or cannabutter for each dish. Alternatively, just infuse cannabis into one of your dishes, and leave the rest un-medicated, so you can enjoy the experience (and the munchies) without going overboard this Christmas.
Get Your Medical Card
Connect with a licensed physician online in minutes.