Leafwell 2021: How 50,000 of Our Patients Used Cannabis Last Year
Access to medical cannabis increased throughout 2021, with Leafwell certifying over 300% more patients than in 2020 to get their medical card. As medical cannabis, and telemedicine, move further into the mainstream, more people than ever are using platforms like Leafwell to access the medicine they need. Let's break it down:
In 2020, we took a representative sample of 15,000 patients for our annual report.
In 2021, we're taking a representative sample of 50,000 patients to conduct our research.
The biggest contributor to this increase has been:
The expansion of telehealth throughout the US due to COVID-19.
The addition of qualifying conditions (especially anxiety).
Our increased presence in a larger number of states.
Educational initiatives with partners to increase understanding and access.
However, it should be noted that many states also rolled back their emergency orders which allowed for telemedicine. That said, with so many people enjoying the ease and convenience of telemedicine, many states passed permanent telemedicine laws in response to widespread demand, and more have pending legislation to do the same.
This means that, even when COVID no longer causes disruption on a day to day basis, people will want to use telehealth and Leafwell will be the platform of choice for medical cannabis users. Renewing with Leafwell also helps us further understand the efficacy of cannabis, as we improve our anonymous data collection and analysis, helping us unlock the therapeutic potential of this plant.
Personalized Cannabis Guidance
Meet with a counselor and get personalized guidance to the right types and doses of cannabis for your unique needs.
Book an Appointment
Want To Read This Later? Download Now!
Key Stats
Over 50,000 patients are included in this report.
35,036 initial certifications.
15,035 renewals.
Top qualifying conditions in 2021
Chronic pain
"Other"
Anxiety
PTSD
Insomnia
Migraine/headache
Depression
Spasms
This is not so dissimilar to what Leafwell saw in 2020. These were the most common conditions regardless of the gender of the patient.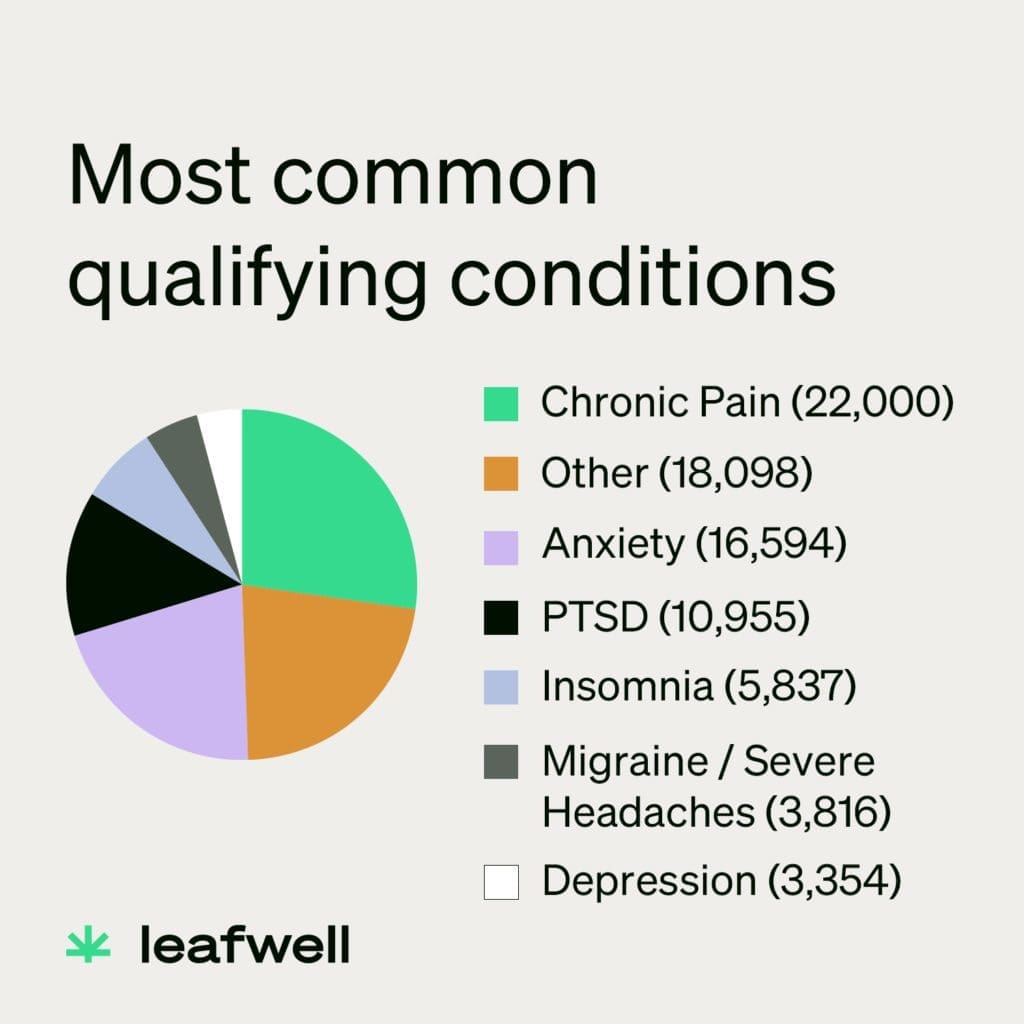 Top states:
Pennsylvania (18% of Leafwell's 2021 patients)
California (9.64%)
Massachusetts (9.62%)
Montana (7.86%)
Virginia (6.56%)
Oklahoma (6.41%)
In 2020, California was the highest-performing state for us, followed by Oklahoma, Maine, Pennsylvania, Illinois, New Jersey, New York and Virginia.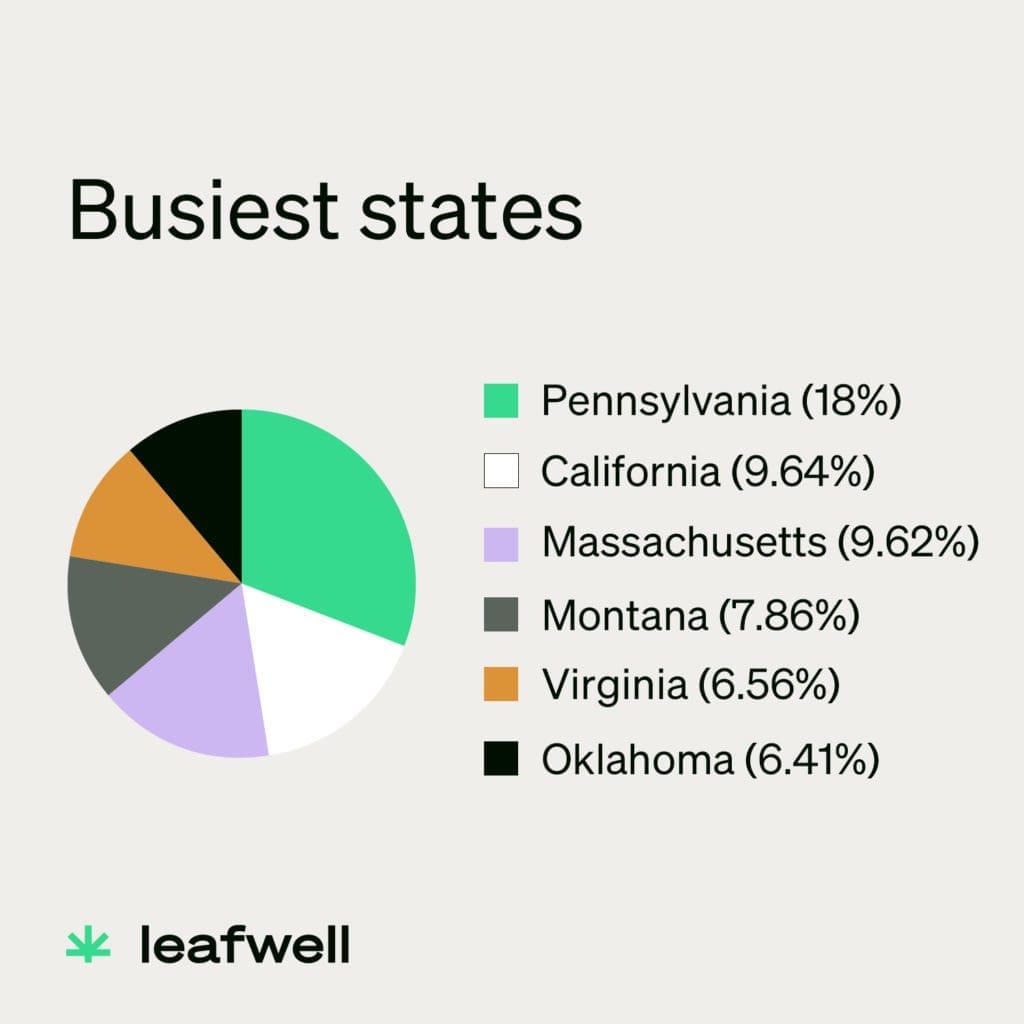 Age and gender:
Approximately 52.75% of our patients are male, 46.75% female, and 0.5% other.
The 20 – 29 and 30 – 39 age groups made up the biggest proportion of our customers.
It would seem that those under 45 are more likely to become medical cannabis patients. Although many patients are in the 18 – 21 year-old age bracket, there's a huge concentration of people being certified who are aged from mid-20s and early 40s.
The mode age was 19, followed by 20 and then 31.
April is our busiest month of the year, February is the least busy.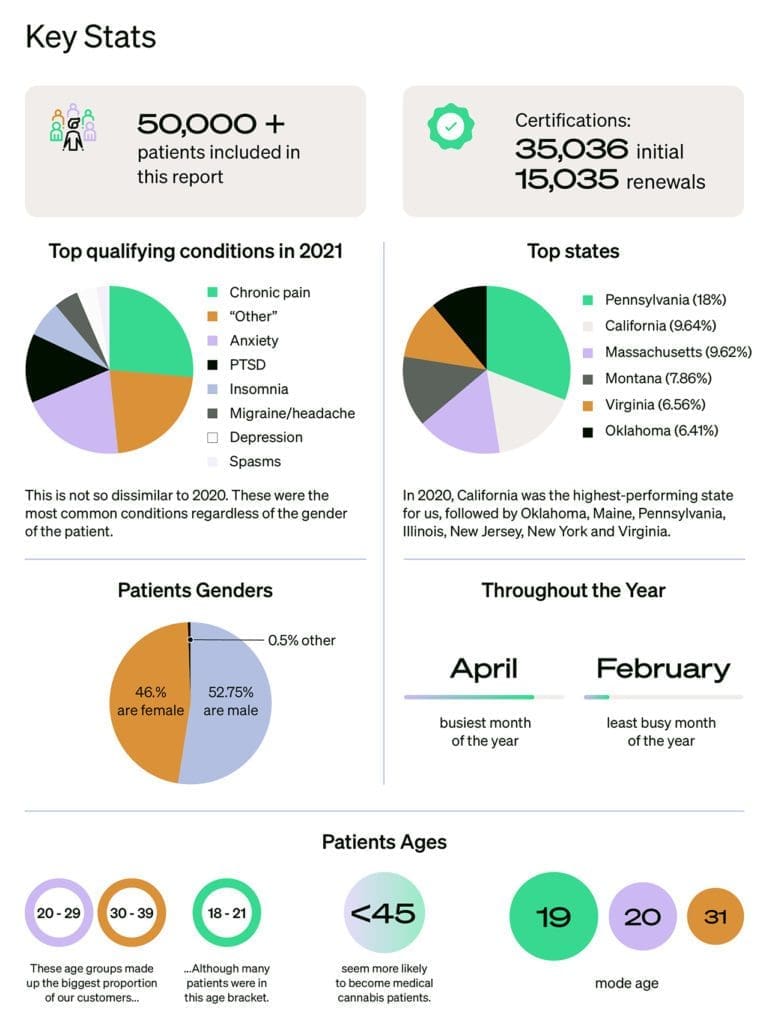 Why Did People Use Medical Cannabis in 2021?
If you would like to read more on the science on why cannabis works for our top qualifying conditions, you can check out our 2020 report. Chronic pain, anxiety, depression, insomnia, migraine/headache and nausea are all symptoms common to many conditions. So it is not surprising to see that the top qualifying conditions have not changed:
Chronic Pain = 22,000
"Other" = 18, 098 (please note that many people fill in "Other" even if their condition would fit one of the other categories)
Anxiety = 16, 594
PTSD = 10, 955
Insomnia = 5, 837
Migraine / Severe Headaches = 3, 816
Depression = 3, 354
Muscle Spasm of Back = 1, 896
Muscle Spasms = 1, 749
Severe Nausea = 1, 510
Cancer = 1, 425
Cramp & Spasms = 904
Neuropathy = 898
Other Muscle Spasms = 784
Inflammatory Bowel Disease (IBD) = 779
It is worth noting that many people click on "Other" even if their condition is listed. There could be some good reasons for this, including:
Patients don't like to read through a long list.
They don't see their condition listed by name specifically, even if they would fall into a category (e.g. condition PTSD for category mental health)
The patient sees all of their health problems as equally important, and so is seeking medical cannabis for more than just their primary condition.
If we group all the "Spasm" categories, then we have 8,448 patients. 309 also for muscle spasticity and 319 for multiple sclerosis (MS), where spasticity/spasms are a common symptom. Other conditions where spasms and cramps are a common symptom include:
Traumatic brain injury (TBI) and stroke
Spinal cord injuries and diseases (SCIs and SCDs)
Cerebral palsy
Amyotrophic lateral sclerosis (ALS, Lou Gehrig's disease)
Hereditary spastic paraplegias
Endometriosis
Premenstrual Syndrome (PMS – cramps more than spasms)
Many of the above are qualifying conditions. Some states may list spasticity as a qualifying condition as opposed to one of the above conditions by name. In states where the above are qualifying conditions, a number of patients in the above groups who will also be using cannabis for spasticity.
Want To Read This Later? Download Now!
Reducing Prescription Drug Intake
Medical cannabis is used to reduce or replace opioids, as many find it extremely useful for treating chronic pain. Patients also reported a reduced use of:
Many find cannabis has fewer side-effects compared to the above. Some people may also be using a cocktail of prescription drugs that clash with each other or synergize for more potent effects (e.g. sedatives and antidepressants), and find that medical cannabis helps reduce their dosage and therefore any negative side-effects as well.
What's Coming in 2022?
The past year has seen a huge jump in the amount of research on medical cannabis/marijuana. There is a lot of interest in medical cannabis and its potential painkilling, mood-altering, antimicrobial, anti-inflammatory, neurogenic and immunomodulating properties. There is also a lot of interest in cannabis for industrial purposes and its potential as a renewable resource (e.g. bioplastics, cleaning up polluted soils). Cannabis is not necessarily just for human health, but our environmental health as well. Which pertains to our next point …
"Healing" was a big word in 2021. Cannabis will play a big part in this process in a post-COVID world. So the other big question is this:
"How can cannabis help heal the world?"
Want To Read This Later? Download Now!