Guide to Beta-Caryophyllene, The Peppery Terpene and Cannabinoid
Cannabis is a wonderfully complex medicinal plant full of hundreds of chemicals that contribute to its aroma, flavor, and effects. 
Beta-caryophyllene (BCP), also known as the "pepper terpene," is a chemical responsible for cannabis strains with a warm, woody, and spicy aroma similar to black pepper and cloves. But beta-caryophyllene is more complex than other terpenes and bridges cannabinoids and other compounds in the cannabis plant. It has anti-inflammatory effects, and could be useful for a range of conditions like arthritis and nerve pain.
This article looks at what makes beta-caryophyllene special, how it affects the body, and for which conditions it may be a helpful treatment.
Personalized Cannabis Guidance
Meet with a counselor and get personalized guidance to the right types and doses of cannabis for your unique needs.
Book an Appointment
Why Is Beta-Caryophyllene Considered a Terpene and a Cannabinoid?
Beta-caryophyllene, sometimes called caryophyllene, is a terpene with a warm, woody, spicy smell. It's in black pepper and clove oil, as well as rosemary, oregano, cinnamon, basil, black caraway, hops, and essential oils. Beta-caryophyllene is so distinct that it's the smell drug-sniffing dogs are trained to sniff out.
What makes Beta-Caryophyllene unique?
Beta-caryophyllene is unique among terpenes in that it acts as a cannabinoid and targets the CB2 receptors in the body's endocannabinoid system. In many ways, beta-caryophyllene is an important reminder that terpenes and cannabinoids are not separate and that the two work in conjunction with one another.
Terpenes influence how cannabinoids behave and can modify how much THC crosses the blood-brain barrier (BBB). Terpenes can also regulate the production and decomposition of neurotransmitters like dopamine and serotonin.
Terpenes like beta-caryophyllene also affect flavor and combine with flavonoids and cannabinoids to produce unique therapeutic effects (the entourage effect). While different terpenes and cannabinoids have other effects at different dosages in various combinations, it is essential to remember that they are all interlinked. 
Free Cannabinoid and Terpene Guide
Health Benefits
Research studies have implicated beta-caryophyllene as a valuable potential remedy for many medical conditions, including the following:
Anxiety
Science has identified the CB1 receptor as playing a key role when it comes to anxiety. Should the CB1 receptors in the brain's amygdala be blocked, or if the gene that encodes the CB1 receptor is deleted, anxiety increases.
Dopamine neurons contain CB2 receptors, and therefore blocking or deleting these receptors can modulate anxiety-like behaviors. This is because, under inflammatory conditions, CB2 receptor expression in the brain is enhanced. This means selective CB2 agonists like beta-caryophyllene are beneficial for treating anxiety.
Depression
The overexpression of CB2 cannabinoid receptors is also implicated in other neuropsychiatric disorders like depression and schizophrenia. Eating disorders and alcohol-seeking behavior are also altered by CB2 receptor overexpression on dopamine neurons. Since beta-caryophyllene is a CB2 agonist, this can help mitigate depressive moods and other neuropsychiatric conditions.
Chronic and Neuropathic (Nerve) Pain
Beta-caryophyllene's anti-anxiety, antidepressant, and anti-inflammatory properties make it potentially very useful for treating chronic and neuropathic pain. Beta-caryophyllene has been shown to have analgesic as well as anticancer effects.
Powerful non-steroidal anti-inflammatory drugs (NSAIDs) like celecoxib (brand name: Celebrex) are often prescribed for arthritic pain and nerve pain in the short term. However, celecoxib has several nasty side effects, including abdominal pain, nausea, and diarrhea. 
In higher doses, celecoxib's side effects may include kidney failure, heart attacks, strokes, gastrointestinal perforation, gastrointestinal bleeding, and anaphylaxis (a severe, life-threatening allergic reaction). Beta-caryophyllene and CBD could be an alternative to such NSAIDs.
Neurodegenerative disorders (Parkinson's Disease, Alzheimer's Disease)
CB2 receptors are a potential therapeutic target for many different neurodegenerative disorders. The downregulation of CB2 receptors has been reported in the brains of Parkinson's patients, which leads to inflammation and brain degeneration. 
Beta-caryophyllene acts on CB2 receptors to soothe over-inflammation in the brain. The activation and upregulation of CB2 receptors are believed to protect against the neurodegenerative changes in those with Parkinson's disease (PD).
Levels of CB2 receptors are also increased in those with Alzheimer's disease (AD), "mainly in microglia surrounding senile plaques, and their expression levels correlate with the amounts of [certain] plaque deposition."
According to the above study, beta-caryophyllene may help reduce inflammation of the neurons in the brain and remove the plaques associated with Alzheimer's.
Potential Side Effects
Beta-caryophyllene is a potent anti-inflammatory and provides pain relief, potentially useful for inflammation and neuropathic pain. Beta-caryophyllene also has the potential to act as an anti-anxiety medication. 
Although beta-caryophyllene has physiological effects, it does not bind to CB1 receptors and has no psychoactive effects. And for all its benefits, studies have found little-to-no adverse side effects in beta-caryophyllene.
How to Use Beta-Caryophyllene
How to use beta-caryophyllene depends on how you seek to use cannabis as medicine. Since it is a part of medical marijuana, it's difficult to precisely dose for a terpene only when consuming the whole plant.
Download Free Guide to Beta-Caryophyllene
Beta-caryophyllene can be great for treating anxiety, but when combined with high amounts of pinene, limonene, THC, and THCV, it may cause more anxiety. It may work best to start with lower doses and see how the entourage effect impacts your usage. This combination of cannabinoids and terpenes may be helpful for:
For anxiety, insomnia, and chronic muscle and joint pain, beta-caryophyllene combined with the following may be a more suitable choice of cannabinoids and terpenes:
Myrcene

Linalool

Terpineol

CBD

THC
Again, we recommend starting with lower THC potencies regardless of beta-caryophyllene and increasing the potency as needed to aid with a specific condition. If you need further guidance on dosing, we recommend you ask your Leafwell doctor.
Cannabis Strains and Cultivars High in Beta-Caryophyllene
Many varieties of cannabis contain beta-caryophyllene, with some types containing more than others. 
The amount of beta-caryophyllene in a particular strain depends on where and how the cultivar was grown and its genetics. The test results on the packaging are more likely to tell you this than a strain name.
However, the following varieties of cannabis in the Girl Scout Cookies (GSC) family have been found to contain high amounts of beta-caryophyllene consistently:
Cookies and Cream

Candyland

Platinum GSC

And, of course, GSC itself
Some cannabis varieties that carry Kush genetics have also been tested to contain beta-caryophyllene, including:
Master Kush

Bubba Kush

OG Kush

Purple Kush
Again, though, the name alone won't be the best indication. Varieties are often mislabeled, and it's always best to check the test results instead of for precise amounts.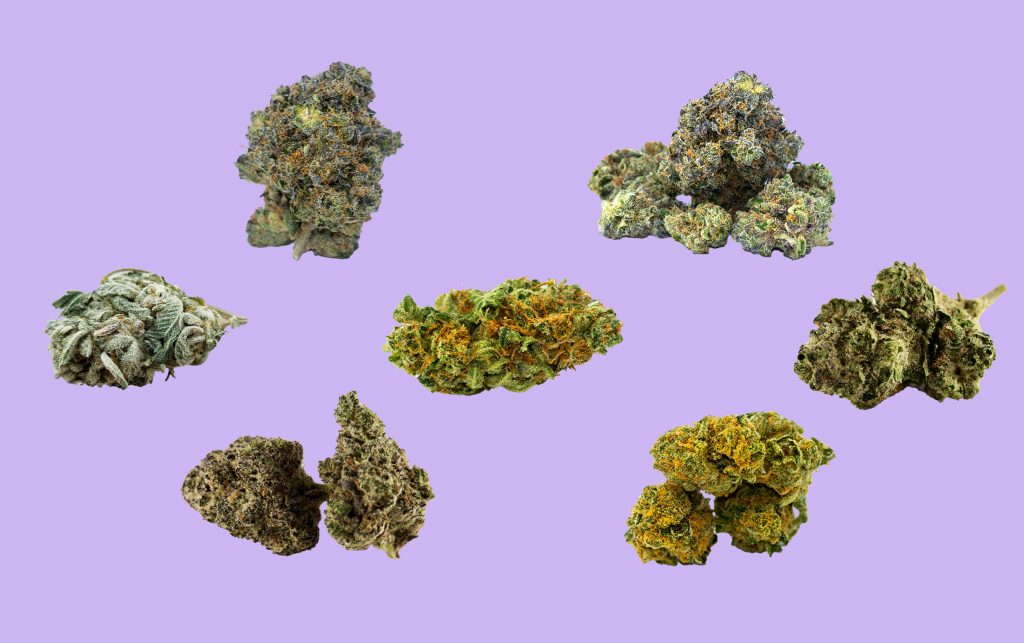 Final Thoughts on Beta-Caryophyllene
All-in-all, beta-caryophyllene is a very promising cannabinoid with plenty of its health benefits in addition to its role in cannabis' entourage effect. While much research is still needed to understand it, beta-caryophyllene is certainly worthy of consideration to add to your medical cannabis toolkit.
To learn more about how beta-caryophyllene may enhance your wellness, connect with a Leafwell doctor today.
Get Your Medical Card
Connect with a licensed physician online in minutes.