Will Jay-Z's $50 Joints Cure All Ills? Celebrities and the Health of Cannabis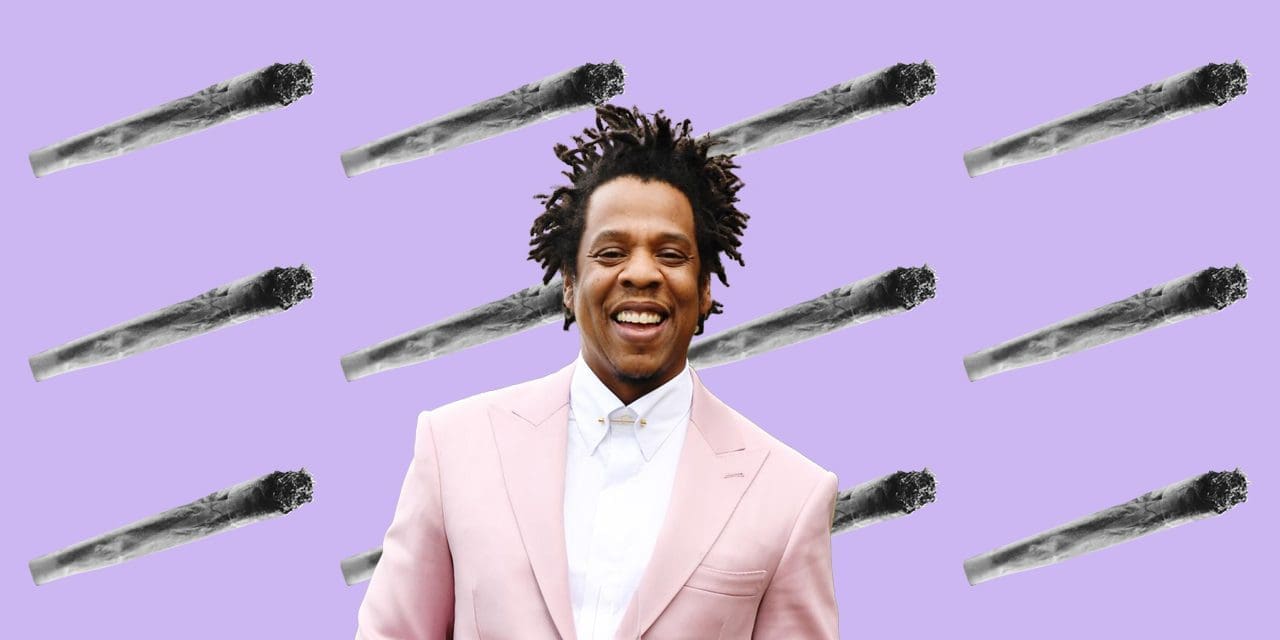 With the rollout of his Monogram luxury cannabis product line in California on December 10, 2020, Shawn "Jay-Z" Carter became the latest and perhaps most-famous name to emerge as a legal cannabis industry entrepreneur.
Jay-Z's signature offering is a 1.5-gram joint hand rolled by "highly trained artisans" who twist up the small-batch flower using a special Monogram technique of joint rolling that, if press briefings are credible, took over one year to devise. Marketed as the "OG Handroll," the high-end weed stick carries a price tag of $50 per Handroll.
Consumers who want to shop high-end without being uncomfortably large spenders can place their money on Monogram's four-packs of pre-rolled Small Jays. Jay's pinners pack 0.4 grams of cannabis each and are available in four strains.
Developed by cannabis horticulturist DeAndre "De" Watson, the four variations are named No. 88, No. 96, No. 70 and No. 01. Each number strain of Monogram's legal cannabis products is available in three strengths, "light," "medium" and "heavy."
Get Your Medical Card
Connect with a licensed physician online in minutes.
Celebrities In The Cannabis Industry
Often cited as a visionary and entrepreneurial frontrunner, Shawn "Jay-Z" Carter is following a long line of celebrities into America's legal cannabis industry.
Snoop Dogg's Leafs by Snoop extends back to 2015.
Willie Nelson's Willie's Reserve has been in dispensaries since 2016.
Tommy Chong (Chong's Choice) and his former Cheech and Chong pot comedy partner Cheech Marin (Cheech's Private Stash) are natural legal cannabis industry frontmen.
Scores of hip-hop artists, from B-Real (Dr. Greenthumb's) to Wiz Khalifa (Khalifa Kush Enterprises) to Method Man (Tical Official) have taken the natural jump from rapping about the benefits of marijuana to financially benefiting from the legal cannabis industry.
Canadian actor Seth Rogan developed Houseplant
Home and garden lifestyle goddess Martha Stewart launched Martha Stewart CBD
Each of these high profile individuals have shined their star power on America's burgeoning green dream of legal and regulated cannabis industry products for every demographic.
Jay-Z and Martha Stewart's Cannabis Success
Jay-Z and Martha Stewart stand apart from the pack of celebrity cannabis industry entrepreneurs in that each of them had built vast and varied empires prior to turning their attention and fame to developing and launching lines of legal cannabis products.
Acclaimed as the first billionaire hip hop mogul, Shawn "Jay-Z" Carter seeded his fortune with 14 chart topping albums. His diffuse income streams include the Tidal music streaming platform, the Roc Nation entertainment agency, ownership of Armand de Brignac champagne, a stake in D'Ussé cognac, and fat helpings of Uber and Robinhood stock.
Despite, or perhaps in part as a result of, her short-lived history as a jailbird, Martha Stewart has expanded her Martha Stewart Living Omnimedia publishing and television image as the world's ultimate guru of do-it-yourself homemaking graciousness to include an on-screen friendship with gangsta rap originator Snoop Dogg. Martha's next logical expansion is the counter-intuitive but inevitable Martha Stewart CBD Collection of gummies, oils and softgels selling at more than 580 outlets across the U.S.
Aside from diversified business interests outside of the legal cannabis industry, Jay-Z and Martha Stewart share an entry strategy into legal cannabis industry entrepreneurship. Both moguls started as consultants and advisers to established legal cannabis industry leaders.
Tastemaker Stewart began her legal cannabis industry ventures in March 2019 by signing on to consult with and lend her O.G. influencer credentials to Canadian legal-marijuana company Canopy Growth. Canopy had provided the expertise and resources behind Stewart's friend Snoop's Leafs by Snoop.
Initially, Stewart concentrated on conceptualizing a Canopy line of therapeutic CBD products for pets. Little more than a year after dipping her initial toe into the legal cannabis pond, Stewart had turned her attention to humans. Working in concert with Canopy Growth's cannabinoid scientists, Martha directed the formulation of celebrity branded CBD isolate products "inspired by flowers from my garden."
Jay-Z's break into regulated cannabis business came in 2019 when he took on the role of chief brand strategist for Caliva, a California cannabis company. Monogram was developed as a Caliva joint venture with Left Coast Ventures, home to celebrity-stamped brands like Marley Natural and Carlos Santana's Mirayo. Subversive Capital Acquisition Corp bought up this entire batch of legal cannabis affiliates in November 2020, just in time to unveil Jay-Z's top-tier, year-in-development Monogram brand.
Like Stewart's progressive involvement at Canopy Growth, Jay-Z's participation in bringing Monogram to market was far more hands-on than putting his face on the packaging. As Michael Auerbach, the founder and chairman of Subversive Capital, testified to Forbes: "He's a real executive. He's not some ancillary ambassador who says something nice about us once a year. He's the tip of our spear who's building out our house of brands."
Get Your Medical Card
Connect with a licensed physician online in minutes.
Other Celebrities Involved In Cannabis
Of course, few celebrity collaborations with cannabis industry powerhouses will have the chemistry baked in to the entrepreneurial expertise of empire builders such as Martha Stewart and Jay-Z. For instance, a teaming of former Seattle Supersonic NBA All Star Shawn Kemp and a Seattle, Washington, cannabis consortium has a long way to go before inspiring the level of consumer confidence that Stewart and Carter bring to Canopy Growth and Monogram.
An October 2020 press release lauding Kemp as proprietor of Seattle's first Black-owned legal cannabis dispensary required rewriting when it was revealed that Shawn was owner in name only of Shawn Kemp's Cannabis.
As reported by Green Entrepreneur, Kemp had partnered with the founders of Seattle marijuana retailers Main Street Marijuana to open Shawn Kemp's Cannabis store. It was only after news reports and Washington State cannabis officials quibbled that no Black person was actually included as an owner on the Shawn Kemp Cannabis business license that the registered owners moved to add Kemp as a 5% owner.
Five percent is a far cry from the degree of commitment consumers might expect from a "social equity incubator," but the primarily white majority owners intend to open four more stores, and promise that Kemp's ownership equity will rise with those openings.
There is more than one moral to be drawn from contrasting the Shawn Kemp example of putting a famous face on legal cannabis products to the experiences of Shawn "Jay-Z" Carter and Martha Stewart in developing quality cannabis offerings. The conclusion is simple to reach: Which brand inspires your confidence as a medical cannabis consumer?