How to Get a Medical Marijuana Card in New Mexico in 2023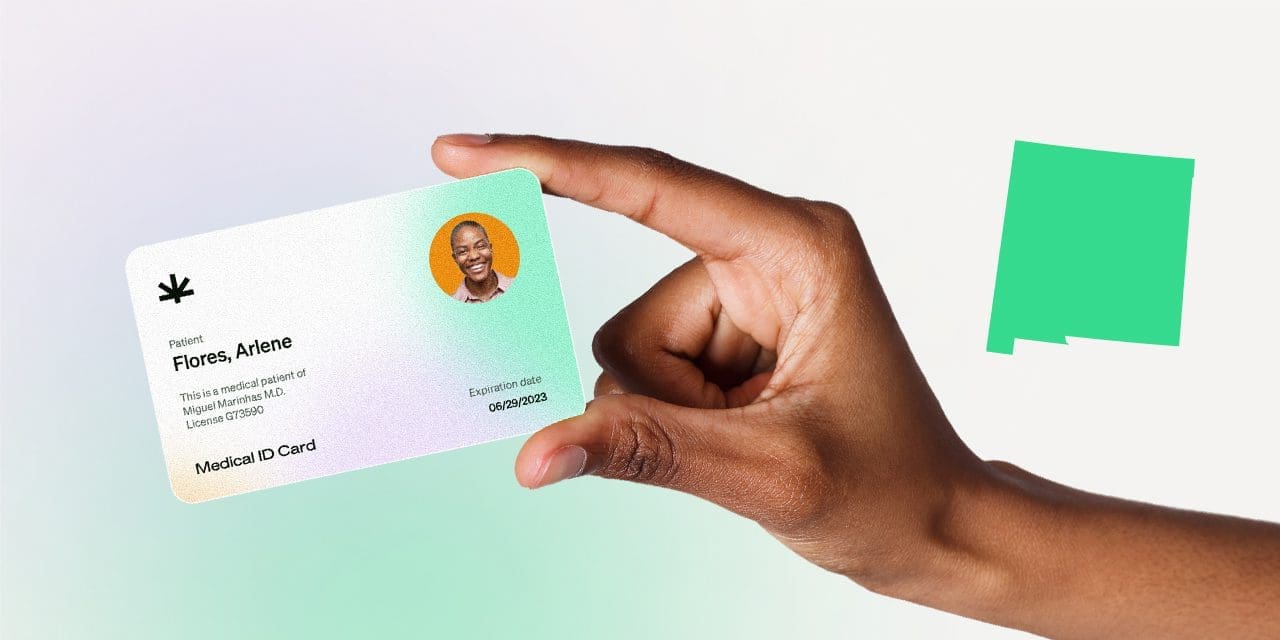 To get a medical marijuana card in New Mexico, you must visit a qualified healthcare provider in person or online via telehealth platforms like Leafwell. Your Leafwell healthcare provider will then provide you with a written certification if they believe that your medical condition qualifies for the use of medical cannabis.
The New Mexico Medical Cannabis Program is intended to help those with qualifying medical conditions find the relief they need through medical cannabis, so it's crucial to understand the state's requirements and regulations to get approved for a medical card.
Get Your Medical Card
Connect with a licensed physician online in minutes.
Benefits of Having a Medical Card in New Mexico
New Mexico legalized recreational cannabis use in April 2022, but there are still benefits to getting approved for an MMJ card.
One significant benefit of a medical card is medical cannabis products aren't subject to sales tax, and recreational products are. The total tax for adult-use customers is 20%, while medical patients pay 5 to 8% depending on the product type and dispensary where they purchase from.
Getting a New Mexico medical card not only allows you to buy cannabis at lower prices but also grants protection against employers, landlords, and even family courts from discriminating against you due to cannabis use.
Eligibility Requirements
Adults at least 18 who reside in New Mexico may be able to acquire a medical marijuana card if diagnosed with at least one qualifying health condition. That will be determined by a certified physician, who must fill out an application form indicating what health issues their patient is living with and proof of diagnosis.
Can Minors Get a Medical Card in New Mexico?
Minors in New Mexico can get a medical card; however, a parent or caregiver must handle the application process on their behalf.
To apply as a caregiver, you must be at least 21 and file paperwork for legal guardianship or medical power of attorney. Parents or caregivers will also be required to fill out a separate form to receive state approval.
Qualifying Conditions
Patients who are suffering from at least one of the following qualifying medical conditions are eligible for a New Mexico medical marijuana card:
Patients in hospice care may also be approved for a medical marijuana card.
How to Apply
New Mexico residents can apply for a medical marijuana card online or via mail. Here are a few key things to remember before you begin the application process.
Documents You'll Need
Adults age 18 and older applying for a medical card will require:
A clear copy of your New Mexico driver's license or photo ID.
Medical records to prove your diagnosis. This may include primary physician notes, specialist diagnoses, bloodwork, and radiographic evidence.
Guardians for patients who are minors should include legal guardianship or medical power of attorney paperwork to show their legal authority.
Steps to Apply
Once you have all the relevant documentation prepared, you can begin the application process. Here's what to do next.
Register online with Leafwell.
The first step is to prove that you have a qualifying medical condition. Registering with Leafwell grants you access to qualified physicians who can further guide you through the process.
Meet with a medical marijuana doctor.
When you connect with a physician, describe your symptoms in full and any medical treatments you've tried in the past. Once they clearly understand your health issues, they determine if you're a qualified patient and can approve your application.
Your physician will then submit your approval to the state within 24 hours. Note that you will only be charged if your application is approved.
Complete the online application process.
Now that a medical cannabis doctor has approved you, the next step is submitting your application at the state level. It will take the New Mexico Department of Health 30 days to deny or accept it.
Get approved and receive your card.
If approved, your new medical marijuana card should arrive within 35 days. It may come sooner (or later) depending on the volume of applications the state government has at the time.
What to Expect During Your Leafwell Appointment
Cannabis is helping people across New Mexico deal with many medical ailments. Despite the plant's controversial past, we at Leafwell understand that cannabis is uniquely positioned to manage health issues that don't respond to traditional medications.
As such, we've tailored our process to ensure you receive the medical treatment you need as soon as possible. Once you've registered with Leafwell, we'll guide you through the application process and help you acquire a medical card.
A registered cannabis doctor will ask about your health issues and symptoms and determine if you have a qualifying condition. You'll only be charged for the consultation if the physician approves your application and writes a recommendation.
Cost
New Mexico charges a $30 application fee for medical marijuana patients. Leafwell charges a $99 consultation fee if our physician approves your application.
What Is Medical Marijuana Reciprocity?
As of 2020, New Mexico has allowed patients with medical cannabis cards from other states to purchase products in New Mexico. This is known as medical marijuana reciprocity: a rule that will enable medical patients in one state to purchase cannabis products in another legally.
However, if you're a New Mexico resident traveling to another state, you should do your homework on cannabis laws beforehand. Medical cannabis is legal in 37 states, but only 14 allow medical marijuana reciprocity.
Applying as a Caregiver
All patients 18 and younger require a parent or caregiver to apply for a New Mexico medical marijuana card. Adults who can't make decisions on their health due to reasons like disability can also apply for a card via a caregiver.
To be approved by the state as a caregiver, the patient must list you as their designated caregiver in the registration form. The next step is registering as a caregiver online if their application is approved. After receiving your registry ID card, you can buy and deliver medical products on behalf of your patient.
New Mexico's medical cannabis program allows caregivers to serve up to four patients simultaneously. Registered patients are allowed to have up to five caregivers each.
Where to Buy Medical Marijuana
Once you receive your medical card, you'll be able to buy medical-grade cannabis from the dozens of licensed dispensaries in New Mexico. Purchases are restricted to 15 ounces of dried flower (425 units) over 90 days.
Cultivation
Cannabis cultivation is legal in New Mexico. Medical patients can cultivate up to six mature cannabis plants per person, with a maximum of 12 per household. These laws apply to both medical and recreational growers.
New Mexico Medical Marijuana Laws to Know
In 2007, former New Mexico Governor Bill Richardson signed the Lynn and Erin Compassionate Use Act into law. This legalized the cultivation, processing, sale, purchase, and consumption of medical cannabis.
Senate Bill 523 also legalized the purchase of up to 15 ounces of marijuana over 90 days and allows patients to cultivate up to six mature plants (with a maximum of 12 plants per home). Keep in mind that access to medical cannabis is limited to New Mexico residents with valid cards.
Get Your Medical Card
Connect with a licensed physician online in minutes.