How to Get a Medical Marijuana Card in Washington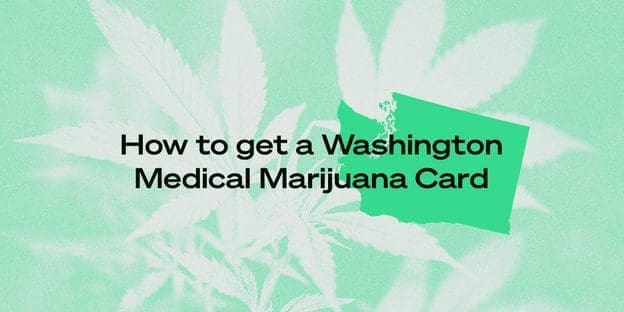 You can get certified for medical cannabis in Washington online if you are an existing cardholder. While initial certifications must be in-person, telemedicine consultations are permitted for anyone already a patient with the state. Leafwell provides online consultations so you can quickly get your medical marijuana card for Washington in minutes.
Download A Free Guide to Medical Marijuana
Getting a Washington Medical Marijuana Card Online
It's easy to get your Washington Medical Marijuana Card online with Leafwell. You don't even need to apply for the card the state offers (although we recommend it).
You only need your authorization form provided by Leafwell to purchase marijuana. That said, you will not be recognized as a medical patient and, therefore, not eligible for the higher possession limits and cultivation rights. For the nominal fee of $1-$10 (prices vary), you can get a card that will provide you with the legal right to possess more medical cannabis and to grow marijuana plants if your provider recommends this!
Register with Leafwell and meet with one of our Washington-licensed providers to get your card. If you're approved, we'll mail out your certificate, which you can take to a medically endorsed cannabis store, where they'll provide you with a card.
Who Can Apply for a Medical Card in Washington?
Anyone over 18 can apply to become a medical card holder in Washington. Please note that we can only see people for recertification via our online platform.
Caregivers must be 21 years or older to apply.
What Does an MMJ Card Permit in Washington?
There are many benefits to getting a Medical Marijuana Card in Washington. Adults aged 21 and older can only purchase:
Up to 1 ounce of useable marijuana (the harvested flowers, or "bud");
16 ounces of marijuana-infused edibles in solid form;
72 ounces in liquid form; or
Seven grams of marijuana concentrates.
However, medical cannabis patients entered in the state's voluntary patient database may possess the below higher levels:
3 ounces of useable marijuana (the harvested flowers, or "bud");
48 ounces of marijuana-infused product in solid form;
216 ounces of marijuana-infused product in liquid form; or
21 grams of marijuana concentrates.
Additionally, medical card holders can grow up to 15 plants, which is illegal for recreational users. You will need your health care provider to authorize up to 15 plants, from which you may possess up to 16 ounces of usable cannabis. Without authorization, patients can grow only six plants.
Patients and designated providers who aren't entered into the database can also grow cannabis, but they are limited to four plants and six ounces of usable cannabis. Please note that patients and designated providers who aren't entered into the database have only an affirmative defense to criminal prosecution.
How do I Apply?
There are four simple (three required) steps to getting recertified in Washington with Leafwell:
Register online with Leafwell: Log in and book an appointment for your medical marijuana consultation.
Discuss Medical Marijuana with your Doctor: Speak to your physician about your reasons for requiring medical cannabis during your medical marijuana evaluation.
Receive your certificate from Leafwell: Your certification will be mailed to you after your appointment. You can purchase medical products with this certification.
(Optional – recommended) Apply for a Card with the State of Washington: You can register with the Washington State Department of Health (DoH) for medical marijuana to get an MMJ ID card via a medically endorsed store. You do not have to do this, although it is recommended.
Registry to the Washington Medical Marijuana Program is voluntary. However, those who do register enjoy higher possession and cultivation limits. We recommend it, especially as the fee can be as low as $1!
What Does my Online Medical Marijuana Evaluation with Leafwell Include?
Registering with Leafwell and meeting with a provider is quick and easy. Once you've completed the registration, you can either book an appointment at a time that suits you or enter the waiting room and be seen by the next provider.
You'll meet with a provider like any other medical consultation and answer questions based on your registration details. You will also have the opportunity to ask your provider any questions you may have about the program in Washington or medical cannabis. If you're approved, you'll receive your certification in the mail and get your money back if you are not approved for any reason.
How Much Does a Medical Marijuana Card Cost in Washington?
A consultation with Leafwell costs $149.
To register with the state costs between $1 and $10. Here's how it works:
Take your authorization form to any licensed and medically endorsed marijuana store
The medical marijuana consultant will enter your details into the database
They will also take your photo and provide you with a card – there is a fee which ranges from $1 to $10
As the fee is so low for the card, we strongly recommend that you visit your nearest medically endorsed marijuana store once your certification from Leafwell arrives.
What Conditions Qualify for Medical Marijuana Cards in Washington?
Washington state law lists the following medical conditions as qualifiers for a medical cannabis card:
AIDS/HIV
Cancer
Chronic Renal Failure
Crohn's Disease
Epilepsy
Glaucoma
Hepatitis C with Debilitating Nausea or Intractable Pain
Intractable pain (defined as pain unrelieved by standard treatment or medications)
Multiple Sclerosis (MS)
Post-Traumatic Stress Disorder (PTSD)
Traumatic Brain Injury (TBI)
Wasting Syndrome
Diseases include Anorexia, nausea, vomiting, wasting, appetite loss, cramping, seizures, muscle spasms, or spasticity, and when conditions are unrelieved by standard treatments or medications.
Other conditions may be added, subject to the approval of the Washington Board of Health. This list is up to date as of August 2022.
What Documents Do I Need to Apply for a Medical Cannabis Card?
To apply with Leafwell, you'll need your ID. We accept:
WA Driver's License
WA State ID
Do I Need to Present my Medical Records to Leafwell?
No, it is not required for you to present medical records. However, during the registration process with Leafwell, it is optional for you to upload documentation. You may do this if you wish, but it is not a requirement.
How Does a Caregiver Apply for a Medical Marijuana Card?
The caregiver must be 21 years of age or older. In Washington, they are termed a "designated provider."
Medical marijuana patients may designate someone on their medical marijuana authorization form to purchase their marijuana product and/or grow the marijuana for them. The "designated provider" will also receive an exact copy of the form printed on tamper-proof paper.
Each patient and "designated provider" must have their medical marijuana authorization form provided by the patient's healthcare practitioner. A designated provider can only serve one patient at any one time.
Can a Qualifying Patient Grow Cannabis in Washington?
Yes, a qualifying patient can grow cannabis in Washington.
There are various tiers of cultivation laws for medical patients:
Up to 15 plants if authorized by a physician and with a card from the state;
Up to six plants, if the physician indicates no higher value, and with a card from the state;
Up to 4 plants for patients with the certification but no card – note that you will also have an affirmative defense to criminal prosecution.
Are my Details Kept Confidential When I Apply for a Medical Marijuana Card?
Yes. Leafwell is committed to protecting the privacy of our patients. Our online service for Washington is HIPAA compliant, and our systems are designed to keep all of your confidential details safe.
Does Washington Have Medical Marijuana Reciprocity?
Washington does not have medical marijuana reciprocity and does not recognize other states' medical marijuana cards. As adult use is legal in Washington, anyone over 21 may purchase per recreational laws.
However, some states may recognize the official Washington state cards — we recommend you contact the licensed dispensaries you may wish to purchase from if you are traveling out of state to enquire whether your card will be accepted.
History of Medical Marijuana Laws in Washington
1979 – The state of Washington recognizes a legal defense for medical cannabis use in the case of State v. Diana.
1990s – Cannabis clubs were established to provide cannabis to medical patients.
1997 – Initiative 685 to legalize medical marijuana is proposed but fails.
1998 – Initiative 692 decriminalizes cannabis and effectively establishes a medical marijuana program, as it allowed physicians to recommend medical marijuana to patients with terminal or debilitating illnesses, including: "chemotherapy-related nausea and vomiting in cancer patients; AIDS wasting syndrome; severe muscle spasms associated with multiple sclerosis and other spasticity disorders; epilepsy; acute or chronic glaucoma; and some forms of intractable pain."
Current Washington Medical Marijuana Laws
Patients in the voluntary database can possess: 3 ounces of useable marijuana (the harvested flowers, or "bud"), 48 ounces of marijuana-infused product in solid form, 216 ounces of marijuana-infused product in liquid form, or 21 grams of marijuana concentrates.
Patients in the voluntary database can grow up to 15 plants.
Useful Links
Get Your Medical Card
Connect with a licensed physician online in minutes.