Favorite Halloween Edible Recipe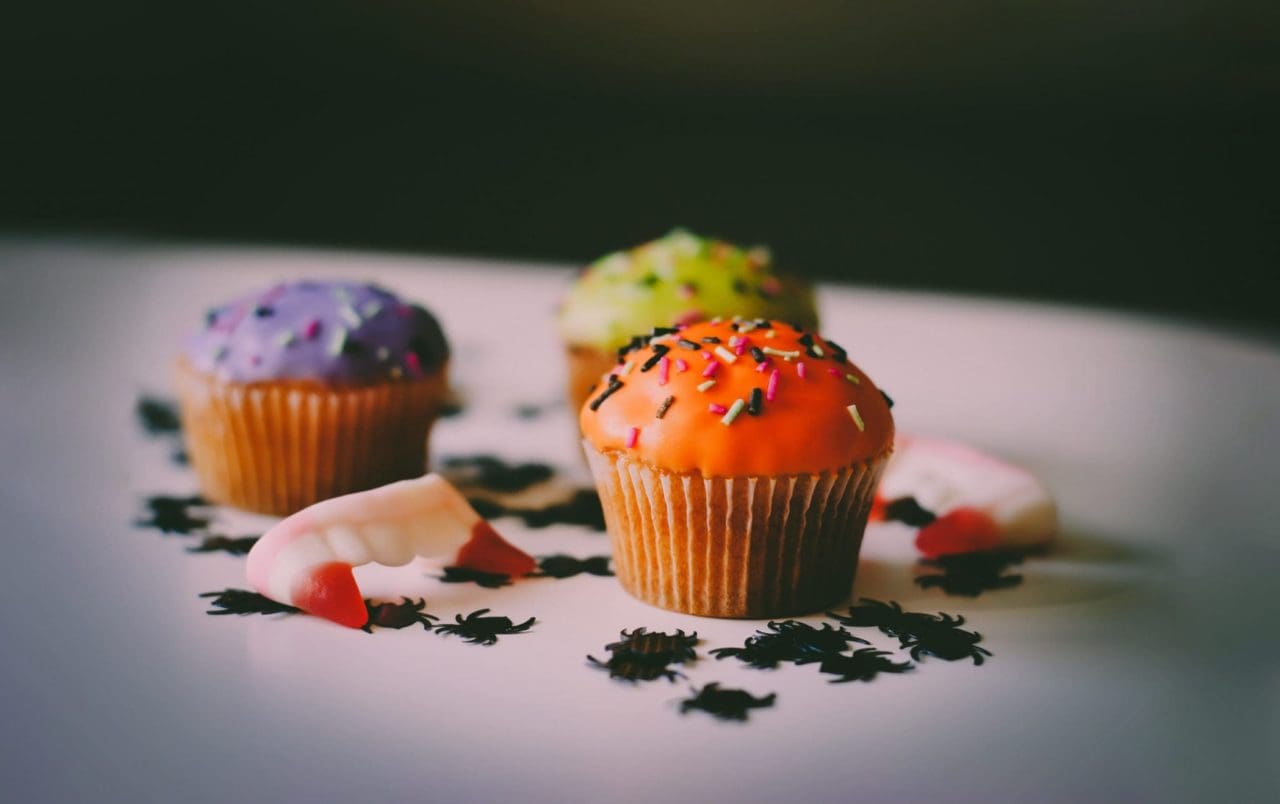 Cannabis edibles can become festive creations to enjoy on your favorite holiday. This Halloweed, we're putting a spooky spin on our healthy pot brownie recipe. Learn how to bake this classic marijuana brownie with special Halloween ingredients, including candy corn, orange icing, blood-red lettering, and more.   
Get Your Medical Card
Connect with a licensed physician online in minutes.
What Are Cannabis Edibles?
Cannabis edibles are one of the most potent ways to ingest marijuana. Baked goods and candies are among the most popular types of weed edibles. But you can also drink cannabis-infused beverages or munch on a crisp salad with a marijuana tincture blended into the dressing.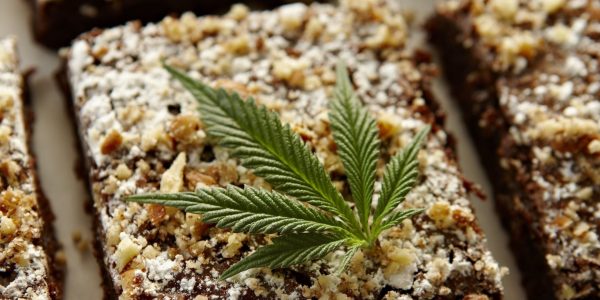 Tips on Consuming Cannabis Edibles   
If you're new to edibles or to the world of weed, these tips will help you have a pleasant experience with your Halloween brownies.
Start Low, Go Slow
It's our mantra here at Leafwell: start low and go slow when consuming edibles, especially if they contain tetrahydrocannabinol (THC). Novice cannabis users often underestimate how powerful a psychoactive THC edible can be and then endure a weed hangoverfrom accidental overconsumption. 
Cannabis edibles take longer for the body to process and metabolize, so you may feel like you want to grab another snack after an hour passes. Resist the urge and wait at least 2 to 3 hours for the cannabis edible effects to set in. Start low and go slow!
Make CBD Edibles
You can drastically reduce the risk of a negative cannabis experience if you take THC out of the equation and use cannabidiol (CBD) instead. THC is virtually guaranteed to get a novice (or anyone) high, but CBD can simply help you unwind. 
Another option is to play with CBD:THC ratios and dose your edibles with a heavier percentage of CBD (e.g. 70%). Then, keep the THC concentration lower at a modest 30 percent. If that ratio works for you, next time try the standard 1:1 CBD:THC concentration to activate the entourage effect with a powerhouse of therapeutic cannabinoids and terpenes. 
Be a Smart Shopper
Whether you're whipping up a batch of pure CBD brownies or a THC-rich chocolatey treat, make sure to purchase your cannabis ingredients from a licensed dispensary. Check expiration dates and other pertinent information on the label before you put on your chef's hat. Buying premium quality cannabis is the best way to ensure that your final product will be high quality as well. 
For your other ingredients, follow the same principle and buy organic whenever possible. Know the origins of everything you put into your Halloween weed recipe. 
Halloween Pot Brownie Recipe
What You'll Need 
8×8 inch baking pan

Large mixing bowl

Spatula

Whisk

Parchment or wax paper
Wet Ingredients
½ cup cannabis-infused oil or CBD oil, melted if necessary

½ cup apple sauce

2 large room temperature eggs or substitute the water from a 15.5 oz can of chickpeas (aquafaba) for a vegan option

1 tsp vanilla extract
Dry Ingredients
½ cup coconut sugar or beet sugar

¾ cup cocoa powder – ideally 100% cocoa with no added sugar

¼ tsp salt

½ tsp baking soda

 ½ cup unbleached or whole wheat flour. Oat flour can be used as a gluten-free alternative

 1/4 cup cacao nibs
Optional Ingredients
½ cup candy corn

1 tube of red cake lettering

1 tube of black cake lettering

Can of orange frosting

Your choice of other Halloween-themed candies, such as marshmallow ghosts, mini marzipan pumpkins, and chocolates in a witch mold
Steps
Step 1
Preheat the oven to 350°F (approx 177°C, or gas mark 4).
Step 2
Grease an 8×8 baking pan (use vegetable oil or coconut oil, not the canna oil in this step) or line with parchment paper or wax paper.
Step 3
If you're using a coconut oil base for your canna oil, melt it in the microwave or on the stovetop and let it cool slightly.
Step 4
In a large mixing bowl, mix the cannabis-infused oil and coconut or beet sugar with a whisk until smooth.
Step 5
Add the vanilla extract and apple sauce and mix well.
Step 6
Add the eggs and beat until smooth.
Step 7
In a separate medium mixing bowl, whisk together the cocoa powder, salt, and flour.
Step 8
Slowly add the combined dry ingredients to the liquid mixture, mixing until just combined. Do not over-mix.
Step 9
Add the cacao nibs and mix until just combined. The batter should be thick.
Step 10
Pour the batter evenly into the 8×8 pan. Use a spatula or the back of a spoon to spread the batter, if needed.
Step 11
Bake for 30-35 minutes. For fudgier brownies, bake for 30 minutes. For more cake-like brownies, bake for 35 minutes.
Step 12
The brownies are done when you can put a toothpick in the middle of the pan, and it comes out without any wet brownie batter.
Step 13
For lucky step #13, set the pan on a cooling rack for approximately 30 minutes. Then, get creative with your Halloween-themed optional ingredients. Ideas: Spread a layer of orange frosting over your cooled brownies. Decorate with your marshmallow ghosts, candy pumpkins, etc. Take your tubes of lettering and write messages like "Boo!" or "Happy Halloweed!" Carve your brownies into 16 even pieces. 
Eat one small square (or less!) and store the rest in an airtight container at room temperature for up to 48 hours. Place your airtight container in the refrigerator to extend the shelf life for a few more days. 
Free Pot Brownie Recipe Download
Consuming Cannabis Edibles
Cannabis edibles offer a potent way to consume medical marijuana. To ensure that you have the safest possible experience with edibles, consult with a physician about proper dosing.
The qualified doctors at Leafwell are here to help you quickly apply for a medical marijuana card in your state. Connect with us today and schedule an appointment in our virtual clinic. 
Get Your Medical Card
Connect with a licensed physician online in minutes.