Best Father's Day Gifts for Cannabis-Loving Dads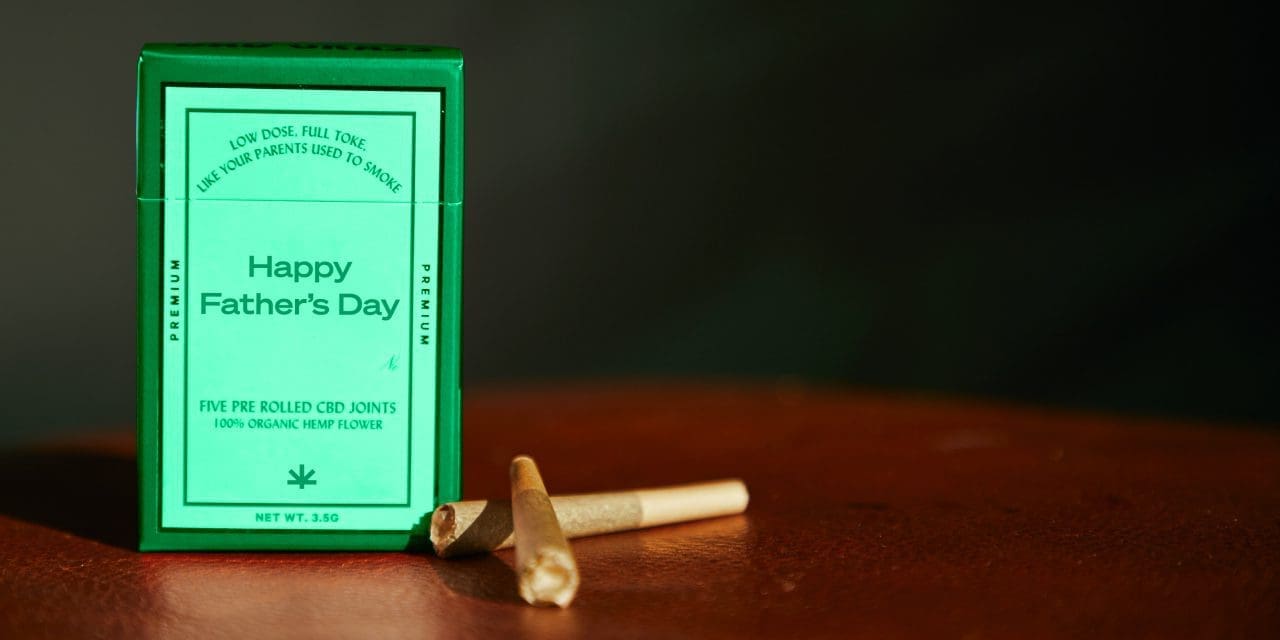 Whether the father figure in your life is a seasoned cannabis connoisseur or enjoys the occasional toke, you'll find the best cannabis products for Dad in our 2023 Father's Day gift guide. Our curated list includes high-tech cannabis accessories, hemp-derived edibles, potent CBD oils, subscription boxes, and more. So, whatever Dad is into, you'll be sure to find a suitable option.
Here are our picks for the 10 best Father's Day gifts — in no particular order — for canna-loving dads.
Get Your Medical Card
Connect with a licensed physician online in minutes.
PeliNail Electric Dab Nail
Does your dad like to dab concentrates? Then he needs a Disorderly Conduction PeliNail electric dab nail kit. This innovative line is known for its precise temperature control, allowing it to vaporize cannabis concentrates at the optimal temperature for maximum flavor and potency.
It eliminates the need for torches or open flames, making it a safer and more convenient option for dabbing. The PeliNail is also highly durable and designed for long-term use, making it a fan favorite among cannabis enthusiasts. PeliNail Electric Dab Nail kits come with several components, including the dab nail, a heating element, a temperature control unit, a carb cap, and a dab tool.
Cost and Availability: Order online from DisorderlyConduction.com at prices ranging from $170 to $280.
Tectonic9 Manual Herb Grinder and Electronic Dispenser
This Father's Day, give your dad the gift of convenience and innovation with the Tectonic9 Manual Herb Grinder and Electronic Dispenser. Now your green-loving guy can rapidly grind his herb to perfection and dispense it evenly on papers without making a mess.
This grinder's portable design makes it easy to use at home or on the go, making it a great gift for even the busiest of dads. One simple button activates the vibrational, electronic motor with convenient auto-dispensing capabilities. Dad won't ever need to twist his manual grinder again.
Cost and Availability: Purchase the Tectonic9 Manual Herb Grinder and Electronic Dispenser for $59.99.
3Chi Delta-8 Gummies and Drinks
If your stoner dad is not a smoker, edible infusions may be the perfect Father's Day gift this year. Pick up marijuana gummies, candies, drinks, and baked goods at the local dispensary if you live in an adult-use state. If weed is illegal in your area, consider purchasing hemp-derived delta-8 THC gummies and drinks online to give Dad a legal, psychoactive high.
3Chi delivers delta-8 edibles nationwide where sales are permitted, with many delicious options for Dad's daily dose. 3Chi's Delta-8 THC Gummies come in blue raspberry, watermelon, strawberry, and black raspberry with a powerhouse cannabinoid blend that delivers a calming full-body buzz. Their delta-8 drinks come in shots, flavorless additives, and flavored enhancers — perfect for dads on the go.
3Chi is a company that values full transparency around testing its delta-8 products. They provide records and results from lab tests that are accessible on their website. Since the d8 market is unregulated, getting delta-8 THC products from a reputable source is vital.
Cost and Availability: Purchase 3Chi gummies in various sizes ranging from mini-packs ($4.99) to 16-packs ($29.99). Drinkables range from $5.99 to $99.99, depending on product type.
Kandy Pens Vaporizer Pens
After a long day, Dad will love a new vape pen for a mild buzz and good vibes. Kandypens.com offers various styles compatible with liquids, concentrates, and oils. Its Rubi open pod vape, compatible with e-liquids and oil extracts, won "The Best Oil Vape of 2023" by The Vape Guide for its sleek design, ease of use, and rapid eight-minute recharge.
Kandy Vapes also offers limited-edition exclusive celebrity lines. For instance, A$AP Rocky designed the Flacko Jodye "Walnut" Collection vape pens for concentrates and oil extracts. These craft pens feature a walnut woodgrain veneer finish and gold trim presented in retro collector's gift boxes.
Cost and Availability: Kandy Pens are the perfect option for dads who like to vape in style. Prices range from $19.95 to $148 at kandypens.com.
Smoke Cartel's Glass Pipes
If Dad prefers smoking premium flower in glass, a new pipe will make a fantastic cannabis gift and a great addition to his collection. Glass hand pipes are clean, colorful, creative, and classic tools. Smokecartel.com offers a gorgeous variety to match your stoner dad's style in various convenient portable options. Smoke Cartel also has a variety of bubbler pipes with premium filtration systems.
The Glow in the Dark Swirl Hand Pipe is the perfect present for nighttime toking. The spoon-style pipe is four and a half inches long, featuring a fumed stripe design that glows in the dark and under UV blacklight. If pops would prefer a bubbler, The Marley Natural Black Walnut Bubbler is top-notch, handblown from borosilicate glass, and crafted with sustainably sourced Black Walnut.
Cost and Availability: Prices range from $30 to $120+ for basic to luxe models on SmokeCartel.com.
Cannabis Subscription Box
For the perfect gift that keeps on giving, Cratejoy.com offers various monthly marijuana subscription boxes from global brands. For example, the Stoner Bundle by Dank Box brings 420 smoking accessories to your dad each month, surprising him with new goodies to add to his collection. Typical bundles include:
Rolling papers
Grinders
Lighters
Blunt wraps
Trays
Grinders
Along with the essentials, these cannabis gift boxes include higher-value tools like vape batteries, pipes, or smell-proof bags. A mystery item is also included in each box. Each package is shipped in discreet packaging for tactful delivery.
Cost and Availability: Prices run as low as $35/box for a 12-month subscription or $39.99 for one month on Cratejoy.com. One, three, six, and 12-month subscriptions are available. You can also add a personalized Happy Father's Day message to your first box!
Full-Spectrum Hemp Tincture
This year, celebrate this special day and show your dad appreciation by helping him feel better and sleep more soundly.
Joy Organics' Fresh Lime Hemp Oil Tincture is a premium, full-spectrum formula for taste and effectiveness. This tincture is crafted using four high-quality ingredients: organic MCT oil, organic phytocannabinoid-rich hemp extract, organic key lime oil, and organic stevia. This USDA-certified, organic tincture is packed with hemp phytonutrients like flavonoids, terpenes, and minor cannabinoids that work together to support overall wellness and balance for the body and mind.
Whether your dad is looking for pain relief or a good night's sleep, Fresh Lime hemp tinctures contain 30 servings per one-ounce bottle in various strengths to suit his needs. All of their products are third-party tested for potency and purity.
Cost and availability: Elevate Dad's wellness routine with the Fresh Lime Hemp Oil Tincture for $44.95.
Magical Butter Machine
For dads who like to cook, the Magical Butter Machine is an essential Father's Day splurge. Help Dad make homemade weed butter and infuse it in all his favorite recipes like brownies, cookies, soups, smoothies, and so much more. With one-button processing and automated cleaning cycles, the Magical Butter Machine is a breeze in the kitchen.
Cost and Availability: The Magical Butter Machine is available for $180 on Amazon, with free shipping for Prime members.
High Art Coffee Table Book
For the culturally curious stoner dad, "High Art: The Definitive Guide to Getting Cultured with Cannabis" is the perfect gift. This hardcover coffee table book dives into extraordinary works of art and matches them with complimentary strains for mutually beneficial enjoyment. From Van Gogh to William Blake weed pairings, your dad will get a highly educational experience.
Cost and Availability: You can find "High Art: The Definitive Guide to Getting Cultured with Cannabis" in hardcover for $15.99.
A Leafwell Cannabis Consult
If your dad already has an assortment of canna-themed trinkets, consider gifting him a medical marijuana card consultation. For under $200, your dad can meet with one of Leafwell's providers to see if he qualifies for an MMJ card.
And, if he already has his medical card, lives in a fully legalized state, or lives somewhere with no medical marijuana program, consider surprising him with a personalized cannabis counseling session. A Leafwell counseling session is one of the best gifts for those who use any type of cannabis, from THC and CBD to hemp-derived cannabinoids. For just $69, our licensed healthcare providers help identify which cannabinoids are best for your needs, provide you with accurate dosing advice, and more.
Get Your Medical Card
Connect with a licensed physician online in minutes.