Advice from Successful Women on How to Break Into the Cannabis Industry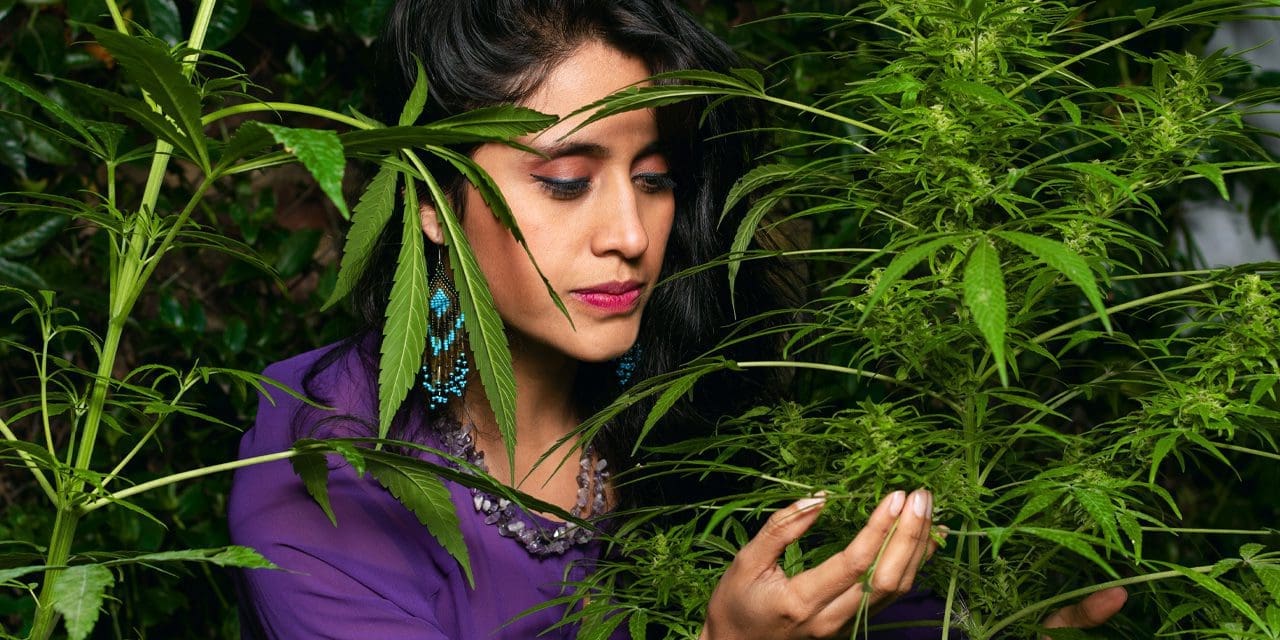 You're not alone if you're a woman thinking about making the career switch to the cannabis industry. A survey by the cannabis recruiting platform Vangst found that 38.6 percent of respondents were female, and 43.3 percent said women constituted the majority of their companies. This includes Leafwell, where most of our team (including our CEO) are women.
More important to note, however, might be that the cannabis industry has a higher percentage of women executives than the national average combining other sectors. A survey from Marijuana Business Daily found that in 2017, roughly 26.9 percent of executive positions in the cannabis industry were held by women.
Breaking into the cannabis industry doesn't have to be more challenging than launching any other career. Networking, educating yourself on the industry, and growing your resume is still the best tactics for landing a job. Meet three women who are thriving in the cannabis industry and get their best advice on how you can make the cannabis career switch, too.
Get Your Medical Card
Connect with a licensed physician online in minutes.
Emily Fisher — CEO, Leafwell
Leafwell's CEO, Emily Fisher, brings a wealth of professional and life experience to her executive position. For Fisher, a personal health crisis was the impetus behind her interest in cannabis.
She shares, "In 2011, I was diagnosed with breast cancer, which changed my view on health. That's when I learned about cannabis and the endocannabinoid system (ECS). After battling cancer and looking into alternative ways to optimize health, I discovered that cannabis works to nourish our endocannabinoid system, which is why it's a highly versatile medication with a wide range of effects that can be used for different purposes. It's literally a pharmacy in a plant."
Fisher channeled her newfound knowledge of cannabis to dive into the industry five years after her diagnosis. "In 2016, I began working with a medical cannabis clinic in California, and through my work, spoke to dozens of patients and heard how cannabis was helping them," Fisher reveals.
Her experience with patients was emotionally challenging but ultimately elucidated the need for people to have safe and legal access to cannabis medicine. Our CEO shares, "I came across burn victims, pediatric patients, veterans, cancer patients, patients of all ages, suffering from all kinds of conditions that cannabis was helping. The stories were heart-wrenching; for many, cannabis was a last resort and an act of desperation.  This desperation propelled them into uncharted territory; getting access to cannabis was a huge challenge for many."
The following year, in 2017, Fisher endured another health crisis that changed her view on medicine and magnified the need for patients to have supervised access to medical marijuana. Fisher reveals, "I ended up in the ICU needing blood transfusions and an operation. I decided to try cannabis while in the hospital to help with the pain; it helped almost instantly and was an enormous relief. After a week in the hospital, I was released and went to the dispensary for more products. I bought several different types of products and found none of them gave me the relief that the previous tincture had. In pain and desperately wanting to avoid painkillers, I tried an edible and threw up all night."
Fisher's relief from a specific tincture and her problematic experience with edible highlights the need for physicians to be trained in cannabis medicine and to recommend the right products for each individual. Even more powerfully, everything she endured and triumphed over inspired Fisher to found Leafwell in 2017.
She explains, "These experiences, my own experience, and the stories from hundreds of patients I came in contact with over those three years, really inspired Leafwell. This plant had the versatility and amazing potential to help so many people, but there were huge challenges around access, information, education, and research."
Leafwell was founded upon these pillars and had a driving mission that Fisher encapsulates:
"Leafwell was created to meet the needs of patients and those wanting to use cannabis to optimize their health needs. Our platform connects you to a licensed provider in your state in minutes, along with evidence-based information and resources so that you can confidently explore cannabis as a medicine."
As Leafwell grows along with the cannabis industry, Fisher envisions significant changes to how we view healthcare. She says, "I believe that cannabis will be used more and more by millions worldwide who are seeking alternatives to harsher pharmaceutical medications for their chronic pain and anxiety, but also for many people looking to achieve their everyday health and wellness goals.
I also believe that cannabis' versatility and its interaction with the ECS — the human body's "supercomputer" or "switchboard," which speaks to various receptor systems in our bodies — could help us get a step further towards one of healthcare's big goals: personalized medicine."
With the long-term goal of personalized medicine in mind, Fisher offers solid tips to other women seeking to build a career in cannabis:
"My advice to other women interested in the cannabis industry is to figure out how to apply your skills to this industry. It's still in its infancy; there's huge potential to make a difference and shape the future. Seek smart people that complement your skills. It takes different skills (and perspectives) to run a successful company, and diversity is a strength."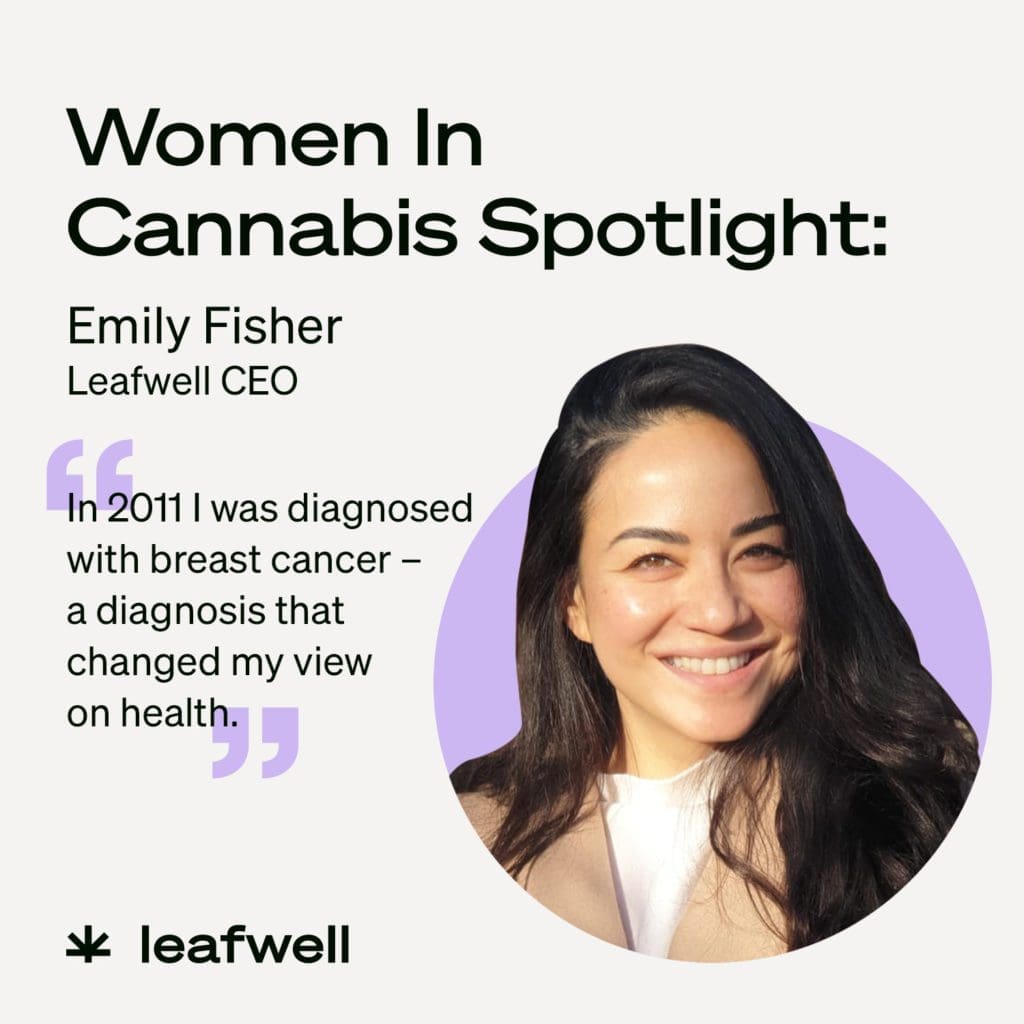 Sarah Locklund — Director of Outreach and Partnerships, Leafwell
As director of outreach and partnerships at Leafwell, Sarah Locklund is not only in the cannabis business but also in people's business. She describes how she broke into the cannabis industry by channeling the power of her connections.
"I had just come back from a 6-month, volunteer-driven trip to South America and was looking to break into holistic wellness when I met someone who worked in the cannabis industry. They made an introduction, and the next thing I knew, I was moving to Pennsylvania from Illinois as the Community Outreach Manager for a major organization."
Locklund's career path in cannabis has been challenging but rewarding. She shares, "It was one of the hardest things I have ever done, but countless hours of educating community members and helping them get their medical cards, presenting to medical professionals, meeting with politicians and public officials, and building marketing campaigns with barebones resources gave me the connections and skills that I needed to progress."
Now in a leadership position at Leafwell, Locklund has much to offer women interested in industry success. She advises, "First, learn as much as possible about cannabis! There is so much to know and endless resources to learn. There is no excuse not to have a solid understanding of the plant and how it works with our bodies."
Even more critical, Locklund says, is perseverance: "Second, don't stop when it becomes challenging. This is an industry of startups, and the answers will not always be obvious, and it will test you mentally and push you to your limits, but that is how you know you are growing and learning."
Ultimately, an essential element of success may be self-esteem. "Third, know your worth," Locklund stresses. "You are just as effective and productive as everyone else. Don't let anyone, including yourself, makes you feel inferior, and always exude confidence."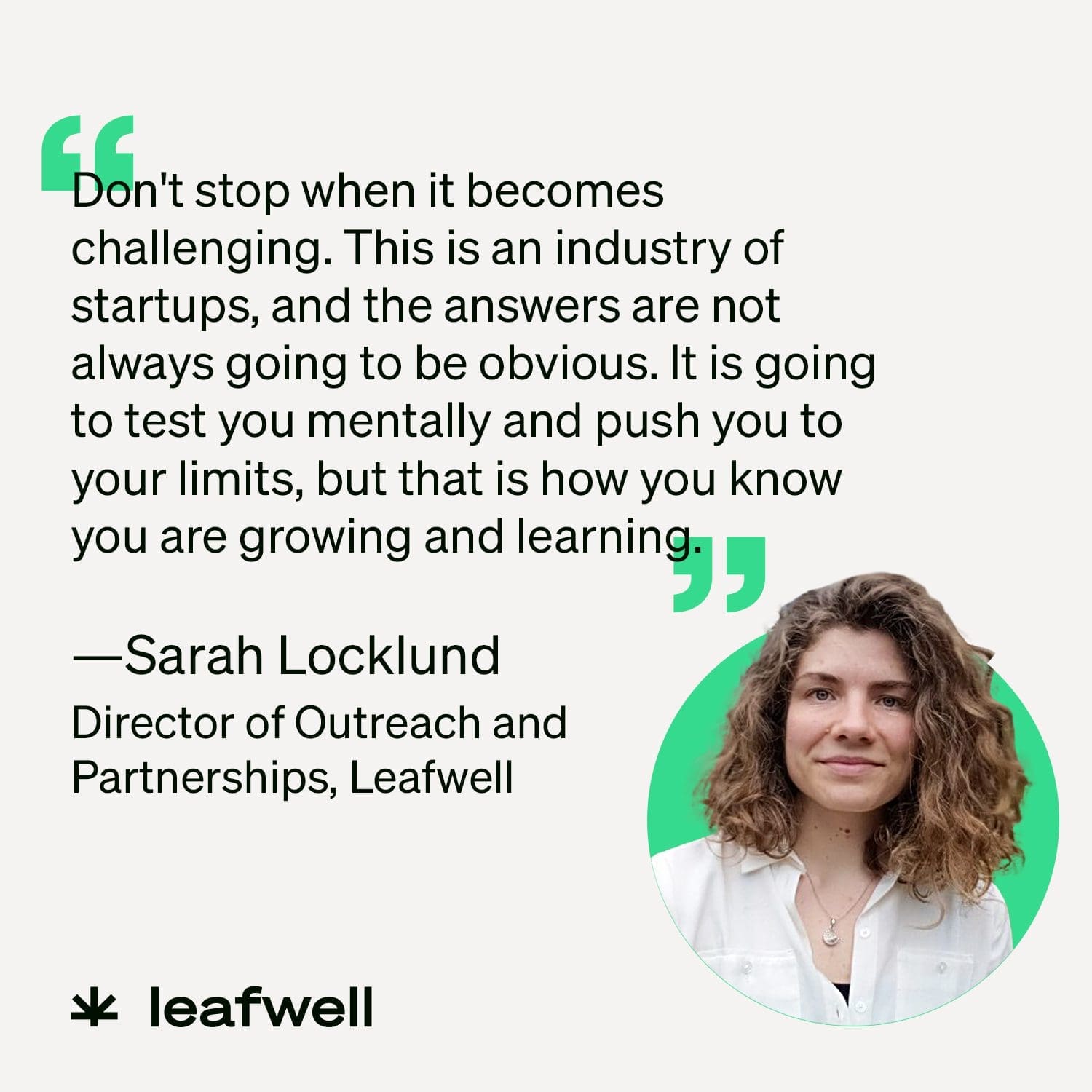 More Ways Women Can Find Jobs in Cannabis
Networking
In any industry, networking should always focus on your professional life. It's how you get to know people who know people, and that's how you get your name out there. Building relationships is essential to success, especially in a new industry.
The cannabis industry is unique in many ways. One of those ways is that most of those who work in the industry are also activists who fought for it to exist in the first place. Of course, that doesn't mean there's no room for newcomers; it just means there are a lot of respected names out there you should make a point to get to know.
Networking can happen anywhere, but in-person and virtual events are the best places. Since the pandemic, more virtual networking events have popped up, especially in the cannabis industry. Trade shows, medical conferences, and other industry events will be held in person again, but virtual networking is here to stay.
Aside from in-person and online networking events, you should also use networking sites like LinkedIn and cannabis-specific networks like WherezHemp and LeafWire.
Cannabis-Specific Job Boards
When finding a job, you might have some luck with traditional job boards like Indeed and SimplyHired. However, you'll find more opportunities using a cannabis industry-specific job board or recruitment agency.
THC Staffing
The THC Staffing group is a cannabis industry recruiting agency where you can upload your resume, and employers can upload job listings. The company aims to help connect the right businesses with the right employees and offer help to newcomers and current industry professionals looking to advance their careers.
Women of Color in Cannabis (WOCC)
This company is unique because it explicitly focuses on ensuring the cannabis industry remains open and friendly to women and persons of color. With THC Staffing, Quality Control Analytics, and Joint Venture & Co., Women of Color in Cannabis created CannaCareers, designed to provide professional development resources offering job sourcing, education, and more.
Student Marijuana Alliance for Research & Transparency (StudentMMJ)
The traditional route into most careers is through a college education, but because the cannabis industry is so new and, in some places, still not legal, opportunities for formal education in cannabis are limited. Many online education outlets have popped up in the cannabis space to fill this need, and StudentMMJ offers online education and connection to the handful of university programs that are currently available.
Vangst
Cannabis recruiting and staffing agency Vangst offers a place to find cannabis industry jobs, build your network online, and grow your career. They provide news, reports, and interviews with industry experts, aiming to be a one-stop shop for the job hunter or the cannabis business looking to hire. They also hold virtual career fairs, which work much like an in-person job fair and allow you to network "in person," so to speak.
Volunteering and Internships
Nothing beats having experience under your belt. The good news is that there are plenty of ways to gain this experience, even if you're new to the cannabis industry. If you're finding it hard to get someone to hire you for a paid role because of a lack of experience, search for an internship or a volunteer position instead.
Smaller companies and nonprofits are often underfunded and rely on volunteers and unpaid interns to get things done. If you're not in dire financial need, this is a great route to get you where you want to be.
However, searching for a paid internship or entry-level job might be the best place to start if you need immediate income. The goal here is to build your experience. Whether volunteering in the role you want to jump in or getting an entry-level position and moving up, it all amounts to molding the resume you wish to present to your future employers.
The Future of Women in the Cannabis Industry
The cannabis industry continues to expand rapidly, and this will continue to create new jobs. If you're considering getting into the industry, now is the time. Entering the cannabis industry while it is still in its earliest years will provide a solid footing to grow your career over time.
So far, the cannabis industry has been a thriving place for motivated women, so don't doubt yourself even with a lack of experience. The industry is new, so few people can say they have five years, let alone a decade or more of experience. Now is the time to build your career in cannabis and grow with the fledgling industry.
Leafwell's virtual clinic is open, and our many women doctors are here to meet with you. Reach out today and get started on your application for a medical marijuana card.
Get Your Medical Marijuana Card
Connect with a licensed physician online in minutes.