9 Best 420-Friendly Gifts for Grads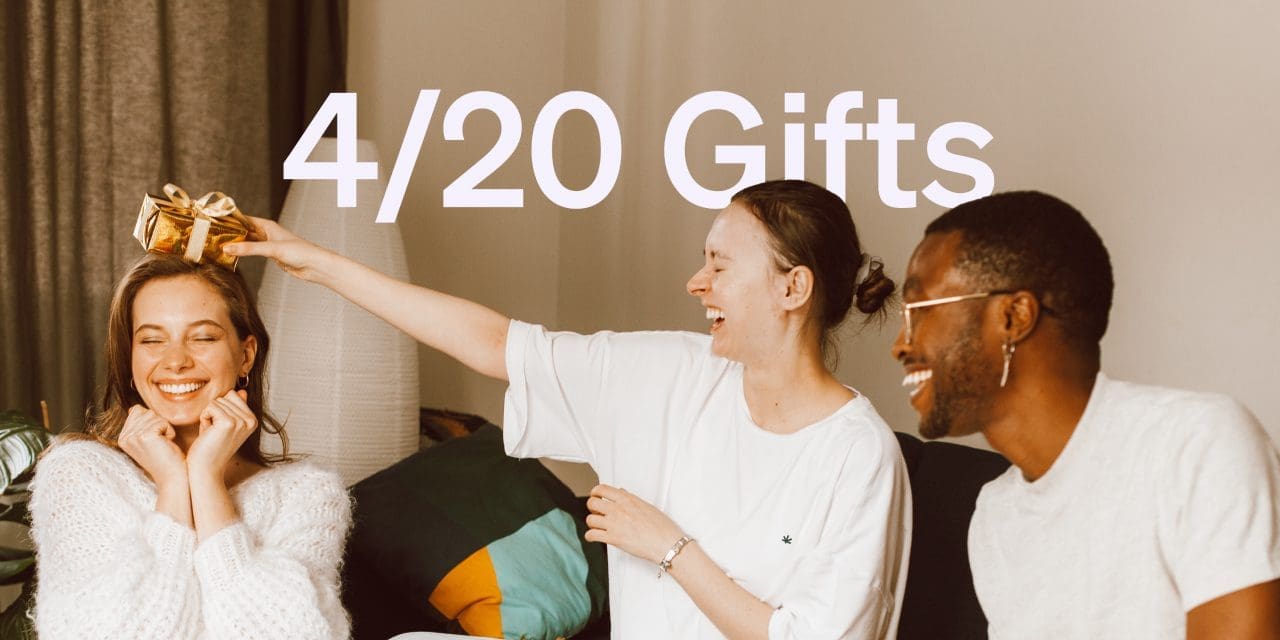 Graduation season is upon us, and it's time to celebrate students who have worked hard to reach their academic goals. When it comes to college graduation gift ideas, weed gifts for graduates may be unconventional, but they're also the perfect way to congratulate your favorite studious stoner. Pair a practical gift like an instant pot or air fryer with one of these fun weed gifts for the cannabis enthusiast grad in your life.
From entertainment pieces like the "Drunk Stoned or Stupid" party game to luxury items like hand-blown portable bowls, we've got some thoughtful weed gift ideas that will make your recent grad feel extra special.
Get Your Medical Card
Connect with a licensed physician online in minutes.
HIGH Ball
Amazon's High Concept Store offers college graduates the HIGH Ball — a handheld electronic game designed to take gaming to a stoner level. Developed by Jim & Lila, a father-daughter toy-design duo, HIGH BALL provides hours of entertainment for college graduates who want to put their "skills to the test."
The initial stages of the game are simple — you just have to bring the indicated color to the top of the ball as fast as possible. However, it gets harder and harder as you move through the stages, especially if you're smoking weed while playing.
The game features two modes — "high mode" and "really high mode." Players can choose from eight mentally and physically challenging levels in high mode or vibe with flowing colors and music in really high mode. The battery life ensures college grads can entertain themselves or a group of friends all night.
Cost and Availability: Grab a HIGH Ball today with free shipping as the perfect present for graduates to help them enjoy some seriously baked gaming action! This creative college graduation gift idea is available on Amazon for only $39.99.
"Support Your Local Farmer" Sweatshirt
For the green thumb grads passionate about growing cannabis, the "Support Your Local Farmer" sweatshirt from Etsy's ArakneCreations is an excellent piece of swag for your budding cultivator. The classic design features a marijuana leaf with the slogan in bold lettering and rainbow coloring. The sweatshirt is available in multiple shades and sizes.
Whether your graduate wears this hoodie running errands or lounging at home, the "Support Your Local Farmer" sweatshirt is a great way to show off cannabis pride and local farmers' support. If you're struggling for the perfect present for your grad, a comfy hoodie is always a good idea.
Cost and Availability: Grab this warm and colorful weed gift for your graduate from Etsy for $36.97.
Nuggy Stoner's Tool
The Nuggy OG Smoking Multi-Tool is the ultimate smoking and dabbing companion — a 10-in-1 wax scoop spoon, scraper, clip, paddle, knife, smoker's pick/poker, flashlight, bottle opener, screwdriver, and tamper. Essential for any marijuana multitasker, Nuggy OG provides all the tools for a smoke or dab session and a few extras.
This tool is pocket-sized and covers every canna-loving grad's needs, from scooping wax into the dabber to using the flashlight or tamper for convenience. Plus, it includes a clip so grads can always keep it close by when they need it most.
Give the Nuggy OG Smoking Multi-Tool to a recent college graduate and make their cannabis session effortless with this Swiss army knife of cannabis tools specially crafted for the variety cannabis user.
Cost and Availability: Pick up the Nuggy OG Smoking Multi-Tool at Nugtools for $19.99 as the perfect weed gift for graduates.
Acacia Wooden Stash Box
The Acacia Wooden Stash Box is an impressive graduation gift idea for any weed aficionado looking to store herbs in the freshest, finest, and most flavorful way. This one-of-a-kind box enables cannabis users to roll their greens cleanly and precisely while providing storage accessories like a humidifier kit, airtight doob tube, and scissors. Plus, it can double as a nice piece of home decor in that new, post-grad apartment.
The Acacia Wooden Stash Box is ideal for any smoker wanting to preserve their herb's quality, taste, and aroma. The stylishly crafted design includes the following:
Large stash box (254mm/304mm/279mm)
Rolling tray
Humidifier kit
Airtight washable brass doob tube
3x Grinder
Glass jar
Concrete ashtray
Scissors
Metal card cleaner
Cost and Availability: Buy this display-worthy graduation gift on Etsy for $140.99 plus shipping.
Vaporizer Hoodie
Keep your canna-loving grad warm and discreetly high with the Vaporizer Classic Full Zip hoodies from Vaprwear. This unique style allows users to vape while keeping their hands free inconspicuously. With a built-in vapor delivery system, the 2-in-1 hoodie lets users enjoy their experience without worrying about smell transfer or leaks.
This hoodie doesn't skimp on features. It includes a hidden pocket to store the vaporizer, parts, and adjustable straps for a tailored fit. The Vaporizer Hoodie also offers a sleek, stylish design that's perfect for wearing out or keeping cozy at home.
Cost and Availability: Buy this fantastic hoodie at High Rollers Smoke for $55 and keep the stoner grad warm, styling, and toking.
Rose Gold Blunt Ring Holder
Canna Luxe crafted the Blunt Ring Holder in rose gold, featuring an adjustable size that fits most standard-sized blunt wraps. The 16mm ring with rose gold casing has an adjustable clasp that is easy to use, helping grads smoke blunts securely and hands-free.
Help your favorite grad toke with class, never dropping a blunt or burning their fingers again.
Cost and Availability: Get this fashionable ring holder at Canna Luxe for $25 and keep your grad stylish while safely smoking blunts.
Drunk, Stoned, or Stupid (A Party Game)
The Drunk Stoned or Stupid party game is the perfect graduation gift for any social stoner. The game features 250 prompt cards, allowing grads and their friends to decide who is "MOST LIKELY TO…" and call them out. With this card stack, college grads and their canna-loving friends can celebrate with hours of hilarious entertainment.
A twist on the classic game "WHO'S MOST LIKELY TO…," Drunk, Stoned, or Stupid provides hours of joy for three or more players ages 17+. For a treat, add the Extreme Expansion or grab the Master Edition.
Cost and Availability: Pick up this fun weed gift for graduates on Amazon for $18.99.
Luxury Hand-Blown Portable Bowl With Hookah Tip
A luxury hand-blown "Chill Stone" from Just the Tip is a perfect, thoughtful gift for an artsy stoner grad entering the real world. These luxe accessories look like fancy glass hookah tips but are used for all other portable smoking pleasures. Chill Stones come in various styles, including lavender lust, cotton candy, juicy jade, and mint condition.
Each purchase includes one Cloudy Chill Stone bowl, a complimentary 32″ gold chain, and dust bag — much more than just the average pipe or bong.
Cost and Availability: Buy this great college graduation gift at The Just Tip Accessories for $45.00.
A Leafwell Cannabis Consult
Some of the best gifts are gifts that keep on giving. If your new grad is 21, consider gifting them a medical marijuana card consultation. A medical marijuana card not only cuts down on the taxes one pays on marijuana; it can also help melt away that post-grad, new job stress in states with medical programs where recreational marijuana has yet to be legalized. For under $200, your new grad can meet with one of Leafwell's providers to see if they qualify for an MMJ card.
And, if your graduate already has their medical card, lives in a fully legalized state, or lives somewhere with no medical marijuana program, consider surprising them with a personalized cannabis counseling session. A Leafwell counseling session is the perfect gift for those who use any type of cannabis, from THC and CBD to hemp-derived cannabinoids. For just $69, our licensed healthcare providers help identify which cannabinoids are best for your needs, provide you with accurate dosing advice, and more.
Get Your Medical Card
Connect with a licensed physician online in minutes.