5 Queer-Owned Cannabis Brands to Support This Pride Month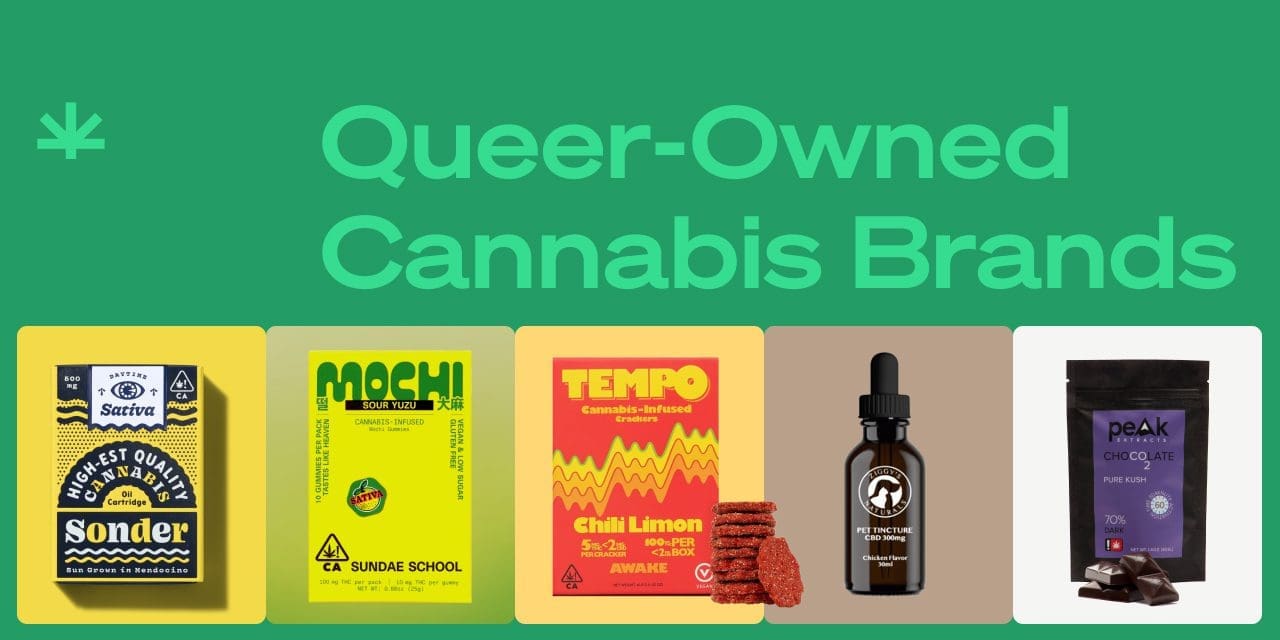 As the cannabis industry continues to take hold, supporting brands and cannabis companies established by those who may have been ignored or harmed by draconian drug policies in the past is crucial.
The LGBTQIA+ community is one such community that has fought hard for legalization but is underrepresented in the legal cannabis industry. Here is a look at five queer-owned cannabis brands worth supporting during Pride Month 2023 (and beyond).
Get Your Medical Card
Connect with a licensed physician online in minutes.
Sundae School/Sundae Flowers
This brand is two in one. Sundae Flowers is a California-based company that sells what it refers to as "high-quality weed for high-minded people." It sells a wide variety of pre-rolls and unique offerings, such as mochi gummies, which contain a range of flavors and differing cannabinoids.
The company's founders, siblings Dae and Cindy Lim, have been in the cannabis industry for a long time, though their flagship brand, Sundae School, was not cannabis itself but rather hemp-derived smoke wear. The clothing is Korean-inspired, as a nod to where the Lim siblings were born and raised, in Seoul, South Korea. Co-founder Dae Lim is openly gay and is an absolute trailblazer in the cannabis industry.
Sonder
Sonder is perhaps one of the most well-known queer-owned cannabis brands and was founded in 2018 by Faun Chaupin and M. Paradise, a couple who care deeply about LGBTQ community representation in the cannabis space and product innovation. One of the duo's most popular cannabis products is Space Crystals, an edible-sublingual tincture hybrid.
The candy-like product comes in flavors like Cheers Queers — a sign, confirmed by Chaupin and Paradise, that brand and product authenticity is much more valuable to Sonder than an attempt to appeal to an "'as wide as possible' audience." In an era in which some companies attempt to place a veneer of inclusivity for one month a year, it is refreshing to see a company like Sonder, which puts its values at the forefront 24/7.
Green Qween
Green Qween prides itself on being more than a cannabis company, noting that its founding is inspired by some of the early medical dispensaries in the Castro region of San Francisco by early medical cannabis forefathers like Dennis Peron, who would give cannabis to people with HIV and AIDS and others in need.
Green Qween continues the efforts to do genuine social good for the LGBTQIA+ community. The company donates some of its proceeds to creating a downtown Los Angeles-based community center. The location will work on helping those in the local queer community find housing, employment, receive health services, and more.
If that wasn't reason enough for Los Angeles-based cannabis users to consider checking out Green Qweens, maybe their Monday through Friday happy hour deals and massive inventory will convince you to make your way down to DTLA  — and don't worry, they have free parking!
Ziggy's Naturals
Not only is Texas-based Ziggy's Naturals a queer-owned brand (one of its owners, Jordyn, is trans), but it is also a family business. Jordyn Pollack and his dad Marc founded Ziggy's Naturals, primarily producing CBD-derived products like tinctures, edibles, topicals, and more.
Given Texas' incredibly stringent cannabis laws, even when it comes to medical cannabis, this more focused approach to breaking into the cannabis space makes sense. Still, Ziggy's Naturals appears to be breaking into the delta-8 space and even sells some hemp-derived delta-9 products. The company has made an apparent effort to define itself as one where LGBTQ individuals and allies should feel comfortable shopping.
Peak Extracts
Peak Extracts was founded in 2014 by two openly queer women, Katie Stem and Kate Black. Even before Peak Extract's founding, Katie Stem had been baking cannabis edibles to manage medical symptoms. Since Peak Extracts broke into the cannabis industry, the Oregon-based company has had a highly refined cannabis cultivation process.
Using single-strain production to ensure consistent quality, Peak Extracts focuses primarily on chocolate edibles. The company also sells tinctures, extracts, and topical products. Sadly, Peak Extracts' cannabis products are only sold in Oregon as of now, but we can at least hope for an expansion effort in the future.
The Bottom Line
Pride Month might just be for June, but the LGBTQIA+ community deserves to be celebrated year-round. Supporting queer-owned, women-owned, and BIPOC-owned brands can help underrepresented communities — who have helped make cannabis legalization in this country possible — thrive in the cannabis industry.
Whether or not you check out any of these brands specifically for Pride Month, we hope you will check out the cannabis products they offer. And if none of these products are to your taste, consider amplifying them to the people in your cannabis community who might feel seen by these brands.
Get Your Medical Card
Connect with a licensed physician online in minutes.