What is a Low-THC Medical Cannabis Card?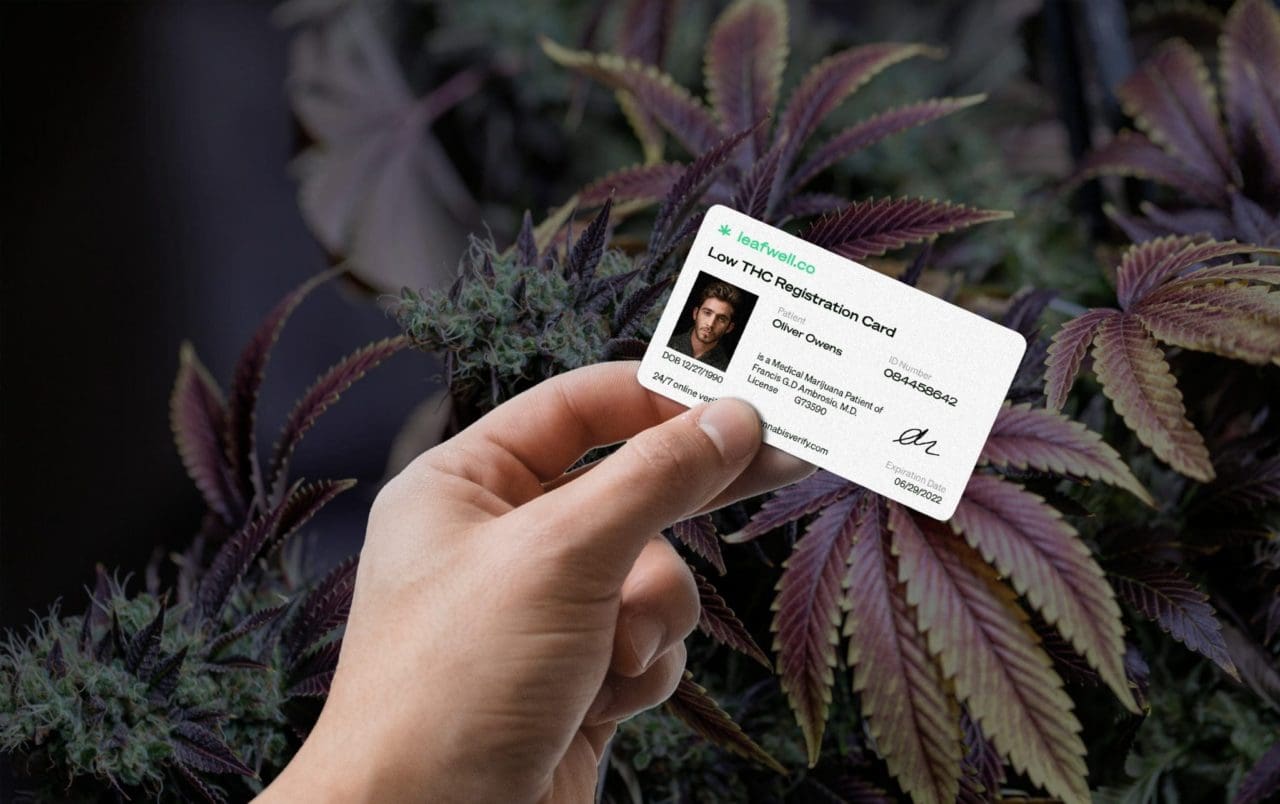 There are several states in the US that have medical marijuana programs, but limit the amount of tetrahydrocannabinol (THC) available in products. Some states make it clearer that they restrict THC, calling their programs "medical cannabidiol (CBD) programs". The following states have low-THC medical cannabis programs:
Download Free Guide to THC
Download Free Guide to CBD
Georgia Low THC Oil Registry Card
You can speak to a doctor online about getting a Low THC Registry Card with Leafwell. Georgia's medical marijuana law allows those with a qualifying condition to legally possess up to 20 fluid ounces of "low THC oil" (less than 5% THC). Qualifying conditions include:
AIDS when such syndrome is severe or end-stage
Alzheimer's disease, when such disease is severe or end-stage
Amyotrophic lateral sclerosis (ALS), when such diagnosis is severe or end-stage
Autism spectrum disorder, when (a) patient is 18 years of age or more, or (b) patient is less than 18 years of age and diagnosed with severe autism
Cancer, when such diagnosis is end stage or the treatment produces related wasting illness or recalcitrant nausea and vomiting
Crohn's disease
Epidermolysis bullosa
Intractable pain
Mitochondrial disease
Multiple sclerosis (MS), when such diagnosis is severe or end-stage
Parkinson's disease, when such diagnosis is severe or end-stage
Patient is in hospice program, either as inpatient or outpatient
Peripheral neuropathy, when symptoms are severe or end-stage
Post-traumatic stress disorder (PTSD) resulting from direct exposure to or witnessing of a trauma for a patient who is at least 18 years of age
Sickle cell disease (SCD), when such diagnosis is severe or end-stage
Tourette's syndrome (TS), when such syndrome is diagnosed as severe
There are two forms that need to be completed in order to qualify for a low-THC oil registry card in Georgia. The first is a waiver form, which must be signed by both the applicant and the physician.
The second form is the physician certification form. The qualifying physician will electronically submit the information from these forms to the Georgia Department of Public Health, which will review the information and create a Low THC Oil Registry Card for qualified applicants. The fee for a Low THC Registry Card (not the physician's appointment and recommendation) is $25 per new card.
More information on Georgia's low THC registry program can be found here.
You can qualify for Iowa's Medical Cannabidiol Program online with Leafwell. Iowa's low-THC medical cannabis program is run by the Office of Medical Cannabidiol (OMC) at the Iowa Department of Public Health (IDPH). In the past, Iowa had a limit of under 3% THC for all medicinal CBD products available on the program. This has changed.  Patients are now allowed to buy products containing up to 4.5 grams of total THC in a 90-day period. Treating physicians can recommend more THC for terminally ill patients or others who haven't been helped enough by 4.5 grams per 90 days with a waiver form.
Approved products all come from one manufacturer and they are available in four different CBD to THC (CBD:THC) ratios:
The following conditions qualify for medical CBD in Iowa:
AIDS or HIV
Cancer – if the illness or its treatment produces one or more of the following: severe or chronic pain, nausea or severe vomiting, cachexia or severe wasting.
Corticobasal Degeneration
Multiple Sclerosis (MS) with severe and persistent muscle spasms
Parkinson's Disease (PD)
Post-Traumatic Stress Disorder (PTSD)
Seizures
Severe, intractable autism with self-injurious or aggressive behaviors
Ulcerative colitis
Any terminal illness with a probable life expectancy of under one year – if the illness or its treatment produces one or more of the following: severe or chronic pain, nausea or severe vomiting, cachexia or severe wasting
An online consultation with Leafwell to get your medical marijuana recommendation costs $149 (new or renewal certification). The state fee for a medical cannabis card is $100 ($25 reduced fee) for a one-year registration.
North Carolina Medical CBD Program
North Carolina allows patients with intractable epilepsy and their caregivers to possess and consume CBD extract that contains at least 5% CBD, with less than 0.9% THC by weight. People of any age can become a patient, but only adults over 18 can register as caregivers. The patient will need to register with the state in order to legally possess CBD products containing more than the federal limit of 0.3% THC. The patient (and caregiver, if applicable) must get a recommendation from a certified neurologist and submit an application to the state.
It is not currently possible to qualify for medical CBD online via telehealth in North Carolina. There is, however, steam gathering for medical marijuana legalization in NC, or at the very least an expansion to the qualifying medical conditions in the current medical CBD program.
South Carolina CBD Program
South Carolina's Medical CBD Program is very similar to North Carolina's, in that the THC limit is 0.9%, and the main qualifying condition is epilepsy, in particular Lennox-Gastaut Syndrome (LGS), Dravet Syndrome and other severe forms of epilepsy that are not responding to other, more traditional medications. South Carolina's law exempts cannabidiol or any "manufacture, salt, derivative, mixture, or preparation" of marijuana that contains 0.9% or less THC and more than 15% CBD from the definition of marijuana if a person has a certification from their doctor stating that they have a severe form of epilepsy that has not responded to traditional therapies.
Tennessee CBD Program
Tennessee's upper limit on THC is 0.9%. In the past, only severe seizure disorders would qualify for Tennessee's medical CBD program. Now, however, qualifying conditions include:
Acquired immunodeficiency syndrome (AIDS)
Alzheimer's disease
Amyotrophic Lateral Sclerosis (ALS)
Crohn's disease
Epilepsy or seizure
Human immunodeficiency virus (HIV)
Inflammatory bowel diseases (IBDs)
Intractable seizures
Multiple sclerosis
Recalcitrant nausea and vomiting
Parkinson's disease
Sickle cell disease
Ulcerative colitis
Unfortunately, you cannot get certified for Tennessee's Medical CBD Program online via telehealth yet.
The Texas Compassionate Use Program (CUP)
It is worth noting that Texas doesn't have a certification and medical card program. Instead, qualifying patients are enrolled onto the Compassionate Use Registry of Texas. You can get registered for the Texas low-THC medical program with Leafwell.
The following debilitating conditions may qualify you for a medical marijuana certification in Texas:
A seizure disorder
An incurable neurodegenerative disease
Spasticity
Terminal cancer
This list is up to date as of August 2021. You must be aged 18 or over to qualify for Texas's low-THC medical CBD program. From September 2021, PTSD and all forms of cancer will become qualifying conditions.
The initial consultation with one of Leafwell's Texas-registered practitioners is a flat fee of $199. There is no state fee for completing your medical marijuana application and submitting it to the Texas state. You are only billed if you are approved.
CBD oil must contain no more than 1% THC and no less than 10% CBD.
States That Have Legalized CBD But Don't Have a Medical Program
Some states have legalized CBD containing extremely low amounts of THC, but still don't have a functioning medical marijuana/cannabis program. These states have legalized medical CBD oil, but don't have a registry or medical cannabis program:
Idaho (less than 1% THC)
Indiana (CBD with less than 0.3% THC is legalized for any purpose)
Kansas (CBD oil containing no THC is legal for any use)
Kentucky (you can become a patient simply by obtaining a written order for CBD from a physician practicing at a hospital or associated clinic)
Mississippi (its medical marijuana program was invalidated by the Mississippi Supreme Court)
Wisconsin
Wyoming
The FDA-approved, CBD-based medication – Epidiolex (made with seizure disorders in mind) – is available on prescription throughout the US.
Is A Low THC Card Worth It?
While Leafwell is a strong proponent of full medical programs which allow patients access to the wide range of cannabinoids they need, at the end of the day, something is better than nothing. Of course, low THC or CBD only programs are limited, but we still see some value in these programs on the journey towards more comprehensive medical programs.
If your state only has a CBD program up and running at the moment, we recommend you consider getting a card because this shows the state that this stepping stone is not only popular but also puts some pressure on your state to expand access and establish a medical program.
Get Your Medical Card
Connect with a licensed physician online in minutes.