Get Expert Cannabis Guidance Without Leaving Your Home with Leaf411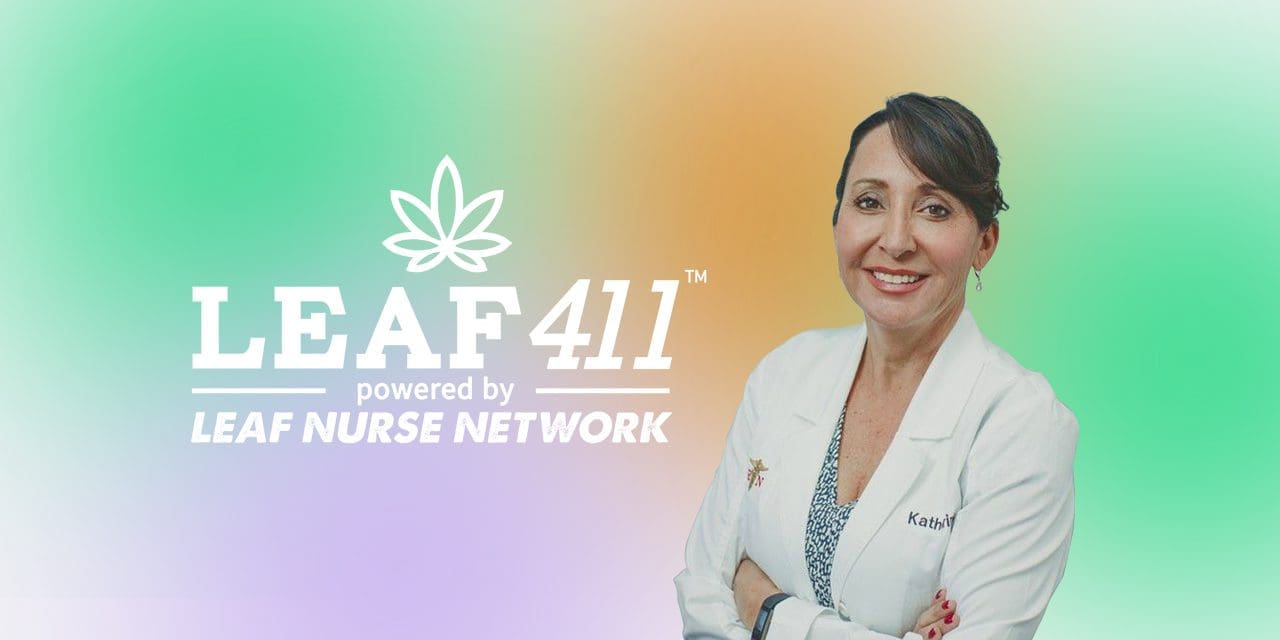 Leaf411 is the US's first national cannabis-trained nurse hotline and guidance service. As a nonprofit organization, Leaf411 was founded in 2019 with a mission to provide education and directional support to the general public about the safe and effective use of cannabis (marijuana and hemp). Leaf411's team of cannabis-trained nurses are passionate about helping any patient in need access balanced education about their cannabis use and providing vetted resources to make informed decisions about their health.
We sat down with Katherine Golden, RN, CEO, executive director, and founder of Leaf411, to learn more about the company, its mission and outreach programs, and how they're changing the world of medical cannabis for patients nationwide.

Leafwell: Please tell us more about yourself and the origins of Leaf411.
Katherine Golden: I've been an RN for 27 years and have been in the cannabis sector for seven years. I used to be anti-cannabis; I even voted against adult use in Colorado when it came on the ballot. However, I – like most people – came around to cannabis for very personal reasons. I had a family member diagnosed with cancer. Once I discovered how much science there is about its validity, I was amazed the research wasn't being shared among the healthcare community.
I was inspired to create Leaf411 because I wanted anyone to be able to access cannabis healthcare. I worked in a very affluent community, and even those patients struggled to pay the out-of-pocket costs for cannabis doctor visits and product expenses.
It shouldn't be unaffordable or inaccessible to anyone. That's how I came up with the phone line as opposed to an app: a hotline is available for anyone who has just a few minutes to ask questions, even if they don't have a computer.
Leafwell: How has Leaf411 grown since you got started?
KG: We created the Leaf411 hotline four years ago when we saw the need for healthcare equality. Since then, we've grown to offer scheduled guidance calls to meet the needs of the public: one-on-one calls with a registered nurse. The hotline is free, and while we request a $25 donation for scheduled 30-minute calls, they are free to those experiencing financial hardships.
Our nurses interact with over 500 callers and chat users a month nationwide, from both legal and hemp-only states, with questions that span the gamut. It's a very safe place: we're all licensed medical professionals, which really resonates with the public. They know we're nurses and can trust us with their questions and circumstances.
We also do community outreach, with five programs and counting. One of which is an affordability program we have with local brands. When companies have soon-expiring products or label changes, they donate them to us so we can get medicine into the hands of people who need it.
Leafwell: What challenges are Leaf411 looking to solve?
KG: Firstly, Leaf411 was meant to make medical cannabis information accessible to anyone who needs it. Most medical institutions are concerned that individuals won't disclose their use to their doctors because of stigma and biases, even though hemp is available everywhere.
Cannabis is being used as a frontline medicine for under or not-insured people, especially those who can't afford to see a doctor or obtain prescriptions for their conditions. They're buying cannabis over-the-counter but lack guidance; because these patients trust us, we can guide them on how to use it safely and effectively.
Leafwell: What are some of the most common questions you get from patients about cannabis?
KG: Questions about delivery methods come up a lot. We want to prevent buyer's remorse or bad first experiences, so we guide patients through delivery methods, terpene profiles, cannabinoid profiles, and so on for their specific needs. Many patients don't know how to read the labels or understand measurements, so we guide them through that.
We often assure them, "We're going to help you figure this out." Some patients don't feel comfortable sharing medical information with or know how to talk to dispensary personnel, so we give them the information they need to understand the products they should try.
Leafwell: What are some misconceptions the public may have about cannabis that you hope to clear up?
KG: The number one misconception is that of impairment. Most callers don't want to be impaired during the day; they want relief but not the psychoactive elements. They don't understand that you can absolutely consume and reap medicinal benefits without being impaired. The fear of impairment causes hesitation when exploring, but there are many ways to layer cannabinoids, terpenes, and different parts of the plant to do different things at once. We try to open their minds about what CBD, CBN, CBG, and other parts of the plant are capable of.
Many patients are also unaware that there are cannabis clinicians, period. Telehealth is available in different states for education, but they have no idea. Can you imagine a caregiver trying to dose their loved ones and don't have someone to talk to? We'll talk to them and refer them to an advanced specialty physician if they need it.
Leafwell: How do you think about cannabis as a medicine? What is most exciting to you about its potential?
KG: The minute I saw the science on cannabis, my opinion changed. When you go to various journals to look at the research, there's a lot of great, evidence-based research out there that's hidden. The safety profile of cannabis is also of huge importance, especially when patients are looking for alternative medicines without the lethal dose of prescription meds; that's a huge win.
I'm most excited about all the research coming out about minor cannabinoids. I love CBG because of its many different properties and medicinal benefits; it might even surpass CBD in potential usefulness. We're still in the infancy of cannabis research, and there's so much room for discovery and medical application.
Leafwell: Do you have any stories you're most proud of?
KG: We talk to so many people every day, and there's always a story with each. We recently had a caller diagnosed with severe anxiety because of "FOMO" — fear of missing out — looking at social media and fearing missing out on life gave them such severe anxiety that they were looking into cannabis as a solution.
Another caller, an older gentleman whose friend gave him a hemp product, called to ask about dosing. He took the entire dropper and said, "I was so impaired, I was so scared." It's such an unregulated market; if you don't know how to do the math, you don't know what dose or formulation you're taking. He was so excited about our services because we were able to guide him toward safer, higher-quality products.
Get Your Medical Card
Connect with a licensed physician online in minutes.