How to Get a Medical Marijuana Card in Arkansas in 2023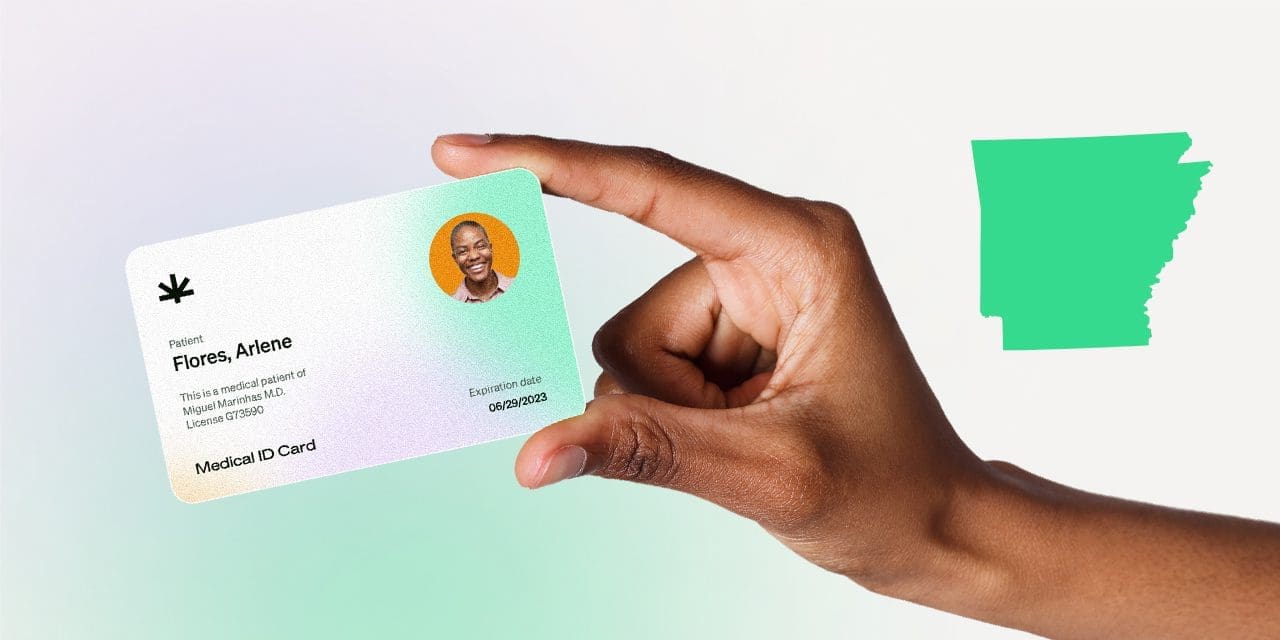 Personal cannabis use and possession are still illegal in Arkansas after voters rejected a recreational cannabis amendment in November 2022. Getting a medical cannabis card in Arkansas and purchasing from licensed dispensaries is the only way to prevent criminal penalties and access this healing plant medicine.
To access products, patients must be 18 and fill out an application for an Arkansas medical marijuana card. Obtaining a medical marijuana card (MMJ card) in Arkansas requires receiving a referral from a licensed physician and submitting an application to the Arkansas Medical Marijuana Commission (AMMC).
The AMMC will process complete applications within 14 days. Arkansas National Guard members and residents enrolled in the U.S. Military are not eligible to obtain an MMJ card in the state.
Get Your Medical Card
Connect with a licensed physician online in minutes.
Benefits of Having a Medical Card in Arkansas
In November 2016, Arkansas passed the medical marijuana program, Amendment 98, allowing the growing, purchasing, and distribution of medical cannabis.
Medical marijuana card benefits range from legal protections to expanded access.
For example, qualified patients registered with an Arkansas medical marijuana card can purchase up to 2.5 ounces from a dispensary every 14 days. On the other hand, possession of fewer than four ounces of marijuana (if you don't have an MMJ card) is considered a Class A Misdemeanor and can result in up to a year of imprisonment and a fine of $2,500.
Patients younger than 18 may also qualify for Arkansas medical cards if a parent or guardian applies as a caregiver.
Eligibility Requirements
Patients must be state residents diagnosed with a qualifying condition by a licensed physician to be eligible for a medical marijuana card in Arkansas. Out-of-state patients may also apply to receive temporary 90-day cards while visiting.
Arkansas medical marijuana cardholders must pay the related fees, submit their doctor referral, and apply through the Arkansas Medical Marijuana Patient Registry System.
Can Minors Get a Medical Marijuana Card in Arkansas?
Minors can get an Arkansas medical marijuana card with a qualifying condition, a physical written certification form from an Arkansas licensed physician, and the consent of a legal parent or guardian.
The legal parent or guardian will be designated as a caregiver to the minor patient and may apply with the state to obtain a registry ID card. To be eligible as a caregiver, one must be at least 21, an Arkansas resident, and have no prior convictions for drug-related offenses.
Qualifying conditions:
Qualifying medical conditions for medical cannabis patients in Arkansas include:
The Department of Health could approve any other medical condition or its treatment to qualify for a medical marijuana card in Arkansas.
How to Apply
To apply for a medical marijuana card in Arkansas, patients must schedule an appointment in-person or online with a licensed physician to receive a written recommendation for medical cannabis. Once the physician has issued a recommendation, registered patients can submit an application and a fee through the Arkansas Medical Marijuana System.
The state will process the application and respond in writing within 14 days of receiving the completed application. Patients check their application status online and, if approved, can print out their virtual card. Approved patients will also receive a physical card in the mail.
Documents Needed:
Arkansas medical cannabis card applicants will need the following:
Proof of a valid Arkansas driver's license or state ID
Proof of Arkansas residency
A written physician certification form (good for 30 days from the physician's approval).
Steps to Apply
Patients can easily apply for a medical marijuana card online by following the below steps:
Register online with Leafwell to request a virtual physician consultation or meet with a local doctor. Pay associated appointment fees.
Obtain a Physician Written Certification Form filled out by an Arkansas licensed medical physician or osteopathic physician (DO). Submit the form within 30 days.
Apply for the medical marijuana card with a copy of the Arkansas driver's license or state ID.
Pay a $50 nonrefundable application fee to Arkansas through a check or money order.
Wait 14 days for the application to be reviewed and approved by the department.
Approved applicants receive their medical marijuana card online and a hard copy via mail.
Patients can also mail the medical marijuana application, required documents, and payment to the following:
Arkansas Department of Health.
4815 West Markham, Slot 50
Little Rock, AR, 72205
What to Expect During Your Leafwell Appointment
Patients can expect a fast and easy telemedicine consultation with one of Leafwell's licensed Arkansas physicians. The appointment will comply with HIPAA regulations and be cost-effective. The consultation can be conducted from the patient's home using a video conferencing device. Typically, appointments last five to 10 minutes.
The physician may ask for the patient's medical records before the call to better understand their condition. During the consultation, the doctor will ask standard questions and may examine the patient's records to assess how medical marijuana can alleviate symptoms and enhance their quality of life.
Costs
Leafwell offers telemedicine appointments for Arkansas residents at $149 per appointment. There is no charge to patients who aren't approved.
When applying for an initial medical card or annual renewal, eligible patients must submit a non-refundable $50 application fee to the Arkansas Department of Health.
Medical Marijuana Reciprocity
Arkansas does offer medical marijuana reciprocity, meaning it accepts medical cards from other states. Visiting patients can purchase from Arkansas dispensaries for 90 days. Visitors must also complete the out-of-state registration process and pay a non-refundable $50 fee.
Applying as a Caregiver
In Arkansas, people with disabilities and patients under 18 can designate a caregiver who can purchase and hold medical marijuana for them and is accountable for ensuring their well-being.
Each registered patient can have more than one caregiver, but each designated caregiver must apply separately and pay the fee. Additionally, caregivers can have more than one patient if they apply for individual registry cards and pay $50 for each patient.
Caregivers must be Arkansas residents, provide proof of residence, and pass a criminal background check. Parents of a minor qualifying patient are exempt from the criminal history check requirement. Caregivers may not be Arkansas National Guard or members of the U.S. Military.
Caregivers must submit the application and the required documents to the Arkansas Department of Health, including a non-refundable $50 application fee.
Where to Buy Medical Marijuana
The Arkansas Medical Marijuana Amendment 98 allows patients to receive cannabis from regulated dispensaries. Currently, there are a total of 38 dispensaries registered in the state of Arkansas. Patients with an Arkansas medical marijuana card can purchase products from these dispensaries.
Visit the AMMC for more information on where to buy medical cannabis.
Cultivation
Registered patients and designated caregivers cannot grow or cultivate medical marijuana. They must purchase marijuana-infused products through licensed dispensaries in Arkansas.
The Arkansas Medical Cannabis Laws to Know
Arkansas law states medical marijuana patients can possess up to 2.5 ounces of cannabis flower in 14 days.
To purchase medical cannabis products, individuals must possess a medical marijuana card, a qualifying medical condition, and a physician's recommendation.
This state does offer reciprocity for medical marijuana patients. Visitors must apply for a temporary MMJ card, pay $50, and wait up to 14 days for processing.
Medical cannabis use is permitted in private residences but not public spaces.
Patients cannot grow medical marijuana at home. They must purchase from licensed dispensaries.
Patients under 18 and disabled cardholders may designate one or more caregivers to oversee cannabis purchasing and treatment.
Visit our Arkansas page for more information about the state's medical cannabis program rules. And if you're ready to apply for your Arkansas MMJ card, schedule a telemedicine appointment with Leafwell today.
Get Your Arkansas Medical Card
Connect with a licensed physician online in minutes.