How to Get a Medical Marijuana Card in Colorado in 2023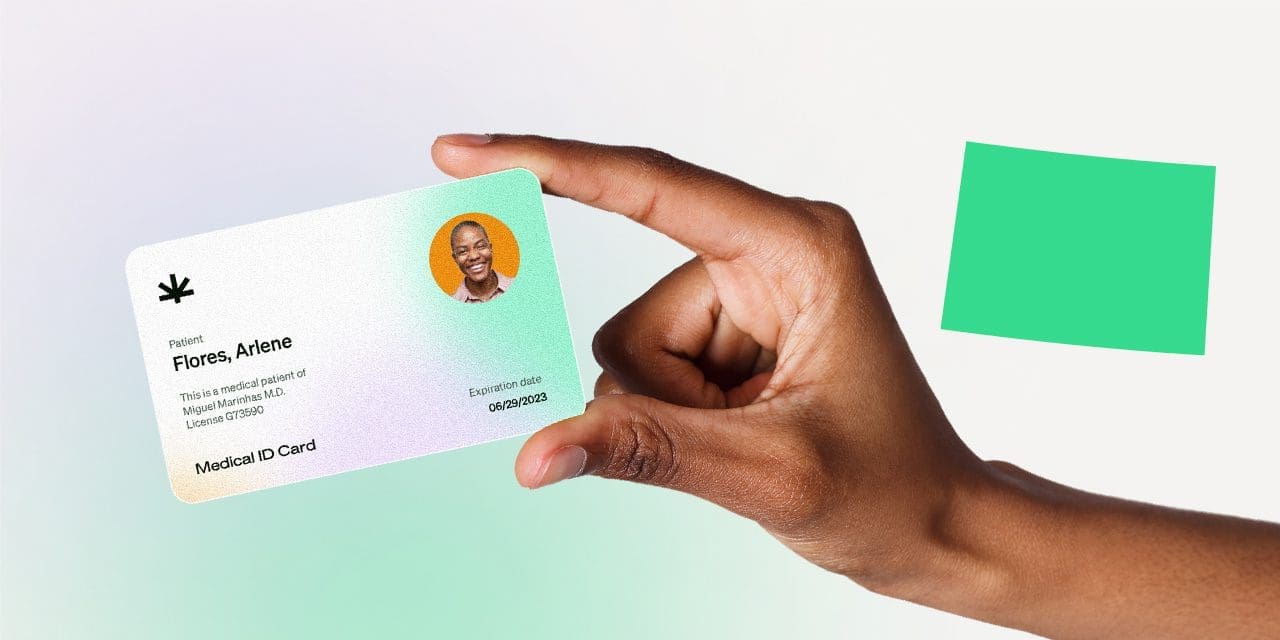 Colorado is known for being one of the first states to legalize recreational marijuana. The state also has a rich history as a medical cannabis provider to its citizens. The application process for receiving a medical marijuana card in Colorado, following an initial consultation, is still relatively straightforward. After seeing a doctor in-person for an initial consultation, patients can submit the required information online to receive their medical card.
Adults in Colorado may not need a medical card to purchase cannabis anymore, but there are still plenty of reasons you might want a medical card. Unfortunately, as of July 2021, patients cannot use telehealth services like Leafwell for their initial medical marijuana consultation with a healthcare provider.
Get Your Colorado Medical Card
Connect with a licensed physician online in minutes.
Benefits of Having a Medical Card in Colorado
The benefits of having an MMJ card in Colorado may not be immediately apparent since the state also has recreational cannabis. If you do not have a qualifying medical condition and want to purchase marijuana products for your enjoyment, then there is no need for a medical card.
However, if you have a qualifying medical condition for which cannabis may have legitimate medical use, having a medical registry card in Colorado could be beneficial. One of the most significant benefits is savings on sales tax. While recreational cannabis sales are taxed at 15%, medical cannabis sales are taxed at 2.9%.
Although it requires physician approval, medical marijuana patients can cultivate up to 99 cannabis plants on non-residential premises, compared to just 6 for recreational users, only three of which can be mature.
Some states also have medical marijuana reciprocity, meaning a Colorado medical card could be helpful in other states with a medical cannabis program. However, Colorado does not offer reciprocity, so your out-of-state MMJ card will not work in CO.
Eligibility Requirements
Patients over 21 must be Colorado residents with a qualifying medical condition and a health provider certification. Patients between ages 18 and 20 are subject to the same eligibility requirements but must provide two healthcare provider certifications.
Can Minors Get a Medical Marijuana Card in Colorado?
Yes, minors can get a medical marijuana card in Colorado. Parents or legal guardians are subject to similar eligibility requirements but must also provide a copy of the minor patient's birth certificate.
The responsible adult must also complete and notarize a minor patient consent form. Additional documentation is required if the caregiver is not the minor patient's parent. Also worth noting is that minor patients will need two healthcare provider-written certifications, much like the application process for those between ages 18 and 20.
Qualifying Conditions
According to the Colorado Department of Public Health and Environment, qualifying conditions for medical cannabis in Colorado include the following:
While this list provides a clear look at many of the qualifying medical conditions to receive a med card in Colorado, doctors may also recommend medicinal cannabis for any condition that is treated with opioids.
How to Apply
To participate in Colorado's medical cannabis program, you'll need a photo ID, social security number, and debit or credit card to pay the processing fee. Then, follow these steps:
Have an in-person appointment with a medical marijuana doctor.
If you receive certification from your doctor, go online to create an account with the Medical Marijuana Registry and upload your healthcare certification. Certification must be within the last six months to be valid.
Enter your cultivation information (or how you will receive your medical marijuana).
Pay the $29.50 processing fee.
If everything looks correct, you should be approved within one to three business days.
Costs
The processing fee is $29.50. Your medical registry card is good for one year, and you must pay the processing fee each time you apply. Some might be eligible to waive their processing fee if their household income is less than 185% of the federal poverty level.
Applying as a Caregiver
If you are applying as a caregiver, you will need to register as a caregiver and accept a caregiver agreement online. To be a qualified caregiver, you must be a Colorado resident older than 18 and cannot be the primary medical doctor for the person you care for. You also cannot have your own primary caregiver or have a license to run a medical marijuana business.
If you are a caregiver applying on behalf of a minor, you must upload information for yourself and the minor patient. Your social security number and the minor's social security number will be required, as well as a copy of the minor's birth certificate and patient consent form. If you are the primary parent and an additional parent does not heavily participate in caring for the child, you will need to provide documentation for that as well.
Where to Buy Medical Marijuana
Once you've received your registry card, you can buy medical marijuana at any licensed dispensary. You don't need to worry about getting in trouble for purchasing cannabis products at a recreational dispensary as a medical patient.
It's all the same product, though certain strains or methods of consuming cannabis might be better for you, depending on your qualifying conditions. As long as you show your medical marijuana registry card, you should receive the tax savings for which you are eligible.
Cultivation
Medical marijuana patients may cultivate up to 99 marijuana plants on non-residential property, but physician approval is required. Otherwise, patients can grow up to six cannabis plants, three mature at once.
Colorado Medical Marijuana Laws to Know
Getting a medical registry card has many clear benefits, but you must still be mindful of current laws. Public marijuana use is still illegal in Colorado, such as smoking on federal land, like while skiing at most ski resorts.
Limits are also essential to understand. Personal possession is limited to two ounces of flower for medical and recreational users. Do your best to keep up with the current laws to enjoy all the benefits your medical cannabis card provides.
Personalized Cannabis Guidance
Meet with a counselor and get personalized guidance to the right types and doses of cannabis for your unique needs.
Book Appointment