How to Get a Medical Marijuana Card in Delaware in 2023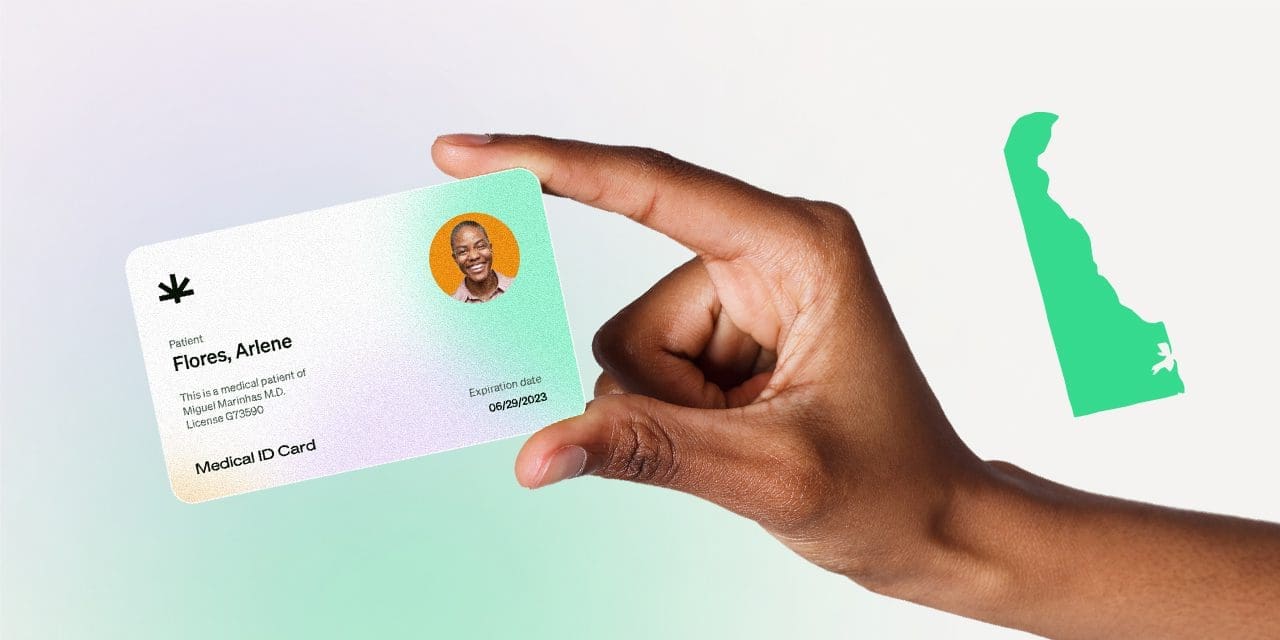 In 2011, the Delaware Medical Marijuana Act legalized medical marijuana, providing registered patients access to products from state-licensed dispensaries.
To qualify for a medical marijuana card in Delaware, patients must be diagnosed with a qualifying condition by a certified physician, send an application to the Delaware Department of Health and Social Services (DHSS), and pay associated fees. Patients must be over 18 or have a registered caretaker to oversee treatment.
Patients can apply for a Delaware medical marijuana card online. Leafwell offers Delaware patients quick and easy telemedicine appointments to get started. Patients and caregivers may possess up to six ounces of marijuana per month at one time.
Get Your Medical Card
Connect with a licensed physician online in minutes.
Benefits of Having a Medical Card in Delaware
Recreational cannabis use is illegal in Delaware. The state decriminalized possessing up to an ounce in 2015, but residents can still face a $100 fine. As a result, medical cannabis purchases are the only legal access route.
Adult patients with qualifying conditions can enjoy several benefits of having a medical card in Delaware.
Delaware medical cannabis program allows cardholders to purchase various products, including smokable marijuana, baked goods, infused candy, vapes, concentrates, and capsules.
Patients can possess up to six ounces of medical cannabis per month without legal risks.
Qualifying patients under 18 can access this healing therapy legally with caregiver consent and registration.
Eligibility Requirements
To qualify for a Delaware medical marijuana card, patients must be 18 or pediatric patients with parental consent. Patients must also receive a diagnosis for a qualifying medical condition and a written certification from a Delaware-licensed MD, DO, APRN, or PA. Finally, patients must apply for a card online or by mail, showing proof of Delaware residency.
Can Minors Get a Medical Card in Delaware?
Qualified pediatric patients under 18 cannot purchase medical marijuana from a dispensary. However, their parents or legal guardian can submit a pediatric patient application to receive a Responsible Party ID card, which authorizes the parent or guardian to buy medical marijuana for their child.
Children under 18 can only receive a pediatric medical marijuana card if their referring physician is a pediatric neurologist, gastroenterologist, oncologist, psychiatrist, developmental pediatrician, or palliative care specialist. One of these doctors must also certify that the patient has a terminal illness, intractable epilepsy, or a chronic debilitating disease where conventional treatment has failed. Severe debilitating autism is included in the pediatric qualifying conditions.
Qualifying Conditions
Qualifying conditions for a Delaware medical marijuana card include the following:
A Delaware resident can also have a chronic or debilitating disease, medical condition, or medical treatment that produces one or more of the following:
Delaware does not include anxiety as a qualifying condition for high-THC cannabis, except for anxiety experienced in the face of a terminal illness. However, patients with anxiety may possess a "CBD-rich" registry card, allowing them to purchase high-CBD, low-THC products.
Despite the rules above, any resident may petition the Delaware department to add conditions or treatments to the list of debilitating medical conditions. They may also apply for a compassionate use card for conditions not covered in the Act. This card has more stringent requirements to qualify.
How to Apply
The Delaware Medical Marijuana Program allows patients to apply for their medical marijuana card online or by mail.  Medical patients can start the process by registering with Leafwell and scheduling a telehealth appointment with one of the Delaware-licensed physicians. Approved patients will receive a healthcare practitioner certification, which they can use to complete the state application process.
To apply for the medical marijuana card, patients must submit a non-refundable $50 fee and the proper documents, including a photo ID and a health care practitioner certification, issued within 90 days of the application date. Only physicians, physician assistants, or nurse practitioners registered with the Delaware MMJ program can receive a Health Care Practitioner Certification.
Documents You'll Need
Patients must be Delaware residents to obtain a Delaware medical marijuana card and provide the following documents:
Proof of age and residency, including a current Delaware photo ID.
Medical records uploaded to the state website.
Health care practitioner certification stating the patient will receive therapeutic benefits from medical marijuana use. The statement must specify the patient's debilitating condition.
Steps to Apply
Obtain healthcare practitioner certification: The first step to getting a Delaware medical marijuana card is to meet with a healthcare provider who can assess the patient's condition and issue a written certification. Practitioners must be licensed to practice in Delaware and be an MD (Medical Doctor), DO (Doctor of Osteopathic Medicine), APRN (Advanced Practice RN), or PA (Physician Assistant).
Complete the patient application: Patients with a written certification can apply online through the Delaware Health and  Social Services Division of Public Health.
Pay the application fee: Patients must pay a non-refundable $50 application fee online or by mailing a check or money order with the application.
Submit proof of age and residency: Patients — or parents or legal guardians for pediatric patients — must upload a copy of their Delaware-issued driver's license or state-issued ID with their application.
Wait for approval: Patients must wait up to 35 days to receive their Delaware medical marijuana card. However, most patients receive their cards in two weeks.
Patients can also mail an application and proof of residency to the following address:
Division of Public Health
Medical Marijuana Program
Jesse Cooper Building, Suite 140
417 Federal St.
Dover, DE, 19901
Registry ID cards are valid for one year from the date of issue.
What to Expect During Your Leafwell Appointment
Leafwell offers quick, simple, and affordable telemedicine consultations with Delaware state-licensed physicians. Patients can speak with one of Leafwell's healthcare providers from the convenience of home at a time that works for their schedule. All patients need is a cellphone, tablet, or computer and video conferencing capabilities. Appointments are HIPPA-compliant, accessible, and affordable.
Leafwell's physicians will ask standard health questions and invite patients to upload medical documentation, such as medical records, pill bottles, office visit summaries, or a letter from a doctor stating their diagnosis. The physician will review these documents before the appointment to understand why medical cannabis may be the suitable treatment method.
Your healthcare provider will want to know about current medications and wellness regimens. Patients should be prepared to discuss their medical history, symptoms, and attempted treatments. These consultations usually take five to 10 minutes.
After the consultation, the physician will submit their certification letter directly to the state. Patients who don't receive physician approval won't be charged.
Costs
Leafwell's consultation fee is $199, and the state application fee is $50. The state offers a sliding payment scale for patients who demonstrate financial need.
For caregivers, the cost for the application is $50, with an additional $65 background check.
Medical Marijuana Reciprocity
Delaware does not have medical marijuana reciprocity agreements with other states, meaning out-of-state cardholders cannot purchase from dispensaries while visiting.
Applying as a Caregiver
A designated caregiver is someone authorized to obtain medical marijuana from a licensed dispensary and assist in dispensing and administering it to a registered patient. Caregivers must apply for a registry identification card that allows them to purchase up to three ounces of medical marijuana every 14 days on behalf of their patient.
Caregivers must apply for a registry card and obtain a state and federal background check, which costs $65 and is valid for three years.
Applicants must meet the following qualifications to qualify for a designated caregiver card:
Be 21 or be a minor child's parent or legal guardian
Have not been convicted of an excluded felony offense
Have agreed to assist with a patient's medical use of marijuana and assist no more than five qualifying patients
Be a Delaware resident with proof of residency (Delaware Driver's license or state ID)
Complete the Designated Caregiver Application, which requires the patient's 10-digit registry number
A caregiver may have up to five patients and must have an ID for each patient.
Where to Buy Medical Marijuana
Registered medical marijuana patients with a Delaware medical marijuana card and their caregivers can legally obtain medical-grade marijuana from properly permitted compassion centers. A complete list of licensed compassion centers is available here.
Cultivation
Delaware does not permit medical cannabis patients and caregivers to grow or cultivate marijuana.
Delaware Medical Marijuana Laws to Know
Medical marijuana is legal in Delaware for qualifying patients.
Cardholders can access various products, including flower, edibles, vapes, and concentrates.
Medical cannabis patients can possess up to six ounces of marijuana per month.
Delaware does not accept out-of-state medical marijuana cards or allow marijuana cultivation, even with a medical marijuana card.
Pediatric patients can access medical marijuana, but they must meet more stringent requirements and can only possess oils containing at least 15% CBD and no more than 7% THC.
Patients with anxiety diagnoses can obtain a CBD-rich registry card, accessing CBD-dominant strains only.
Check Leafwell's Delaware laws page for more in-depth coverage of the state's medical marijuana rules for patients and caregivers. And if you're ready to apply for your Delaware MMJ card, schedule a telemedicine appointment with Leafwell today.
Get Your Medical Card
Connect with a licensed physician online in minutes.