Community Work is at the Root of the Cannabis Industry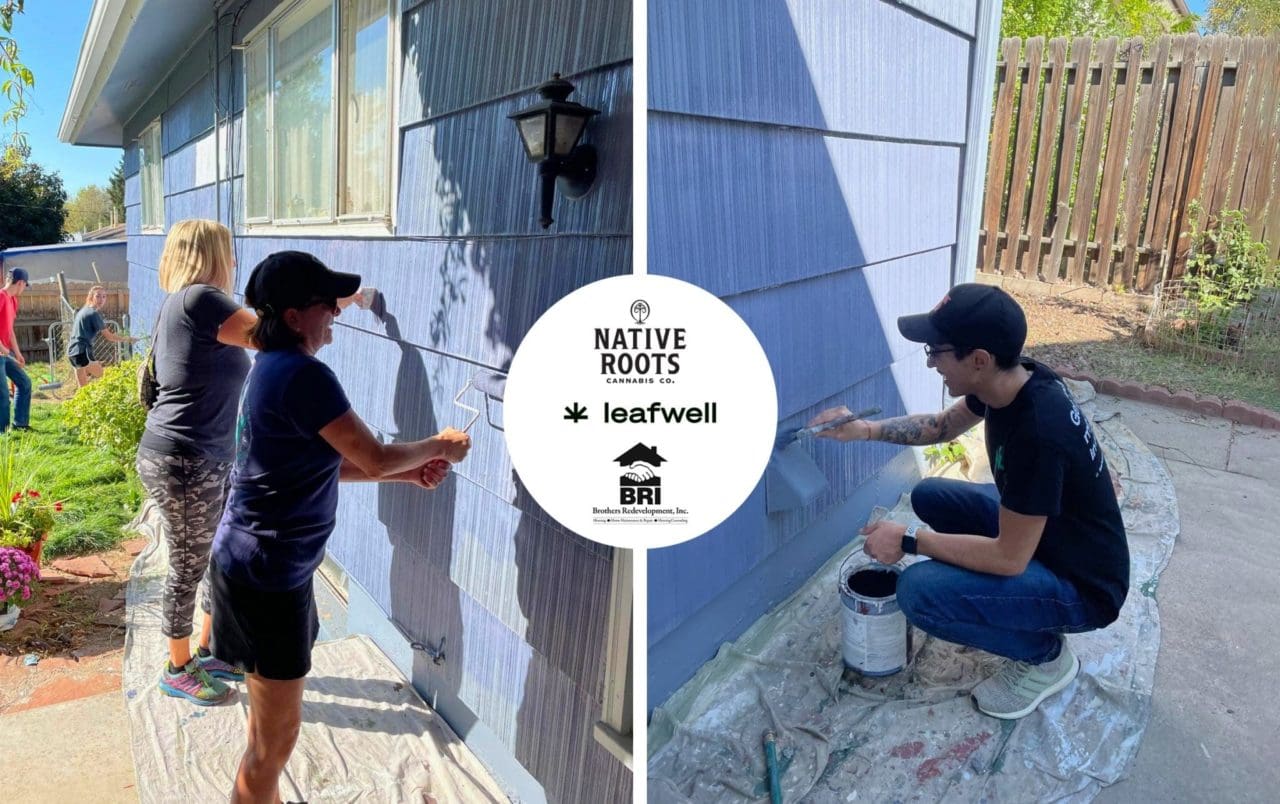 A collaborative, community-focused attitude comes with the territory when you're working in the cannabis industry. In the 21st century, marijuana still carries a stigma and comes up against scepticism from all sides. As medical cannabis advocates, we work together to break down these barriers and, as a result, we understand more than most the value of community. Building a strong community is the reason Leafwell loves to get involved in hyperlocal  projects.
(We're more than just a telemedicine platform. In 2021, we believe all businesses and organizations need to think bigger than their primary aims.) On Saturday, September 25, 2021, two Leafwell team members participated in a Paint-a-thon organized by Native Roots Cannabis Co. and Brothers Redevelopment, in Colorado. Together, a group of volunteers primed and painted two residential homes in Colorado Springs. 
Partnering with People Who Care
Leafwell has a network of partners across the country, as well as throughout the industry. But we don't just partner with organizations which believe in the power of cannabis as medicine. We also partner with people who care about their communities, the planet and other causes which inspire and drive them to achieve great things. 
Native Roots Cannabis Co. is an independent dispensary chain in Colorado. They're also a proud partner of Leafwell and we were pleased to join them on this endeavor away from the medical cannabis world. Brothers Redevelopment is a nonprofit which provides housing and services related to housing to at-risk communities and seniors. Their Paint-a-thons are a pillar of their services and their volunteers paint 100 homes every year.
Leafwell in the Community
As Colorado-based organizations, both Native Roots Cannabis Co. and Brothers Redevelopment are involved in their local community. One of the many benefits of Leafwell's internationally based team is that we can make a difference in the local communities of our staff. Our Outreach and Partnerships Manager, Jenn Axcell, and one of our Patient Care Team Reps, Nathan O'Connor, are Colorado natives and have a passion for the Paint-a-thon:
"Advocating for cannabis patients while also supporting local communities has been a large part of my cannabis industry career for the last five years. I enjoy rolling up my sleeves in the service of those who are the most in-need. So I was thrilled to be a part of the Leafwell team supporting Native Root's commitment to community service. While painting someone's house has nothing to do with cannabis, it was truly an honor to help make it possible for a fellow Colorado resident to live out her golden years in her own home, and show a compassionate side of the cannabis industry that is underrepresented in media. I'm grateful to be a part of an industry and a company who share my values in giving back to our communities." Jenn Axcell

"We volunteered to paint a house for fixed income seniors that don't have the means to do it themselves. It felt good to be able to give back to the community and help someone in need." Nathan O'Connor
Do you have a community event you're passionate about and you'd like Leafwell to get involved? Let's collaborate! Get in touch with us today at hello@leafwell.co.