Can CBD Help Alleviate Menopause Symptoms?
Is CBD a possible treatment option for menopause symptoms? There are still many studies needed to prove cannabis's efficacy, but the signs are promising for a host of conditions, including menopause. Whether or not cannabis is the "wonder drug" some claim it to be, people around the world have experienced marijuana's startling curative powers and the healing strength of its compounds.
In fact, medical marijuana has been prescribed to people with multiple sclerosis, Parkinson's Disease, and even cancer. If cannabis can be used for these varied conditions, then there is the possibility that it can also be utilized to reduce or control symptoms associated with menopause.
Discover how one of the most ancient forms of medicine may be able to ease menopause symptoms.
Personalized Cannabis Guidance
Meet with a counselor and get personalized guidance to the right types and doses of cannabis for your unique needs.
Book an Appointment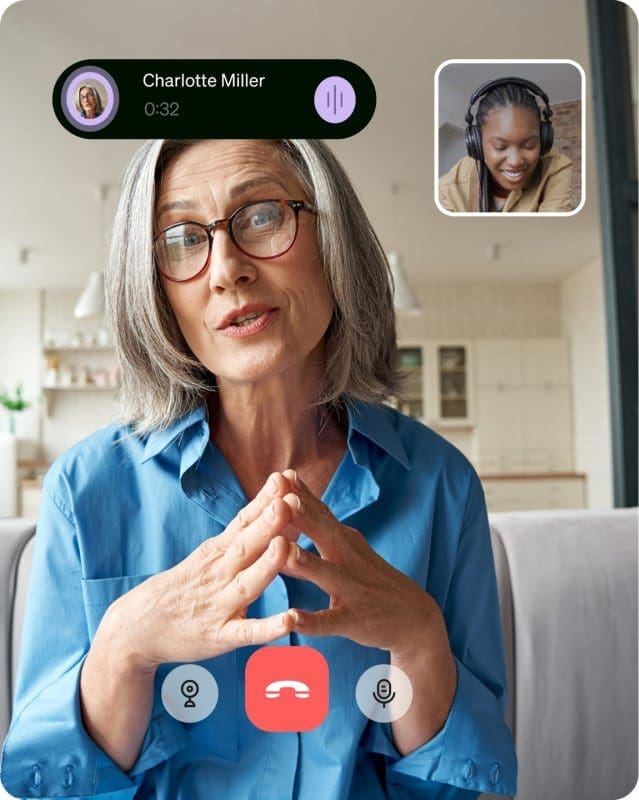 How CBD Relieves Menopause Symptoms
Cannabis use for menopause and other conditions has been shrouded in mystery due to legal restrictions and lack of funding for scientific studies. One fact, however, is clear: somebody dies of a prescription overdose every 19 minutes, but nobody dies of a cannabis overdose. It has never happened. So, if you're wary about trying cannabis, keep that stunning statistic in mind. 
There is a significant body of evidence supporting the fact that one of the chemical compounds in the cannabis plant, cannabidiol (CBD), can be a natural alternative to treating chronic pain and reducing menopausal symptoms due to its rich therapeutic properties. CBD can also potentially help beat the anxiety associated with pain.
Menopause disrupts the regular performance of the body's endocannabinoid system (ECS), which regulates our mood, fertility, pain management, and other bodily functions. Recently, CBD has become a sought-after natural health alternative in reducing inflammation in the body and relieving pain during menopause. 
As scientists conduct further research on CBD and menopause, more women may be able to reap the benefits of cannabis medicine.
Mood Changes and Depression
Many women experiencing menopause may have heightened anxiety, depression, and a few episodes of panic attacks due to the see-sawing of their hormone levels.
Luckily, CBD is efficient in inhibiting one's stress and improving one's mood. Extensive studies have manifested CBD's anti-anxiety powers. Although CBD cannot cure depression or anxiety, there is some evidence that shows how it can improve the symptoms associated with such mental health issues, especially when microdosing.
Insomnia
Many women in their menopausal season have difficulty sleeping, which may trigger fatigue and other health issues. A significant case study on a person with post-traumatic stress disorder (PTSD) in 2016 revealed that CBD oil was capable of alleviating sleep disruptions and anxiety.
Other findings showed that CBD stabilizes a person's blood pressure and eases muscles, setting the scene for a restorative sleep, especially for menopausal women. CBD has also been documented to aid people in gaining a considerable amount of energy to get through the day.
The cannabinoid's anxiety-inhibiting and relaxing effects make sleep improvement achievable for menopausal women suffering from insomnia. However, high doses of CBD may also have more "energizing" or "up" effects for some people. Therefore, your doctor is best qualified to determine if CBD is an appropriate treatment option for menopause symptoms.
Bone Density Loss
Drops in estrogen starting in perimenopause (the decade or so preceding menopause) can lead to bone density loss in women. One disease, osteoporosis, is of particular concern. Bones become brittle in individuals with osteoporosis, thus increasing the likelihood of fractures. 
Osteoporosis risk increases for women of perimenopausal, menopausal and post-menopausal age. In fact, women over the age of 50 are the most likely group to develop osteoporosis. The Bone Health & Osteoporosis Foundation reports that 50% of all women over age 50 will break a bone because of osteoporosis. 
Evidence suggests that CBD and other cannabinoids play a role in bone formation. Research is still emerging, but it is possible that CBD could exert a protective effect on bones by connecting to receptors in the skeletal endocannabinoid system.  
Weight Gain
Weight gain is another issue that women face during menopause, since they produce less estrogen, which burns calories. No longer efficiently burning calories, women may gain abdominal fat starting around during menopause due to these hormonal shifts. Weight gain makes diabetes more likely to develop, along with other types of disease that involve the heart and blood vessels.
Cannabinoids like CBD have shown to regulate food cravings and, as a result, help women lose abdominal fat. CBD has also been found to aid in lowering insulin levels and improving metabolism, thus reducing the probability of diabetes and heart disease for menopausal women. 
A 2016 study conducted by Korean researchers suggested that CBD triggers the proteins and genes that participate in increasing fat breakdown and how it intensifies the body's ability to burn calories. While CBD alone may not be sufficient for menopausal weight loss, it could play a beneficial role.
Hot Flashes
There is insufficient evidence regarding the effects of CBD on hot flashes. However, it is possible that cooling CBD gels could provide temporary hot flash relief. In addition, CBD oil stored in the refrigerator could ease hot flashes in the short-term. 
Joint Pain
CBD has been well-established in scientific literature to be beneficial in treating joint pain, including pain related to arthritis. The anti-inflammatory properties of CBD contribute to its efficacy in relieving pain. 
Many but not all women will experience joint pain during menopause. Those who do may feel pain in their knees, hands, hips and knees. Topical CBD products may be used to treat joint pain with targeted application to areas of discomfort.   
Memory Loss
Brain fog during menopause is a real phenomenon that can affect short-term memory. While THC can have a negative impact on memory, CBD appears to have the opposite effect. CBD has been studied for its effects on dementia and Alzheimer's disease, along with other conditions linked to memory loss.
Scientists cannot definitively say whether CBD can help clarify the brain fog that occurs during menopause. But CBD has demonstrated neuroprotective effects, including the ability to stimulate new brain cell growth.    
Get Your Medical Card
Connect with a licensed physician online in minutes.
Risks and Precautions
CBD products come with fewer risks and precautions than those containing THC. However, CBD is still a drug which means you should exercise certain precautions.
Avoid using CBD or any cannabis products if you are on blood thinners like warfarin or heparin. Consult with your doctor if you are on antidepressants or any prescription medication, which may interact with CBD. 
Furthermore, you may experience side effects after using CBD, but these are usually minor. Some side effects of CBD include:
Dry mouth

Drowsiness

Reduced appetite

Diarrhea

Liver injury (in rare cases)
See your doctor if you have concerns about any side effects from CBD. 
Free Infographic Guide to Cannabinoids
How to Find the Right CBD for Menopause
Evaluating the quality of CBD products is a multi-step process that requires a little legwork on your part. Here are some key issues to consider before you purchase a CBD product for menopause. 
Hemp Source
Know the origin of the hemp in your CBD products. CBD oils that are certified USDA-organic tend to be higher quality than others. 
Extraction Method
Impurities are removed during the extraction process, leaving you with a refined final product. There are many different extraction methods used to create CBD oil, but the CO2 method with olive oil is generally reputed to be the best. 
Cannabinoid Spectrum (Full Spectrum vs. Isolate)
Full-spectrum oils usually have superior therapeutic properties than isolates. CBD isolate is the purest form of CBD available and usually contains no psychoactive THC. But CBD isolate lacks the rich plant compounds including aromatic terpenes preserved in full-spectrum products. 
The only caveat is that full-spectrum CBD products contain up to 0.3% THC concentrations, which may be inappropriate for women suffering from anxiety or who simply don't want any risk of getting high. Broad-spectrum products are the happy medium between full-spectrum and isolates. Broad-spectrum CBD oils keep the therapeutic plant compounds but strip away virtually all the THC. 
Potency
Potency is relative because CBD oil will affect each individual differently. However, 50 milligrams of CBD per 1 milliliter serving is the gold standard of potency in CBD products. For a typical 30-milliliter bottle of CBD oil, a potent CBD measurement would equal 1,500 milligrams. 
Lab Reports
Check out a product's lab reports to make sure there is an absence of mold, heavy metals and other contaminants. 
Company Reputation
Are you familiar with the brand name? What have you heard others say about the brand in online reviews and through word of mouth? Do your homework on the company reputation before you invest in a CBD product. 
Best CBD Products for Menopause
Here are our top 5 picks of the best CBD products for menopause.
CBDfx Gummies
Vegan, gluten-free, and containing no artificial anything, these broad-spectrum CBD gummies are an excellent choice for the health-conscious woman.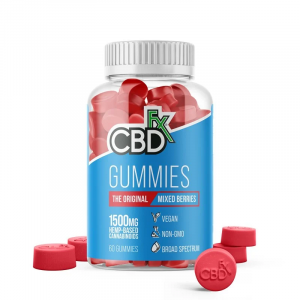 R&R Medicinals THC-Free Hemp Extract Softgels
Product origin is important, and these organic hemp softgels come from a reputable Colorado farm. Plus, the company offers a 25% discount for veterans.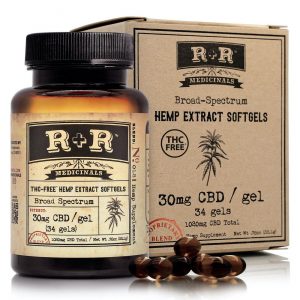 Receptra Naturals CBD Tincture
These CBD tinctures have a sunflower oil base and are great for microdosing. Invigorating flavors include fresh berry and ginger lime.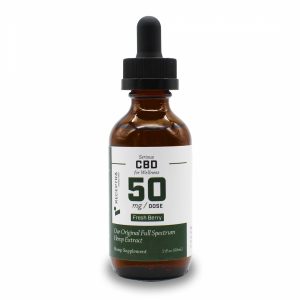 Joy Organics Organic CBD Salve
If you prefer topical CBD products, this organic salve can help ease your menopause-related aches and pains. Made with beeswax, the salve also offers nourishing skin benefits.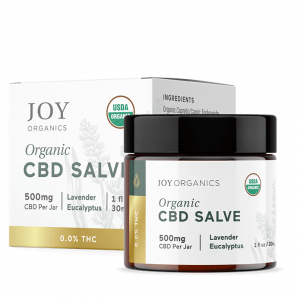 Charlotte's Web CBD Oil
Conquer insomnia with this full-spectrum CBD oil designed to calm you. Unique flavor options include olive oil, mint chocolate and orange blossom. 

Using CBD for Menopause
Despite the scientific evidence supporting medical marijuana and CBD's potential for treating menopause symptoms, the treatment is not mainstream. However, it is clear that CBD could play a beneficial role in treating a range of menopause symptoms. 
If you're going through menopause and would like to learn more about the benefits of CBD and cannabis medicine, the physicians at Leafwell are here to help. While menopause is not specifically a qualifying condition for any state medical cannabis program, many of the side effects such as pain and insomnia are qualifying conditions for a medical cannabis card. Contact us today and get started on your path to holistic wellness by applying for a medical marijuana card.
Get Your Medical Card
Connect with a licensed physician online in minutes.