10 Best Mother's Day Gifts for Cannabis-Loving Moms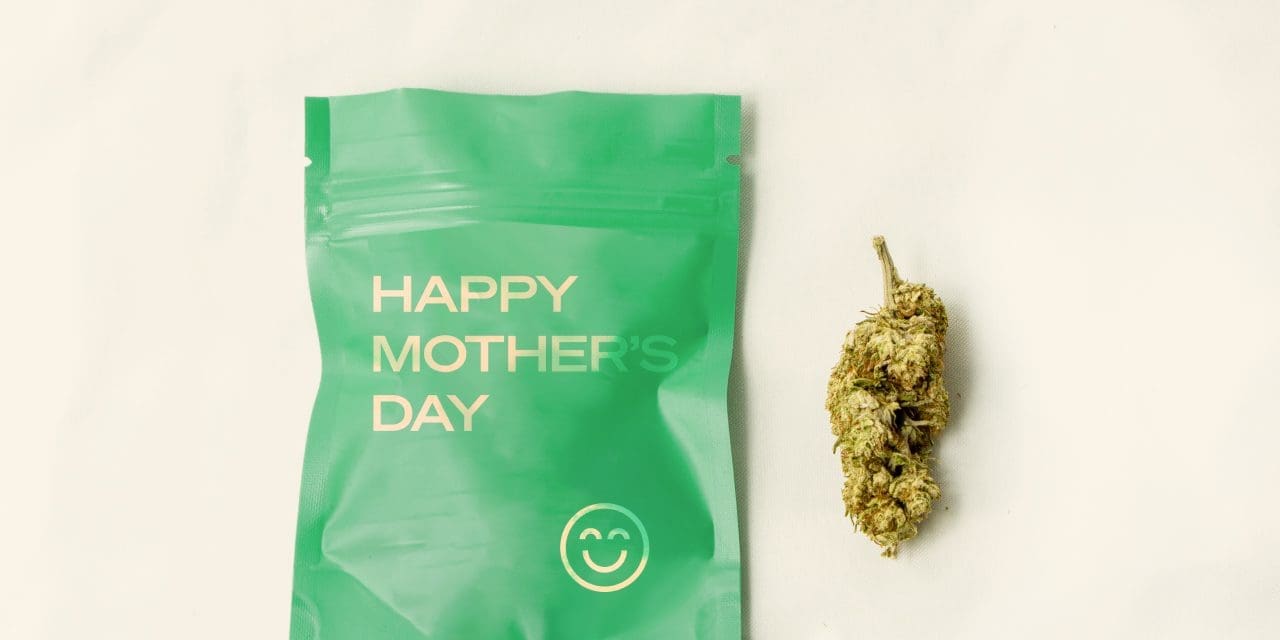 Mother's Day in the United States is a special event to honor the moms and mother figures in people's lives. It's for celebrating all the fantastic things mamas do for their families and showing appreciation, typically with thoughtful gifts. Most moms receive flowers, jewelry, and gifts of experiences on this special day. But hard-working, plant-loving moms might prefer a more cerebral present this year, like cannabis edibles, cannabinoid skincare, and trending CBD products from cannabis companies nationwide.
Get Your Medical Card
Connect with a licensed physician online in minutes.
Here are 10 of the best Mother's Day gifts for cannabis-loving moms in the U.S.:
Garden Society: Cannabis-Infused Chocolates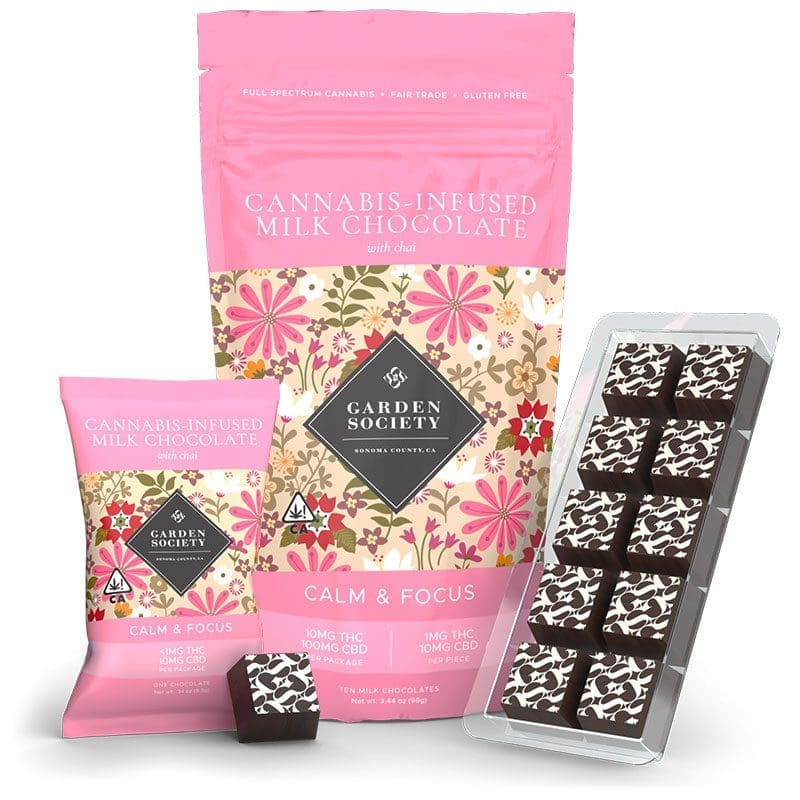 For moms who happen to live in California, add an extra touch to Mother's Day with a gift from the woman-owned cannabis brand, Garden Society.
Garden Society's Cannabis-Infused Chocolates are the perfect gift for any mom looking to relax, unwind, and let go of anxiety. These chocolates are made with natural ingredients and infused with 10 mg of THC and 1 mg of CBD per serving, providing a mild-to-moderate, enjoyable experience.
Wine Country's chocolate flavors include Milk Chocolate With Sea Salt, Spiced Dark Chocolate, and Milk Chocolate With Chai.
Cost and Availability: These vino-inspired products are available in California and cost $19 for 20 gummies.
Kana Skincare: Lavender CBD Sleeping Mask
View this post on Instagram
Kana Skincare created the perfect CBD product for any mom who loves to pamper herself. Its Lavender CBD Sleeping Mask is a luxurious cream that helps skin recover overnight and provides calming effects from the lavender scent.
Kana's cannabinoid mask contains 50 mg of CBD, which helps reduce inflammation while providing antioxidant benefits. It's the perfect CBD introduction for the canna-curious mom who's not quite ready to ingest THC.
Cost and Availability: Purchase online for $55 at KanaSkincare.com.
An Artisan Bong From My Bud Vase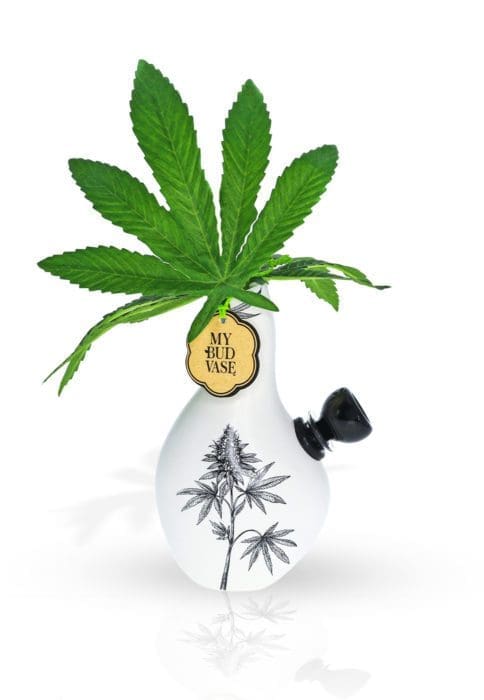 An artisan bong from My Bud Vase is a great addition to your Mother's Day gift list. Not only are their vases (bongs) beautiful and unique, but they are also great conversation pieces.
These high-quality water pipes come in various styles and sizes, perfect for any mom who loves bong hits and eclectic decorations. The Love Bud vase, for example, was created to celebrate the love of cannabis. It features a heart-shaped mouthpiece and illustrations of a female plant on one side and a male plant on the opposite, and it is sure to make mom feel high on love (and cannabis).
Cost and Availability: Purchase online for $75 to $420 at Mybudvase.com.
Kush Queen CBD-Infused Bath Bomb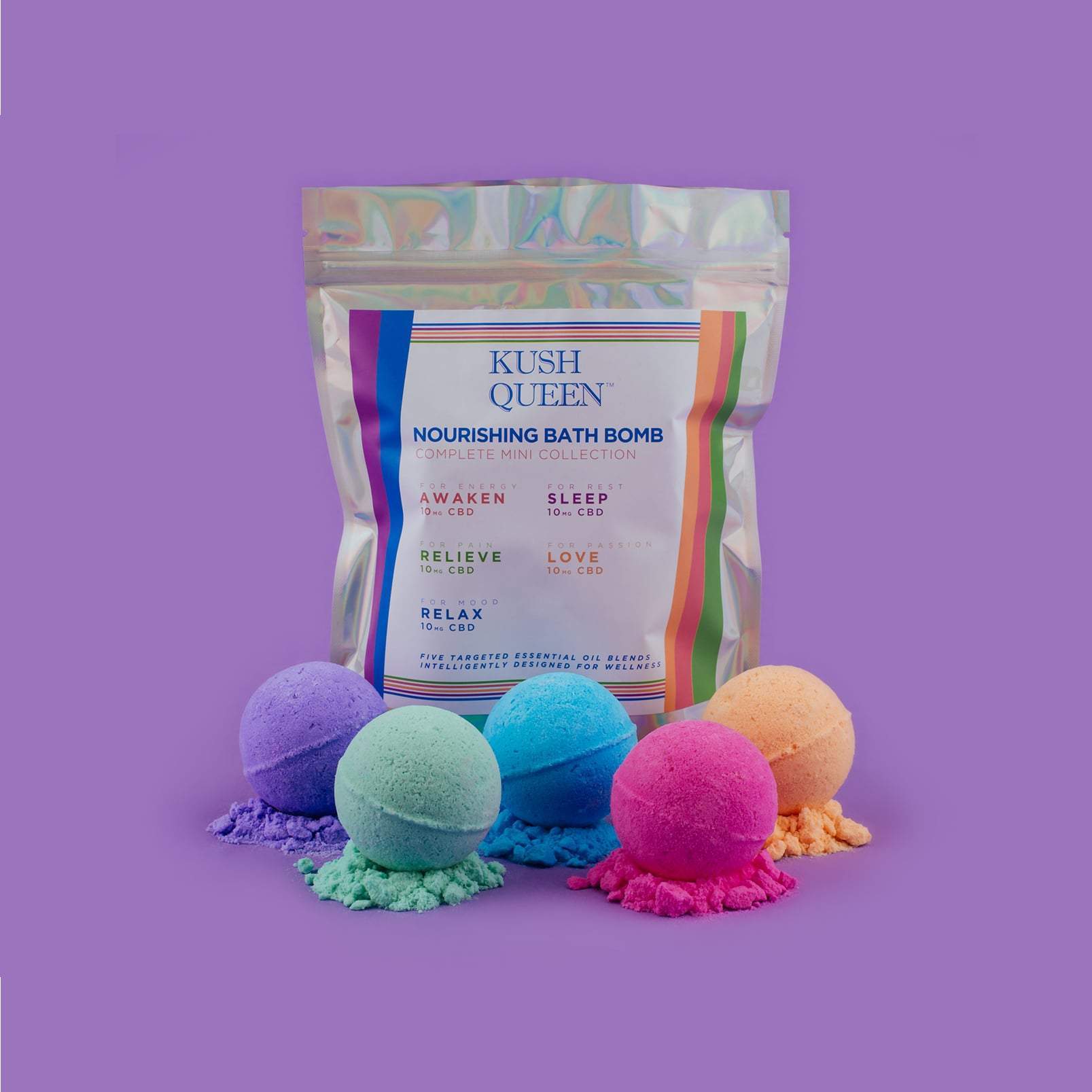 A pack of CBD-infused bath bombs is the perfect gift for helping mom relax after a long day.
Kush Queen full-spectrum CBD Bath Bombs feature 100 mg of pure CBD and essential oils like lavender and offer up CBD's array of health benefits, including pain relief. Plus, they are free from artificial dyes or preservatives, so mom can be sure she's getting natural ingredients. For the best savings for your canna-curious mom, start with Kush Queen's Complete Mini Collection with five 10 mg CBD bath bombs.
Cost and Availability: Prices start at $29.99 Kushqueen.shop.
A Cannabis Cookbook
For moms who love to craft delicious recipes, a cannabis cookbook is a perfect gift. Check out some delicious cannabis-infused treats this Mother's Day with "Edibles: Small Bites for the Modern Cannabis Kitchen" by Stephanie Hua. This cookbook is filled with dozens of easy-to-follow recipes that anyone from novices to experienced cooks can conjure up.
With "Edibles: Small Bites for the Modern Cannabis Kitchen," mom can enjoy sweet relief from her busy schedule while indulging in mouthwatering treats that make every day feel special. From basic cannabutter to truffles, there's something for every mom to enjoy.
Cost and Availability: Hardcover is available on Amazon for $17.96 with free shipping for Prime members.
Dope Soap For Dry Skin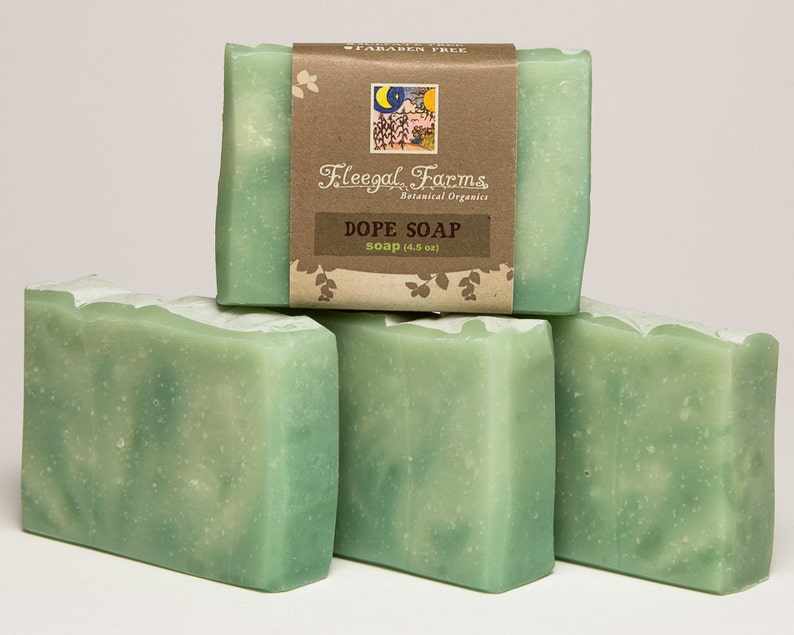 Some of the best cannabis products for moms are functional daily-use products like Doap Soap from Fleegal Farms, which offers the gift of soft and hydrated skin.
This unique hemp-seed-infused soap is made with natural ingredients like coconut oil, shea butter, and hempseed oil that nourish and refresh the skin. The mild formula won't irritate mom's skin but will help re-open clogged pores and remove blackheads. Plus, the relaxing lavender scent will help to soothe her senses.
Cost and Availability: This handmade, pure botanical on Etsy costs $9.00.
Marijuana Leaf Pendant
View this post on Instagram
Cannabis is legal across the United States, Canada, and many countries worldwide, which has helped eliminate some of its long-standing taboos. Help mom show her pride and joy with a stylish marijuana leaf pendant.
This 14k rose gold pendant necklace features a solid marijuana leaf charm and adds the right touch of cannabis chic. Whether mom layers it with other necklaces or wears it alone, this pendant is the perfect addition to her wardrobe.
Pick up a 14K rose gold cannabis leaf pendant at Icebox with 0.15 ctw of diamonds and a 16″ chain and show mom that she's always on trend.
Cost and availability: $500 at Icebox.com.
Cannabis Grinder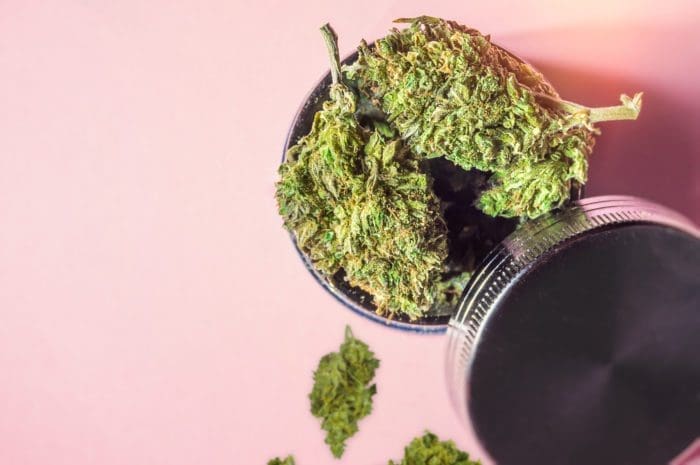 Does mom love to roll her own joint flower? Then she'll love a brand-new cannabis grinder. A good grinder will help mom grind up her buds for a consistent burn and ensure she gets the most out of every puff.
For Mother's Day, pick her up an affordable Plain Jane cannabis grinder for less than $20.00. This aluminum four-piece grinder comes in various colors and sizes, such as a blue mini-grinder that fits snuggly into any cannabis travel kit.
Cost and Availability: $12.99-$16.99 at Plainjane.com.
Blazy Susan Pink Pre-Rolled Cones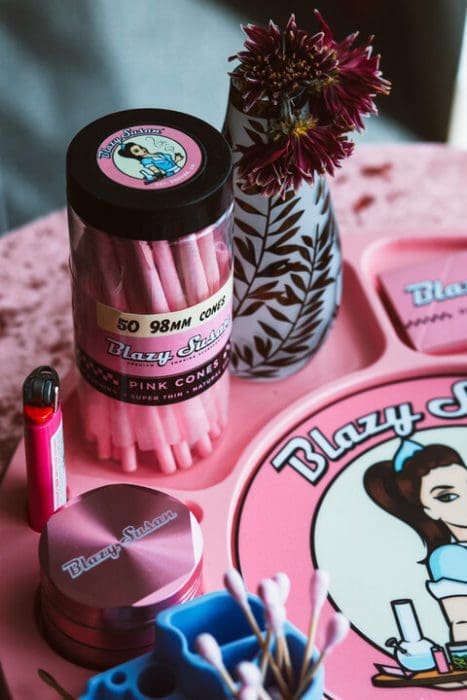 Blazy Susan Pre-Rolled Cones are the perfect gift for moms who love smoking joints but prefer to leave the rolling to someone else. These empty pre-rolled cones come in a 50-pack and are made with ultra-thin paper for a smooth burn. They're also vegan and non-GMO, so there's no guilt with this Mother's Day gift.
All mom needs to do with Blazy Susan's pre-rolled cones is grind the bud and place it in the cone. These "hella cute" (as one reviewer described them) papers make it easy for any mom who doesn't have time or energy to roll joints. Plus, they'll look great in any smoking setup.
Cost and Availability: Grab a 50-pack for $22.99 at Blazy Susan.
2 Strain Apothecarry Travel Case
The 2 Strain Apothecarry Travel Case is the perfect gift for nomadic mamas this Mother's Day. This stylish and durable travel case is made of Alderwood, with each case carefully crafted to ensure maximum protection and freshness. It features a two-strain system glass jar with black wood lids and customizable re-writable labels for storing herbs.
The four humidity control packets keep the contents safe and secure while on the go, and elastic straps hold everything in place. With its sleek design, this travel case will make any mom feel like a queen.
Cost and Availability: Buy the luxury case at Apothecarry for $189.00 to keep other cannabis products for mom fresh.
Bonus Gift: A Leafwell Consult
Mother's Day is a great time to show extra love and appreciation. Along with cannabis products for mom, consider the enduring gift of a medical cannabis card. Moms with qualifying conditions like chronic pain, anxiety, or depression can learn more about the benefits of medical cannabis and get the support they need to help manage their symptoms. And Leafwell's medical cannabis card consultation service is the simplest way to get mom started on her wellness journey.
So this Mother's Day, go above and beyond and give mom access to quality medical marijuana through Leafwell! Use the promo code MOM50 to get 50% off her initial consultation. This discount is only valid for 24 hours on Mother's Day, May 14, 2023.
Get Your Medical Card
Connect with a licensed physician online in minutes.