Can I Use My MMJ Card the Day It Expires?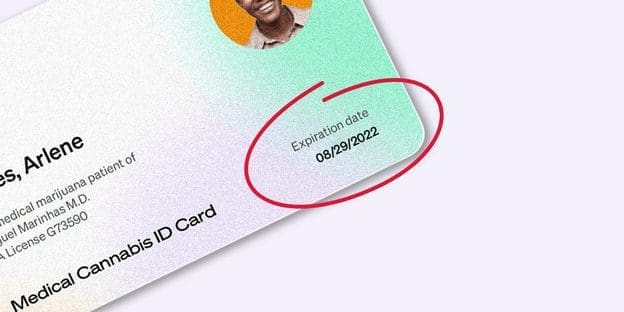 Medical marijuana cards have an expiration date listed right on the card. Once that day passes, patients can no longer use it to purchase medical cannabis and lose the legal protections afforded them as licensed medical cannabis users.
As such, it's essential to proactively renew your medical marijuana card and get ahead of any lapse in coverage or access to your medicine. Read on to learn more about the circumstances and technicalities surrounding the expiration of your medical card.
Get Your Medical Card
Connect with a licensed physician online in minutes.
Can I Use My MMJ Card the Day it Expires?
Yes, you can use your card the day it expires, but not the day afterward. Your medical marijuana card becomes invalid at the end of the expiration date printed on the card. When your card expires, dispensaries will no longer permit you to enter or purchase medical cannabis, and you lose all legal protections under state law.
The length of your medical card's validity depends on your state's specific cannabis laws. In Michigan, for example, you need to renew your medical marijuana card with a new recommendation every two years, whereas California's medical marijuana card lasts for a year from approval.
Most states' medical marijuana cards print the date of issue and expiration date on the card itself, making it easily visible to dispensary employees and law enforcement personnel if they need to check it.
What Happens If You Let Your Medical Card Expire
If you let your medical marijuana card pass its expiration date, you lose the ability to purchase medical cannabis legally. Dispensaries cannot accept certificates or cards past their expiration date, and states with virtual registries will not let you enter a dispensary once you pass your renewal window. Essentially, you're no longer a qualified patient in the eyes of the law.
Cannabis is still a Schedule I contraband drug according to federal law, and state protections are hugely crucial in keeping medical cannabis users safe in the eyes of law enforcement. If your card passes its expiration date, you're at risk of being charged for unlawful possession or use on the state level if your state hasn't legalized adult use. In states with legalized adult-use cannabis, you may still be able to access cannabis. Still, your possession and cultivation limits may be reduced, and you often have to pay higher tax rates on cannabis.
It's worth staying on top of your medical marijuana card's renewal period to avoid the risks of legal ramifications or lapses in access to your medicine. It may take a while to complete any state paperwork after a provider has approved you, so penciling in your renewal appointment in advance will make sure you can keep purchasing cannabis when you need it. In most states, your renewed card will be dated as valid from the day your existing card expires, so you won't lose time if you renew early.
Download Our Guide To Your Cannabis Rights
When to Renew a Medical Card
If you let your medical card expire, you won't be able to purchase medical cannabis, but when you are ready to renew, you're not usually starting from scratch. As the state already has you in the system as a medical card holder (even though it's expired), the process is quicker and easier when you renew than when you first became a patient. Renewal requirements are usually less stringent, so it's less of a hassle for the patient to move quickly. Less paperwork is involved, and renewal applications sometimes cost less than a new patient one.
Timing-wise, a patient should renew a medical marijuana card 30 days before its expiration date. Some states allow you to start the process up to 60 days before. Steps to renew your medical card are consistent across most legalized states:
1. Schedule an appointment with a medical marijuana doctor to receive a new recommendation or certificate. Leafwell doctors are available for renewal consultations, and all patients' data is stored securely in our HIPAA-compliant platform.
2. Once approved for your renewal recommendation or certificate, complete any additional requirements under your state's medical marijuana program. Most states require a renewal application fee.
3. Upon receipt and approval of the materials, your state will send you an updated medical cannabis ID card with a new expiration date. If your state has a digital registry, they will update your profile in their systems.
The Bottom Line
If your card expires, you'll lose your status as a protected medical marijuana patient and be unable to purchase cannabis in a medical-only state. While you can still buy marijuana if you live in an adult-use legalized state, renewing your MMJ card before it expires saves time and money.
Get Your Medical Card
Connect with a licensed physician online in minutes.