Should You Use Cannabis If You're Prescribed Amoxicillin?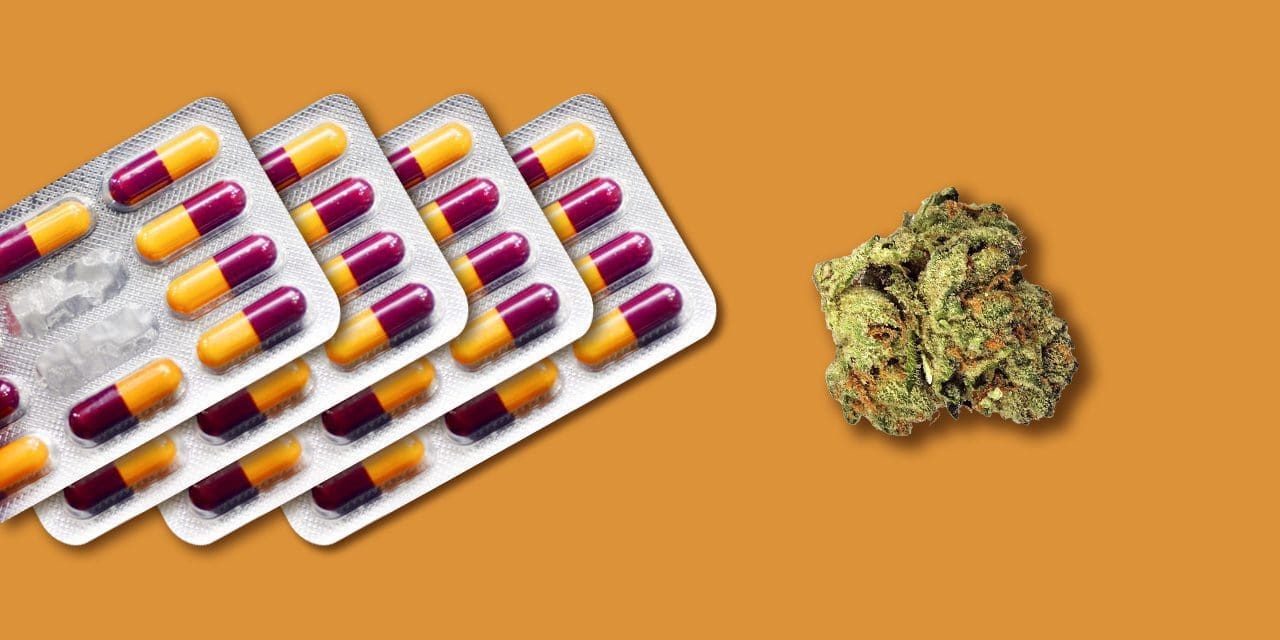 There are no known drug interactions between amoxicillin and cannabis. Many physicians recommend that you stop using cannabis or other substances like alcohol to reduce the chances of over-sedation and give your body the best chance of fighting the infection. Cannabis and cannabinoids do, however, interact with cannabinoid receptors in the immune system so that they may affect the efficacy of some types of antibiotics.
What Is Amoxicillin?
Amoxicillin (α-amino-p-hydroxy benzylpenicillin) belongs to the beta-lactam family of antibiotic prescription medications. Amoxicillin is a semi-synthetic derivative of penicillin. Compared to penicillin, amoxicillin is effective against a broader spectrum of bacteria. Amoxicillin is sold under hundreds of different trade names, including Amoxil, Amoxicot, Dispermox, Moxilin, Trimox, and Moxatag.
Uses and How It Works
Amoxicillin is used for its antibacterial effects on many health problems, including skin infections, ear infections, stomach infections, respiratory infections, Salmonella infections, and urinary tract infections (UTIs). It is an antibiotic commonly used in medical settings.
Amoxicillin attaches to the cell wall of susceptible bacteria, inhibiting cross-linkage between the linear peptidoglycan polymer chains that make up a significant component of the bacterial cell wall, causing bacteria to die. Amoxicillin is also a bactericidal compound used in soils to prevent crop infections. However, this practice has potentially harmful effects on soil biodiversity and crop yield.
Potential Benefits and Risks of Mixing Cannabis and Amoxicillin
Although there is no known interaction between amoxicillin and cannabis, it is worth keeping in mind that we have not studied potential interactions between cannabis and antibiotics in great detail.
Potential Benefits
Antibiotic resistance due to overuse is a pressing health problem. Cannabinoids in cannabis, including cannabigerol (CBG) and CBD, have displayed significant antiviral, anti-fungal, and anti-bacterial properties that could help reduce reliance on antibiotics.
Cannabinoids have anti-inflammatory and pain-relieving effects that could help battle infections.
Medical marijuana use may help overcome some side effects of amoxicillin, such as abdominal cramps, back, leg, and stomach pain, nausea, and vomiting.
Download Our Tips For Minimizing Negative Effects
Potential Risks
Cannabinoids in cannabis, such as cannabidiol (CBD) and tetrahydrocannabinol (THC), have immunomodulatory effects that impact how the body deals with inflammation. Although there is no known interaction between penicillin-based antibiotics like amoxicillin and cannabis, theoretically, cannabis may interfere with the efficacy of some types of anti-microbial medication.
The anti-inflammatory effects of cannabinoids are not always a plus, as they could dampen the inflammation-fighting power. This could lead to a decreased clearance of viral or bacterial infections.
Download Free Guide to CBD
What to Do If You Need to Use Both Amoxicillin and Marijuana
There is no known negative interaction between amoxicillin and cannabis use, so if you need to use both simultaneously, you may be able to do so safely. However, for those using cannabis for non-medical purposes, doctors may recommend that you stop using it for the duration of your treatment to reduce the chances of any interference occurring.
Why Mixing Cannabis with Amoxicillin Can Help You Feel Better
Some people may face some adverse effects of amoxicillin, particularly loss of appetite, nausea, and vomiting. Cannabis may help overcome some of these adverse reactions.
The Bottom Line
There seems to be no danger in combining cannabis and amoxicillin. However, if you are not using cannabis for medicinal purposes, it may be wise to stop use for the duration of your treatment to ensure the antibiotic works properly.
See what cannabis can do for you when you obtain a medical marijuana card in your home state. Reach out to Leafwell's medical team today and start the easy online application process.
Get Your Medical Card
Connect with a licensed physician online in minutes.